Photos: 2014 Annual Meeting Recap
Last week, delegates representing 52 of the Council's 54 jurisdictions gathered in Philadelphia for our 95th Annual Business Meeting. During the three-day conference, attendees discussed changes to our programs (like the retake policy everyone's talking about!), voted on resolutions, and elected new officers. Here's a snapshot of what happened:
On Friday, NCARB CEO Michael Armstrong announced that we're shortening the ARE retake policy from six months to 60 days. The change, which will go into effect October 1, is possible because of the recent adoption of My Examination. "NCARB is actively listening to candidate concerns, and the six-month wait to retest is often noted as a significant frustration," Armstrong said. "A new feature of our exam support capacity allows us to provide greater access while maintaining exam integrity."
Director of Internship + Education Harry M. Falconer and Assistant Director of Member Board Relations Derek Haese unveiled proposals to drastically reduce the time to certification for broadly experienced and foreign architects. They also shared a two-phase proposal to streamline and then overhaul the IDP, which you can read about here.



The American Institute of Architects (AIA) President Helene Combs Dreiling attended this year's Annual Meeting along with representatives from other architecture collateral organizations. NCARB representatives will be at AIA National later this week—come by and see us!




2014-2015 NCARB President Dale McKinney announced that he's creating a Future Title Task Force to review the terminology used for architect candidates—a debate we know our readers are passionate about. "The focus of the Task Force is a big topic, fraught with controversy," McKinney said. "But if we don't tackle it now, then when? With all that we have accomplished, with our mission clear and our capacity strong, we are at the right moment to continue making history."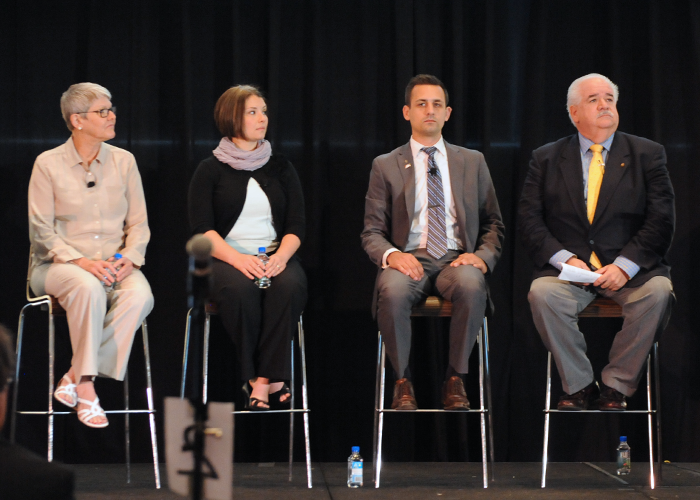 Members of the Licensure Task Force and 2013 Intern Think Tank participated in an engaging panel discussion about the possibility of licensure at graduation. Led by Past President Ronald Blitch, the panel included Ohio Executive Amy Kobe, Intern Think Tank Chair Susanne Tarovella, Intern Think Tank Member Aaron Trahan, and Florida Board Member Miguel Rodriguez.




"I don't think that this path would lose any rigor," said Kobe. "There are bright students out there who are ready to become licensed." Trahan, when asked to describe his experience with the Intern Think Tank, said, "It's refreshing to know that my participation helped influence NCARB's programs."




NCARB's Information Systems Director Guillermo Ortiz de Zarate provided an update on the Council's data gathering initiative, system developments, and data security. "It's an expectation for our systems to be smart, especially in this day and age," Ortiz de Zarate said. "It's imperative that we, the Council and Member Boards, work together to serve our constituents seamlessly." 



On Saturday, delegates discussed and voted on five resolutions related to the Certification Guidelines, the Council's Bylaws, and member dues. "We have been able to serve our Member Boards without fee increases for the fourth year in a row," said Treasurer Margo P. Jones. 



Delegates were joined by several collateral representatives including NAAB Executive Director Andrea S. Rutledge (pictured here), the American Institute of Architecture Students (AIAS) Interim Executive Director Lenore Lucey, and AIAS President Westin Conahan.



Immediate Past President Blakely C. Dunn declared the last year a resounding success for the Council, citing a number of high-impact changes to NCARB services and programs. "We have continued to evaluate our major programs and proposed changes that seemed to be ripe for consideration," he said.




During breaks, delegates had the chance to visit our resource center where they could learn about our outreach efforts for FY15, demo the new ARE 5.0 item types, and brush up on NCARB history.
 

Friday night, emerging professionals from the area stopped by AIA Philadelphia for a licensure workshop and networking event.