Texas Architect Alfred Vidaurri Jr. Elected as NCARB Secretary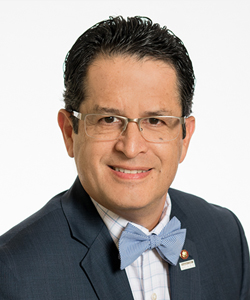 Boston—Alfred Vidaurri Jr., FAIA, NCARB, AICP, of Fort Worth, TX, was elected secretary of the National Council of Architectural Registration Boards (NCARB) at its 98th Annual Business Meeting. Most recently, the architect served as director of NCARB's Southern Conference (Region 3), which is comprised of Alabama, Arkansas, Florida, Georgia, Louisiana, Mississippi, North Carolina, Puerto Rico, South Carolina, Tennessee, Texas, and the U.S. Virgin Islands.
"It is an honor to serve as secretary, and I look forward to helping NCARB explore innovative ways to facilitate licensure—both across the United States and abroad," said Vidaurri.
As a member of the Texas Board of Architectural Examiners from 2004-2015, Vidaurri served as chair from 2009-2015 and vice chair from 2006-2008. He has also dedicated his time and expertise to numerous NCARB initiatives, including the Audit, Examination, Education, Procedures and Documents, and Regional Leadership committees, as well as the Ethics Task Force.
Vidaurri served as chair of both the Education and Broadly Experienced Architect (BEA) committees. During his tenure as chair of the BEA Committee, the program's dossier submission process was reformatted and digitized. Additionally, he oversaw the creation of a pilot program for the Tri-National Agreement, which facilitates reciprocal licensure between the United States, Canada, and Mexico. Further, he served as an NCARB representative on several National Architectural Accrediting Board (NAAB) visiting teams and at the NAAB Architectural Review Conference.
The Texas architect is vice president of Freese and Nichols Inc., which was the first architecture and engineering firm to receive the Malcolm Baldrige National Quality Award. Vidaurri is a member of the American Institute of Architects, American Institute of Certified Planners, U.S. Green Building Council, Texas Society of Architects, and Fort Worth American Institute of Architects. He was elevated to the AIA College of Fellows in 2015 and was awarded the NCARB President's Medal for Distinguished Service in 2014.
A graduate of the University of Texas at Arlington's Master of Architecture program, Vidaurri has held numerous positions with various local, community, and state organizations. He holds an NCARB Certificate and is licensed in Texas, Georgia, Oklahoma, and North Carolina.
#####
About NCARB
The National Council of Architectural Registration Boards' membership is made up of the architectural registration boards of all 50 states as well as those of the District of Columbia, Puerto Rico, Guam, and the U.S. Virgin Islands. NCARB assists its member registration boards in carrying out their duties and provides a certification program for individual architects.
NCARB protects the public health, safety, and welfare by leading the regulation of the practice of architecture through the development and application of standards for licensure and credentialing of architects. In order to achieve these goals, the Council develops and recommends standards to be required of an applicant for architectural registration; develops and recommends standards regulating the practice of architecture; provides to Member Boards a process for certifying the qualifications of an architect for registration; and represents the interests of Member Boards before public and private agencies. NCARB has established reciprocal registration for architects in the United States and Canada.
Visit: www.ncarb.org
Twitter: www.twitter.com/ncarb
Facebook: www.facebook.com/NCARB
YouTube: www.youtube.com/NCARBorg