Leadership Reports
The NCARB Board of Directors consists of 14 volunteers: 12 architects, one public member, and one executive from a state board. Member Boards elect the officers each June at the Annual Business Meeting. Learn what initiatives NCARB leadership focused on in FY17:
Partners in Collaboration
Explore how we're partnering with our Member Boards and volunteers to serve the profession.
Member Board Relations
Through close collaboration with our Members Boards, we have been able to update and refresh our major programs. From education to certification, working together enables us to facilitate licensure by streamlining requirements across jurisdictions.
Member Board Outreach
NCARB holds regular forums and meetings to engage with each jurisdiction. Connecting and communicating keeps us up-to-date on the latest local issues and legislation, and helps NCARB seek out new ways to support our Member Boards.
During FY17, CEO Michael Armstrong visited 11 Member Boards to meet with jurisdictional leadership and stay on top of important issues.
NCARB provided Member Boards with the opportunity to share additional feedback through virtual meetings. These conference calls allow for more dialogue among jurisdictions regarding potential resolutions and other important topics.
Model Law Task Force
President Kristine A. Harding, NCARB, AIA, initiated the Model Law Task Force in June 2016 to review and update NCARB's current Model Law. Using the Federation of Associations of Regulatory Boards (FARB) Uniform Model Law as a guide, as well as the model law of comparable organizations, the task force has determined a framework for NCARB's updated Model Law. Its work will continue in FY18 as the task force works with other NCARB committees to create a useful tool for NCARB's membership.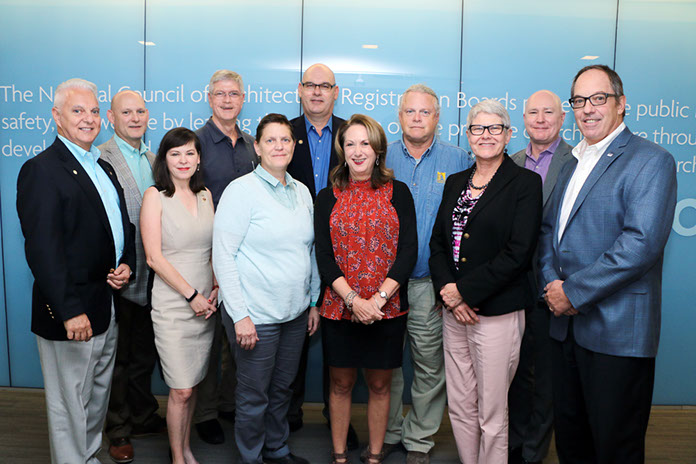 Chair
Dennis S. Ward, FAIA, NCARB
Mark S. Champion, AIA, NCARB
Nebraska Member Board Member
Blakely C. Dunn, FAIA, NCARB
Jeanne M. Jackson, FAIA, NCARB, LEED AP
Amy M. Kobe, Hon. AIA
Ohio Member Board Executive
Douglas R. McCauley
California Member Board Executive
Mary M. Morissette, FAIA
Colorado Member Board Member
Douglas W. Sams, AIA, CSI, CDT, LEED AP BD+C Oregon Member Board Member
James Seay, AIA, NCARB, LEED AP
Douglas L. Steidl, FAIA
Ohio Member Board Member
Bayliss Ward, NCARB, AIA, BOD Liaison
Montana Member Board Member
NCARB Staff Liaison
Stephen Nutt, FAIA, NCARB, CAE
NCARB Senior Architect/Advisor to the CEO
Defending Reasonable Regulation
The current regulatory environment provides many opportunities to help Member Boards advocate for reasonable regulation. Last year, NCARB worked with various related organizations to defend reasonable regulation.
"
The current regulatory environment is a window of opportunity. Now is the time for you to control the narrative with the policymakers."
—Professor David C. King,
Harvard's Kennedy School of Government

In Arizona, the Council provided written and verbal support to oppose legislation deregulating collateral design professions, an effort that helped protect the Council of Landscape Architectural Registration Boards (CLARB). NCARB's Chief Operating Officer Mary S. de Sousa and Senior Architect/Advisor to the CEO Stephen Nutt have worked with FARB to create a more muscular voice for reasonable regulation across disciplinary boundaries. We also provided an amicus
brief for the recent Oregon Supreme Court case, which ruled in favor of the Oregon State Licensing Board.
"
We are committed to supporting our Member Boards by raising awareness regarding what we do and why we do it."
—NCARB CEO Michael J. Armstrong

NCARB will continue supporting efforts to advocate for reasonable regulation, providing technical and legal support, and conducting regular calls with our counterpart organizations around the country to monitor legislation that could affect our Member Boards.
Updating the NCARB Website
NCARB's updated website launched April 10, 2017, featuring a streamlined look and feel, user-friendly content about licensure and certification, and simplified navigation. The redesign was structured to benefit NCARB's membership, practitioners, and the public, and includes a new tool for understanding licensure requirements across U.S. jurisdictions.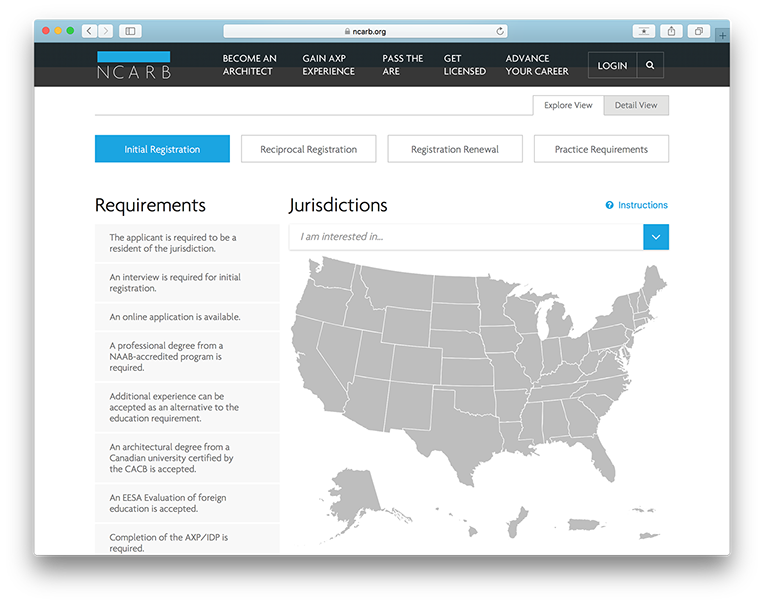 This resource, which is based on Member Board responses to NCARB's annual requirement survey, allow users to view the requirements for a single jurisdiction, compare jurisdictions, or view all jurisdictions that hold a certain requirement.
@adamSchwartz42
Check out @NCARB's revamped website for your ARE and licensure needs!
Member Board Chairs & Executives Summit
Representatives from 52 of NCARB's 54 Member Boards gathered in Columbus, OH, in late October for the biennial Member Board Chairs & Executives Summit. Over the two-day meeting, members had strategic conversations related to NCARB's role in continuing education, the accreditation process for education programs, and the future of licensure. The feedback received from Member Board Chairs and Executives at the summit will help inform NCARB's update to its strategic plan.
2017 Annual Business Meeting
The 98th NCARB Annual Business Meeting was held June 21-24, 2017, in Boston. Throughout
the three-day conference, delegates discussed recent changes to NCARB programs, set the tone for NCARB's upcoming initiatives, and elected new officers. They also had the opportunity to explore the role of reasonable regulation and hear from speakers regarding the current
legislative landscape.
​Meeting Attendees• 52 Member Boards• 165 Member Board Members (MBMs)• 39 Member Board Executives (MBEs)
Photos from the 2017 NCARB Annual Business Meeting in Boston, MA.
Collaterals
NCARB works with four collateral organizations to advance the health of the profession: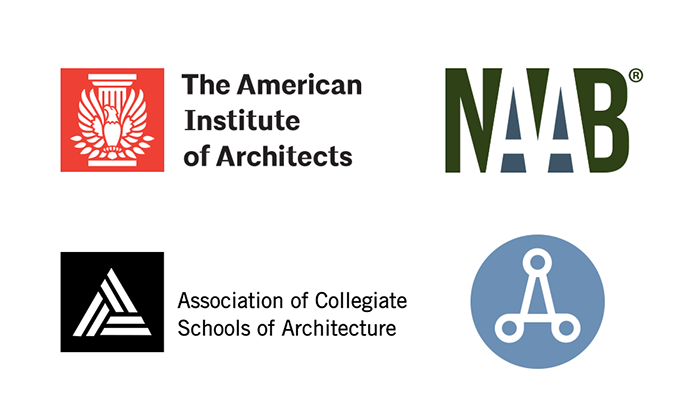 American Institute of Architects (AIA)
AIA and NCARB often work hand-in-hand on initiatives to support the practice of architecture. Collaboration opportunities this year included the annual AIA Grassroots conference, the biannual AIA-NCARB Leadership Summits, the NCARB Licensing Advisors Summit supported by the AIA, senior staff informational meetings, and the biannual Five Collaterals meetings.
In May 2017, NCARB joined thousands of architects and licensure candidates who gathered in Orlando for the AIA Conference on Architecture. While there, CEO Michael Armstrong participated in a panel on the path to licensure with ASCA Executive Director Michael J. Monti, Hon. AIA; and NAAB Executive Director Andrea S. Rutledge, CAE, Hon. AIA. NCARB's booth was busy all three days, providing insight into programs and services and asking attendees to reflect on why they pursued a career in architecture.
Why did you pursue architecture?
This year, NCARB also collaborated with the AIA to conduct a survey regarding how supervisors and candidates perceive the importance of licensure. Additionally, NCARB continues to collaborate with AIA chapters to craft a unified, prioritized approach to the issue of deregulation.
American Institute of Architecture Students (AIAS)
In FY17, NCARB began partnering with the AIAS Freedom by Design program, which encourages students to improve accessible design in their local community while earning work experience that counts toward their licensure requirement. NCARB provided $100,000 of funding for material grants and infrastructure support, as well as mentorship opportunities with members of state licensing boards. We are looking forward to continuing this partnership in the coming year.
"
Through this partnership, students are learning more about the licensure process while connecting with NCARB's Member Boards,"
—AIAS Executive Director Nick Serfass, AIA, CAE

FY16 NCARB President Dennis S. Ward, FAIA, NCARB, joined the AIAS Board of Directors in FY17 as the NCARB Liaison. Ward will continue in this role in FY18, helping facilitate further collaboration between the two organizations and ensuring architecture students have a voice in NCARB programs.
In July, NCARB leadership presented at the 2016 AIAS Grassroots Leadership Conference, where CEO Michael Armstrong was awarded the AIAS Presidential Citation—the organization's highest honor—for his dedication and service.
"
Michael Armstrong has served as an inspiration to the architectural community through his commitment to the value of mentorship and the power of student-led design. Under his leadership, the relationship between the AIAS and NCARB has strengthened to new heights."
—2015-2016 AIAS President Danielle Mitchell, Assoc. AIA

NCARB also attended AIAS Forum and met with AIAS leaders on a quarterly basis.
Association of Collegiate Schools of Architecture (ACSA)
This year, NCARB worked with the ACSA to continue to evolve the path to licensure for architecture students, collaborating on programs like the IPAL initiative, the NCARB Award, and the Architectural Experience Program™ (AXP™). ACSA leaders attended the NCARB Board's January meeting to present ACSA's new strategic plan, discuss the refresh of the NCARB Award, and exchange ideas regarding the importance of NAAB-accredited programs. NCARB leadership also attended ACSA's Annual Meeting in March.
National Architectural Accrediting Board (NAAB)
In FY17, NCARB and NAAB partnered on several initiatives, including the reassessment of
the NCARB Award, the IPAL initiative, and the biannual Five Collaterals meetings. NAAB leaders attended the NCARB Board's September meeting to exchange ideas, respond to questions,
and address evolving programs. The NAAB was also integral in the development of the 2017 edition of NCARB by the Numbers, providing us with important data on student enrollment
and graduation.
Committees
NCARB has more than 20 committees, subcommittees, task forces, and work groups that meet throughout the year to review topics including education, the AXP, the ARE, certification, and more. Made up of volunteers from across the profession—including members of state licensing boards, practicing architects, licensure candidates, and collateral representatives—these groups help steer the organization by reflecting on our programs and policies and making recommendations for improvement.
Other Related Organizations
In addition to our collaterals, NCARB also engaged with several other key organizations in the architecture and regulatory fields, including the Association of Licensed Architects (ALA), FARB, and the International Code Council (ICC). In May 2017, NCARB sponsored the ICC's Building Safety Month, encouraging architects and the public to become more familiar with local building codes.
FY17 Committee Reports
Read All Committee Reports
@edwarddeblieck
Honored to have received an #NCARB committee appointment! #architecture @NCARB
Regions
NCARB's 54 Member Boards are divided into six geographic regions, each with their own organization, objectives, and meetings. Every region elects their own director to serve on NCARB's Board of Directors and appoints a chair to serve on the Regional Leadership Committee. These individuals play an invaluable role in setting the future course for NCARB's programs.
2016 Committee Summit
NCARB's volunteers gathered in Miami for our annual Committee Summit, where they engaged with NCARB leadership, discussed key NCARB programs, and shared ideas across NCARB committees. For the first time, NCARB's Think Tank also attended the Committee Summit, participating in activities with several committees.
Regional Summit
Hosted by the Mid-Atlantic Conference (Region 2), the 2017 Regional Summit facilitated discussion on the role of Model Law, the current regulatory climate, challenges at the state level, and the value of licensure. Delegates discussed regional business, debated jurisdictional roles related to professional credentials, and provided NCARB with feedback on a proposed resolution. Regions also met independently to nominate regional directors to serve on the FY18 NCARB Board of Directors.
fy17 Regional Reports
Photos from the 2017 Regional Summit in Savannah, GA.
@CAArchitectsBd
@NCARB Regional Summit—great session for board executives.