11 Things I Learned at the IDP Coordinators Conference
The opinions expressed in this commentary are solely those of the author and do not necessarily reflect those of the National Council of Architectural Registration Boards (NCARB). 
One of the events that I look forward to all year, the 2014 IDP Coordinators Conference, has come and gone. This being my third conference, there is definitely a sense of the familiar to the proceedings, even though each year's event is always tailored to current events. In no particular order, here's what I've taken away (and, in every case but one, come to expect) from the IDPCC.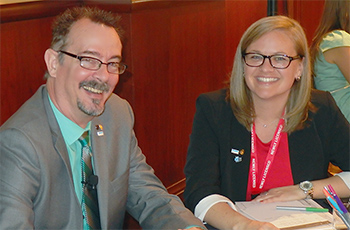 1. Inclusiveness. The conference is as much about updating IDP coordinators at all levels on current information as it is celebrating their effort. But this event is far from a one-way street. Coordinators play a large part in the actual production of the conference itself, from facilitating presentations and breakout groups to helping spread the word through social media. The pool of coordinators is also ripe with candidates for NCARB's other initiatives: Several coordinators (most recently, Susanne Tarovella from Tennessee) have chaired the Intern Think Tank, and most of the new blood at NCARB—particularly Kim Tuttle as the Outreach Manager and Michelle Cohn as the Manager of Examination Development— are former coordinators themselves. ("We're actually training you," Director of Internship + Education Harry Falconer quipped in his trademark fashion. "If you need a job, call us.")
2. Support. NCARB continues to refine the tools available to the coordinators community, and this year they announced that a demonstration site for the online reporting system is now available. Many coordinators, like me, logged their IDP hours using pen and paper, and as a result have no familiarity with the web-based system that our interns are currently using. I've been interested in seeing this happen for at least two years now, and judging from the thunderous applause from the group, I wasn't alone.
3. Enjoyment: For many of us (present company most definitely included), industry events such as this conference are the closest thing to a vacation that we will see all year. Seeming to acknowledge this, NCARB always strikes the right balance, packing an enormous amount of information in a short period of time while still managing to keep the mood light.
4. Inspiration. Now in its second year, the report from the Intern Think Tank has quickly become one of my favorite parts of the conference. Hearing these intelligent, articulate, and passionate individuals offer their perspectives on the present state of internship is incredibly inspiring—especially when the discussion turned to several hot-button topics, such as the intern titling debate and the concept of licensure at graduation. The tenor of these conversations showed that there is no clear consensus on either subject just yet, but if these individuals have anything to say about it (and I truly hope that they do), the decisions will be responsibly made and intelligently informed.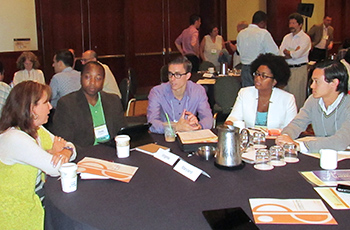 5. Insider Information. In an extremely informative presentation on Saturday afternoon, NCARB's Director of Examination Jared Zurn pulled back the curtain on the structure of ARE 4.0. Development of questions, scoring metrics, and even the fatal flaws in the vignettes (yes, they do exist. but they are manageable) were examined thoroughly and concisely—not only to educate the group at large (and avoid the spread of misinformation), but giving us the tools to share with exam candidates in our respective jurisdictions. The presentation was part of NCARB's commitment to increased transparency in the exam process, which is empowering to candidates.
6. Philosophical Debate. IDP as we know it could change significantly in the next few years. Would reducing the number of required hours help the program or hurt it? Does eliminating supplemental experience make the process simpler or more confusing? If we simplify the experience areas, are we also potentially streamlining the experience? As you'd expect in a room full of people who are intimately involved with IDP, the perspectives on both sides of this particular coin were equally impassioned. Where do we go from here? It will be interesting to see how this develops throughout the coming year.
7. Policy Updates: Changes to IDP are only proposals at this point, but the transition to ARE 5.0 is well underway. It was one thing to read about it, but being able to listen to Jared Zurn talk about the continued development of ARE 5.0—an exam that promises to be much more integrated with the realities of practice, as well as the absolutely elegant transition planning for ARE 4.0 candidates—left me literally giddy with excitement. The promise of ARE 5.0 (and the new, more interactive item types) almost makes me want to sit for the test again. Almost. Sort of. Well, actually, not really. But if I were to sit for the exam in the next few years, it's comforting to know how much thought and care has gone into the process.
8. Camaraderie. The formal presentations are excellent, but it's the side conversations that really seem to teach me the most. Much of the conversation at our table centered around the true feasibility of licensure at graduation, for example, and what schools in our jurisdiction would need to overcome in order to make it a reality. 
9. Context: For a conference that focuses on the mechanics of licensure in the profession, but typically not the profession itself (this isn't a conference where one would expect to hear a lecture on sustainable design, for example), AIA Chief Economist Kermit Baker's presentation on economic forecasting helped to put things into a broader perspective. While much of it has been said before (the profession is aging, architects are retiring later, and interns bear a disproportionate share of economic downturns), it became all the more evident how crucial it is for us to continue to assist young professionals entering the profession.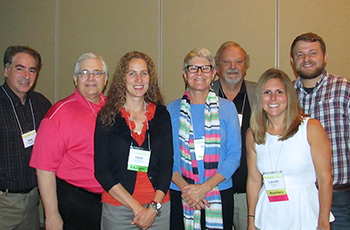 10. Rejuvenation. I might be somewhat biased, but I truly believe that you will never find a more motivated and energetic group of individuals. It's often said that if you want to see where a person's passions truly lie, you only need to look as far as where they spend their free time. Every coordinator is a volunteer. It's in this gathering of professionals who have devoted so much of their time and energy to the same things that I value—mentorship, licensure, and professional development—that I find myself in a group of true peers. The enthusiasm in the room is infectious and invigorating, not only with regard to our specific roles, but about the profession in general. I leave with a frenetic, buzzy energy that lasts for weeks. 
11. A New Title: As it turns out, my third IDPCC will actually be my last. NCARB wasted no time this year in dropping a major bombshell on all of us, announcing early Friday morning that we are now part of the Architect Licensing Advisors Community, with the annual conference officially rechristened as the Licensing Advisors Summit. Recognizing that our role goes far beyond IDP, coordinators will now be known as architect licensing advisors. The change in title emphasizes licensure and appropriately reflects the expanded role that we play in the overall process (we truly are advisers, after all—what were we really coordinating, anyway?), and I'm proud to continue to do what I can to earn it. Looks like I'll need a new Twitter handle, though...
Find contact information for your architect licensing advisor here.