While the licensure process focuses on the general knowledge and skill areas required for the independent practice of architecture, many architects choose to focus on gaining additional expertise in a specific area of practice—also known as a specialization. To better understand the benefits and importance of specializations, NCARB surveyed thousands of architects and other practitioners as part of our 2022 Analysis of Practice study.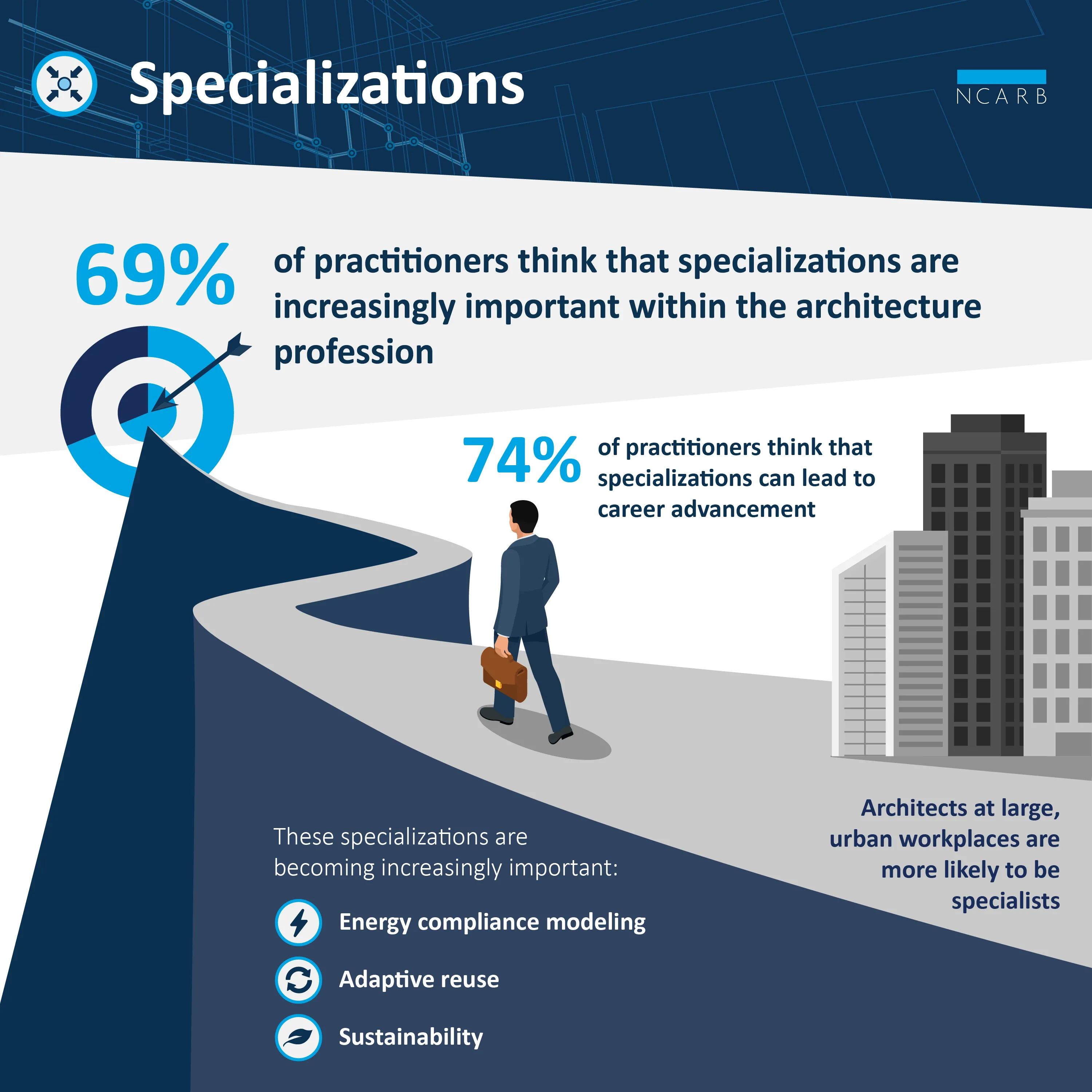 Value of Specializations
The majority of respondents (68%) confirmed that specializations are becoming increasingly important within the architecture industry—especially for practitioners in large firms or in urban areas.
Most respondents indicated that specializations can lead to career advancement (74%), with little variation in opinion across demographic groups or years of experience.
When asked which groups would benefit most by having a specialization, respondents were most likely to select senior- and intermediate-level architects. There was also a clear prevalence of specializations based upon work setting: While 79% of respondents indicated that architects at large, urban workplaces were likely to be specialists, 85% of respondents indicated that architects at small, rural workplaces were likely to be generalists.
Shifting Areas of Importance
Respondents indicated different specializations when asked to select the areas that are A) currently important and B) likely to be important in the next five years:
Current
Code compliance (85%)
Waterproofing (83%)
Space planning (82%)
Roofing (81%)
Construction admin (81%)
Future
Energy compliance modeling (63%)
Adaptive reuse (60%)
Sustainable design/accessibility (58%)
Infrastructure (57%)
Digital design software/BIM (54%)
Across demographic groups, respondents maintained the same top five areas, with some variation in order of importance.
Demographic Differences
There was some demographic variation in the value of having a specialization—especially early in an architecture career:
Recently licensed architects and licensure candidates were more likely than their more experienced peers to indicate that early career specializations were beneficial
People of color were more likely than white respondents to indicate that specializations were beneficial to licensure candidates
While few architects believed specializations are very beneficial to unlicensed contributors (28%), nearly half (44%) of unlicensed contributors felt that having a specialization is very beneficial to them.
What's Next?
While the licensure process focuses on general competencies, NCARB is exploring the value of additional specializations and focus areas for both pre- and post-licensure career development. We look forward to sharing more insights from other sections of the Analysis of Practice with you in the months ahead.
About the Analysis of Practice
In 2022, over 19,000 individuals across the architecture, engineering, and construction (AEC) industry participated in NCARB's once-in-a-decade Analysis of Practice study. Through a series of short questionnaires, focus groups, a final extensive survey, and more, NCARB gathered key insights about the field of architecture that will help shape the licensing model of the future. Results from the study will help us better understand the ecosystem of architectural practice and may lead to changes to NCARB's national licensing programs and standards of the future.