Q: At what point in your life did you decide to pursue a career in architecture? 
I moved to the United States in 2006 after graduating from high school in Hong Kong (HK). Back then in HK, for the last two years of secondary school, you had to choose between the liberal arts or science program. I was in the science class in high school, but I also took art as a minor. 
When it came time to go to a university, I wanted to go to art school for illustration or to become a doctor. Then my dad said, "Why don't you look into architecture?" 
I had no idea what architecture was, but he said it seems like a good combination of art and science that would suit my skills. So I followed my dad's advice and went to a career fair, asking everyone there if they had an architecture program. 
One person suggested that New Jersey Institute of Technology had a great architecture program. So I applied, got in, and started architecture school. 
Q: As a former member of NCARB's Re-Think Tank program, tell us about your experience. Why was volunteering in this program important for you? 
I wanted to volunteer in the Re-Think Tank program because I wanted to learn the process of how NCARB structures the Architect Registration Examination® (ARE®) and see how I can help reshape the licensure experience for others. 
Q: What motivated you to found the Women Architects Collective? 
Early on in my career, I had the same struggle every young woman architect had—no one took me seriously. I remember at one of my annual reviews at a previous firm, I realized every male colleague at my level received a raise except me. 
When I asked why, they told me that "women are easily forgotten in architecture." 
Yes, I was forgotten. 
I felt helpless and disappointed. Did that mean all the work I had done is worthless? But I got up and looked for better opportunities. That's when I finally took the courage to leave and find a job that would value me. 
Over the past 10 years in architecture, I realized many of us have experienced the same situation. We feel like we don't belong and don't have anyone to relate to. This experience propelled me to build a future where no woman would be forgotten in architecture again. 
After getting my license in 2018, I decided to make a bigger impact by starting the Women Architects Collective (WAC). Through WAC, members have "a safe place to ask questions and have a place where others go through the same struggles I have," as one member put it. 
Over 3800+ female architects have joined and shared concerns about topics like being taken seriously in a male-dominated industry and being heard—especially on construction sites.  
Our community is now 10,000 strong with extremely high engagement. While numbers are nice, what motivates me is receiving messages from members about how much they value the support they're receiving. 
To amplify our voice, this year I launched the Women Architect's Festival—a 2-day virtual conference with 19 speakers and 230+ paid attendees. 
Women in architecture need support and advice to develop their voice, and the community is here to help them with that. Connecting thousands of women architects together in one place helps younger women recognize that there are other people like them succeeding in architecture. It gives them hope and a feeling of belonging in this industry. 
A lot of women in the field have said they don't have a female leader in their firm as a mentor. WAC is the place they can ask questions and even connect with a mentor. The new generation of architects is really coming together, and that's a positive change for our industry. 
Q: You transitioned from a career as an architect to a personal branding specialist, focusing on coaching other architects to discover their own voices. What would you say caused this transition? 
Through the pandemic, a high number of architects lost their jobs, so I took action to help by offering coaching around personal branding. This is a skill that I've learned from building my own personal brand over the years. And I believed that it would help them build an online presence as the world was moving to be more digital. 
I have since worked 1-on-1 with 15 architects on their personal brands. Seeing their transformation of going from uncertain to confident motivated me even further. 
A lot of the architects that I worked with had a lack of clarity in who they were, which resulted in a lack of confidence to show up as themselves online. My coaching is really to help them discover who they are and clarify their messages so they can make their voices heard with confidence. 
Now I regularly speak at conferences, as well as American Institute of Architects (AIA) and Construction Specifications Institute (CSI) chapters, about personal branding. I'm excited to see more and more architects build their brands to share their voices!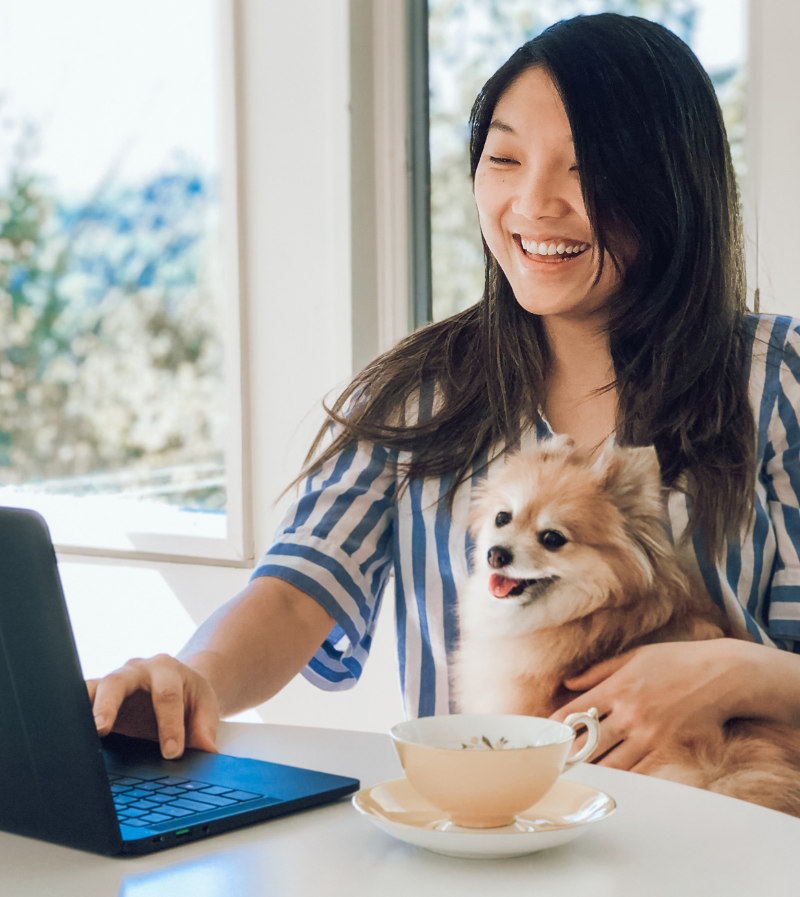 Q: What is your favorite project you have worked on so far? 
I have an unusual path as an architect since I have transitioned from architecture into tech. I joined Monograph as their first content strategist creating educational content about business and operations. My current favorite project isn't really a building—it's content creation. 
I also regularly create content through my LinkedIn and Instagram, and I recently started a YouTube channel sharing advice around topics like personal branding, career development, and self-improvement. 
Creating content, coaching, and building a community in architecture is my happy place. I've never felt more fulfilled in my career as I can now utilize both my marketing skills and architecture knowledge to move the industry forward. 
Q: What is your favorite thing about being an architect? 
Seeing how people interact with design in our daily life is my favorite thing about being an architect. I was never the type that looked up architecture photos online every day. I never focused on construction, but rather on how architecture shapes our lives in other ways.  
I get inspiration from all over the design spectrum, things such as graphic design, jewelry, UX interface, and so many others. Every type of design can have an influence on architecture. 
I particularly love graphic design. Things like typefaces and colors are interesting to me. I get inspired by the white space on a print, the scale and proportion of fonts on a website, or how a color reads on a texture of a greeting card. In the design world, I believe everything is intertwined. What's important to me is designing a user experience on every scale and detail. 
Especially in today's world, everything is online. How do you create a physical space that people want to go to? How do you design a lobby in an office building so people don't feel dragged to go to work? How do you inspire through design? 
Your physical spaces must create a memorable experience.  
That's what I like the most about being an architect—delivering spaces that create a cohesive experience. 
Q: What advice would you have for other women working toward becoming an architect? 
Everything will work out and everything will be okay. I was the type of person who could never make a decision and was always scared of failing. Even as an architect, if you want me to pick a bathroom tile, it will take me a long time to make a decision. 
When I was taking the ARE, it took me a long time to schedule each exam because I kept feeling unprepared. I was so scared of failing. 
But someone once told me that you know it doesn't matter what decision you make now, everything will always work itself out. It's easy to live in your fear and not move forward, but being uncomfortable and taking action is the only way to grow.