The opinions expressed in this commentary are solely those of the author and do not necessarily reflect those of the National Council of Architectural Registration Boards (NCARB).
In the wake of recent natural and manmade disasters, the term resilience has been rebranded—but few would argue that it is a concept new to architects. The goal to protect life and property while designing projects that attempt to elevate our quality of life has always been at the core of our profession. I think most architects are driven by the idea that the work we do matters, and that we have the ability, training, and opportunity to make lives better for those around us.
Reinventing the Approach to Resiliency
In an attempt to do so, we have been reinventing an approach toward design with multi-disciplinary collaborators in a way that has brought the profession back to the roots of what architecture can and should be. By Vitruvius' definition of architecture, resilience most recognizably falls under "firmness" but its influence over both "commodity and delight" cannot be overlooked. The architect's responsibility to balance those three key elements in design remains essential in almost all resilient projects.
While many federal community-development block grants target engineering solutions alone, our firm, Cooper Robertson, is finding opportunities to work with engineers. Doing so reminds our clients (and the communities they build for) that resilient projects should not only perform to resist and rebound from shocks and stresses, but also be beautiful, engaging, and add value.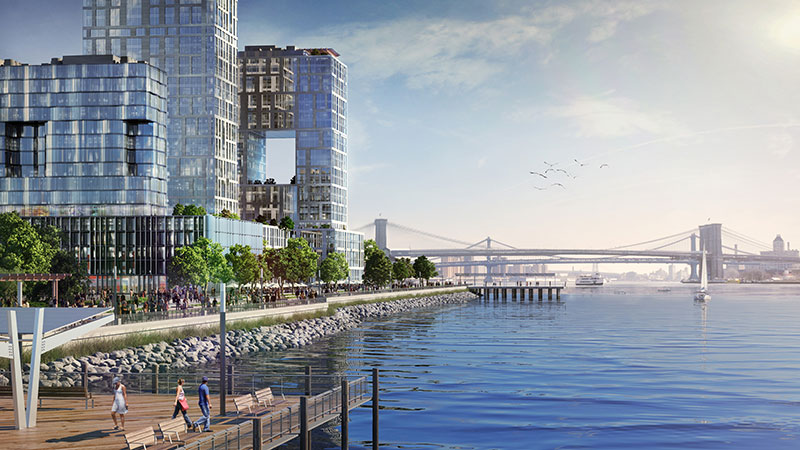 In dealing with climate change and sea level rise, our team is currently challenging traditional ideas of what a wall can be. Isaac Newton said, "We build too many walls and not enough bridges." Our firm doesn't disagree, and we are finding new opportunities to design artful, resilient infrastructure that draw people together instead of separate them.
Consider great medieval cities like Lucca, Italy, which is defined by the parks and promenades that sit atop walls. Many consider these structures to be romantic, yet our present-day situation often leaves architects with far less public domain and smaller budgets to work with when developing integrated flood protection designs. Instead, we should think about resilient infrastructure as a holistic city design initiative with significant benefits to culture and community—and not just risk reduction interventions.
Rebuilding Community After a Natural Disaster
During Rebuild By Design, an interdisciplinary design competition following Hurricane Sandy, Cooper Robertson proposed a backyard project that linked all property owners with frontage on Beach 116th Street in Rockaway Park. The idea was to protect the entire space of the street (not just the storefronts of individual businesses) while using minimal deployable components that would only be visible at street intersections during times of emergency.
As a part of our work with New York City Mayor Michael Bloomberg's Special Initiative for Rebuilding and Resiliency, we worked on the East Shore of Staten Island. In Midland Beach, we lead a team that developed a framework for future projects that integrated wetland and storm water management strategies with rezoning for mixed-use development, as well as new housing prototypes in low-lying communities.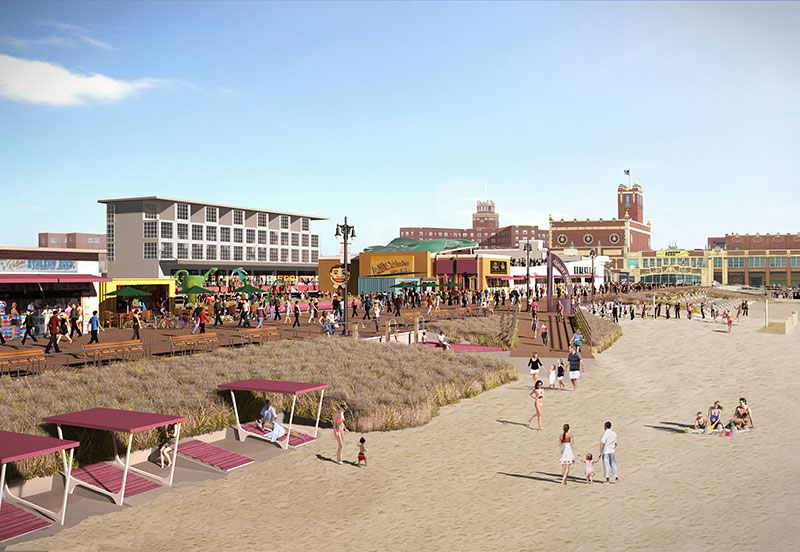 While policy and economics are often either the driving or limiting forces behind the realization of a large-scale public project, the communities that will live with the project after completion always want to know, "What will it look like?" So when communities can see that the changes to raise them above design flood elevations is also a new amenity—to be used as seating, landscape, program, art, or other public benefits—it changes the conversation. It helps ease common fears of being "walled in."
Architects are trained to help multi-disciplinary teams visualize the complex relationships between policy, economy, infrastructure, buildings, and landscape. Through our recent work, we have been able to unite client communities, political leaders, and large multi-disciplinary teams under a collective vision for the future of their cities. In ongoing work in the Red Hook section of Brooklyn, NY, for example, we're working with government agencies, community organizations, and citizens to help manage federal applications and envision a new dialogue about integrated flood-protection systems.
As architects, we have a critical role to play. We're responsible for delivering resilient projects that strengthen communities to resist and rebound from threatening events—while adding value to their daily lives. It is our job to recognize opportunities for design and to shape a response that creates social and economic benefits in the public realm. Wherever possible and at a range of scales, we look for new and innovative ways to design infrastructure that sparks the public imagination, encourages community engagement, and delights our senses.