Celebrating the History of the ARE
NCARB is celebrating its centennial in 2019! As a part of the celebration, we will be posting articles from our archives to remember the history and evolution of the organization. A version of this article by Bill Houseman originally appeared in a 2005 edition of NCARB's Direct Connection magazine.
Prior to the Architect Registration Examination® (ARE®) as we know it, architects faced a variety of exams that were first administered on a national level in 1965. Learn about the development of the ARE as well as some of the major personalities behind the exam and related Council initiatives.
NCARB's most senior past president, by both association and the calendar, dropped by the Council's offices not long ago to pick a small bone. C. J. "Pat" Paderewski, FAIA, informed the staff that he wished they would correct an omission in a special paper on the history of NCARB.
It troubled him, he said, that this document contained no mention of the Council's first national examination: the historic seven-part, multiple-choice exam (plus design and site tests). He was interested in seeing this exam milestone duly recognized, for both institutional and prideful reasons. It not only was the first NCARB examination produced and made available in all states and territories, but it also was launched in 1965, the year of Paderewski's presidency.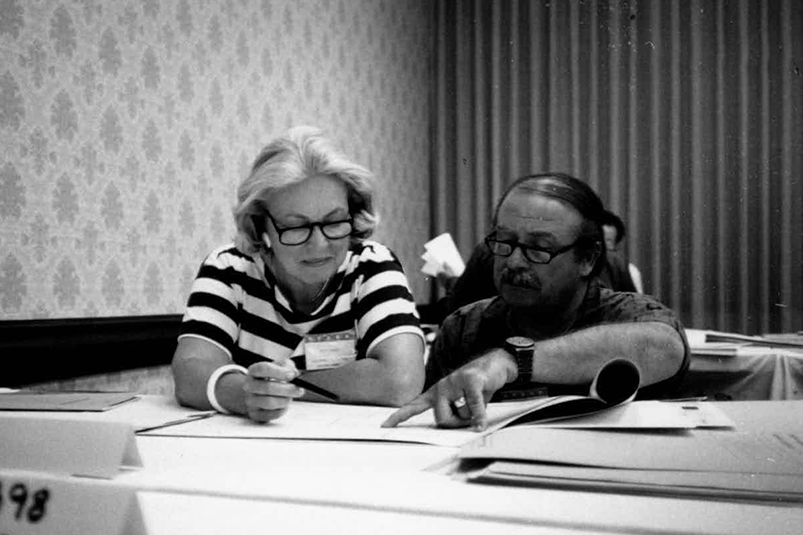 Small wonder, 40 years later, that Paderewski, now 96, felt it was high time the Council gave the old "seven-parter" and its authors their rightful credit. For one thing, it was the exam many of today's most senior practitioners sat for; for another, he will doubtless take satisfaction, as one past president who never skips an NCARB Annual Meeting, in celebrating the exam's 40th anniversary in late June in Miami Beach.
The Seven-Part Exam Debuts
Soon enough, the staff agreed that Paderewski's recollection was on target. Proof turned up in the form of a report delivered by the late Ralph O. Mott, FAIA, to that year's AIA convention on June 15, 1965. (If NCARB raised monuments to past leaders, Ralph Mott's would have to be one of the first. He served on the Arkansas Board for an astonishing 31 years. In his Council leadership roles, he articulated a vision of universal reciprocity that might be achieved through a consensus of all Member Boards.)
"During the past year," he told the AIA membership, "NCARB has prepared objective type examinations for all NCARB examination subjects except design and site planning. These new examinations are now available for use by all of the state boards." Mott went on to express both his expectations and his humility. "When we have uniform examinations and uniform grading …  we will have removed one of the roadblocks in the path of simplified reciprocal registration procedures. These examinations may be less than perfect, but who among you designed a perfect building for your first client—or your most recent client?"
Environmental Concerns Catalyze Exam Changes
The seven-part exam was fated to be short-lived. By the mid 1960s, NCARB, like countless other public organizations, had become deeply affected by an environmental awakening across the United States. A scant year after the seven-part exam was established, a blue-ribbon committee developed a long-range policy "to cope with the drastic changes underway in education and in the profession."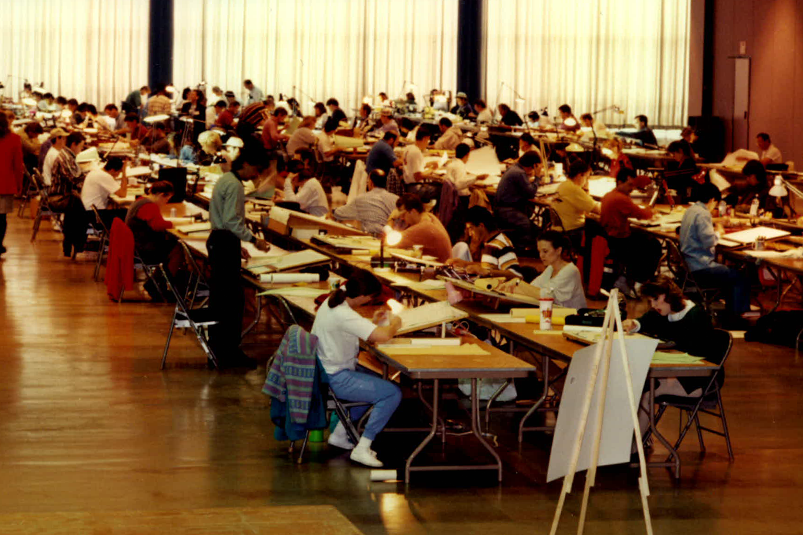 The Professional Examination and the Equivalency Examination
By 1971, six years' work had been invested in developing an entirely new set of examinations: a Professional Examination for those candidates who had a National Architectural Accrediting Board (NAAB)  accredited degree, and a new Equivalency Examination for those who lacked one. Architectural Record and others called them "revolutionary."
As chair of the Examination Committee, E. G. Hamilton, FAIA, affirmed the exams' philosophical foundation in 1971 when he wrote, "NCARB holds that the protection of the public health, safety, and general welfare means no less than providing a satisfactory environment, that such an environment means one that is clean and safe, as well as functional and beautiful."
The Professional Exam especially excited many in the profession (and dismayed others). Influenced perhaps by an eco-fervor that had entered the profession's consciousness, it laid heavy emphasis on environmental and aesthetic content. Two of its four parts were labeled "Environmental Analysis" and "Architectural Programming." The others were "Design and Technology" and "Construction." All were in a multiple-choice format, and all were machine-graded. Only the Equivalency Exam candidates were required to sit for a 12-hour site and design test. Why not candidates for the Professional Exam?
The Examination Committee and others offered a rationale that the candidate holding an accredited degree might be presumed to have gained the requisite graphic skills in school, and that it was the Professional Exam's intent to test for the candidate's judgmental abilities.
While a complimentary tip of the hat to the schools, this explanation didn't sit well with every Member Board. A significant number of the boards insisted on administering the 12-hour design tests to all candidates. Letting the accredited degree holders skip the graphic portions proved to be one of a series of issues that contributed to the Council's decision to undertake its first ambitious, full-scale analysis and validation study of the examination process. The results of this study were applied in the development of yet another examination: the Architect Registration Examination® (ARE®).
Introducing the ARE
By 1984, the ARE and computer technology had both matured at such a pace that this exam virtually commended itself to be transformed from a pencil-and-paper exam to a computerized version. At that point in time, no learned profession had attempted to develop such an examination, and it was considered daunting that the only "graphics minded" profession was the first to take the plunge.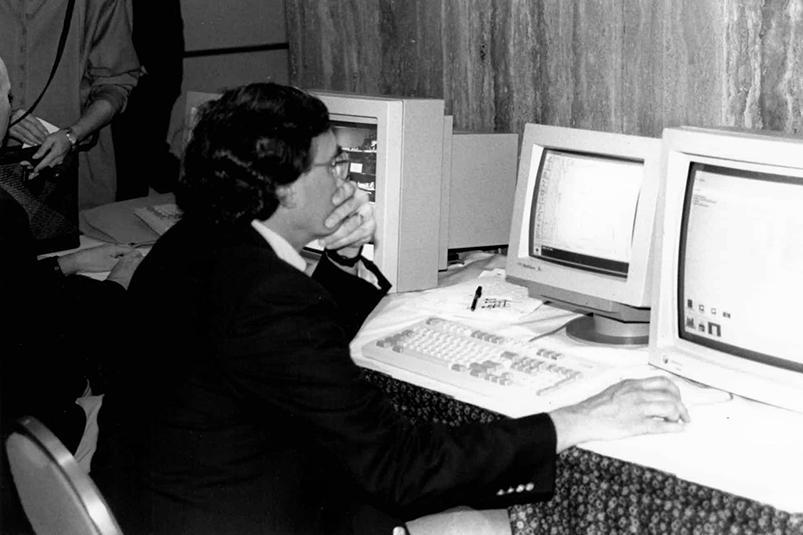 A computerized ARE constituted an enormous risk for NCARB: in time required, in the hundreds of thousands of dollars invested, and in the will to make it happen. There came a critical period when the Council was bearing the dual financial burden of supporting the paper-and-pencil version while investing in the development and initial administration of the computer-delivered ARE.
That day finally arrived, and it was February 24, 1997. Then-President Darrell L. Smith, FAIA, reported, "NCARB inaugurated the Architect Registration Examination, delivered and scored by computer. This event marked the culmination of 13 years of work by an incredible number of people from both the National Council of Architectural Registration Boards and the Educational Testing Service." He continued, "The idea for a computer exam was generated at a Member Boards Workshop in 1984 and has been shepherded by each president since that time … I believe ARE '97 is our gift to future generations of architects and their entry into the profession."
Today, eight years later, ARE 3.0 remains a gift—both to the profession and the public it serves to protect.
Stay tuned for more glimpses into our past, present, and future, and follow along on social media with #NCARB100.