The online proctoring option for the Architect Registration Examination® (ARE®) 5.0 is now available, and the changes to the exam's navigation, timing, and tools are now in place for all appointments.
You can now schedule an online proctored exam in My NCARB or reschedule an existing in-person appointment to be taken online—here's how:
1: Navigate to Your "Exams" Tab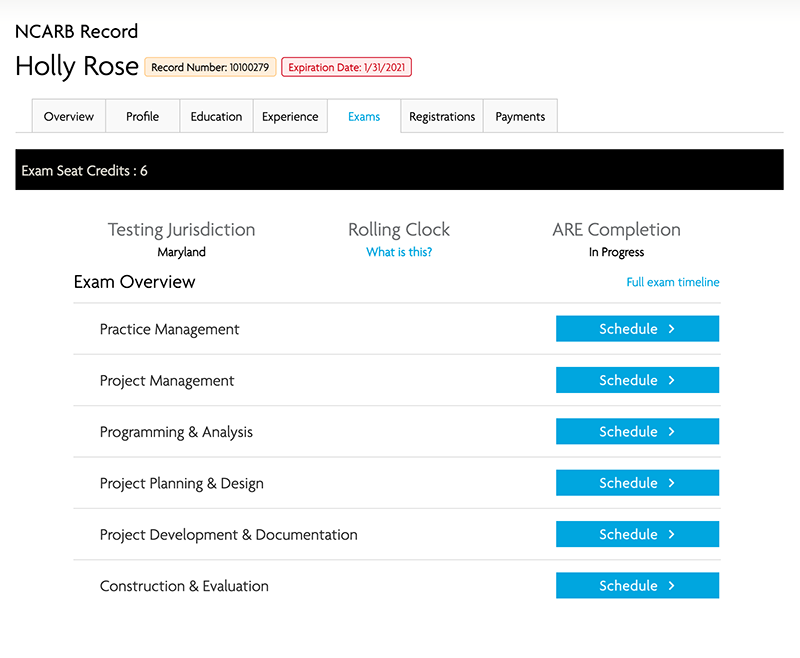 Log in to My NCARB and navigate to the "Exams" tab of your NCARB Record. If you don't already have exam eligibility, you'll need to request that before you can schedule an exam. You'll also need to purchase a seat credit, if you haven't already done so.
2: Select a Division to Schedule and Confirm You're Ready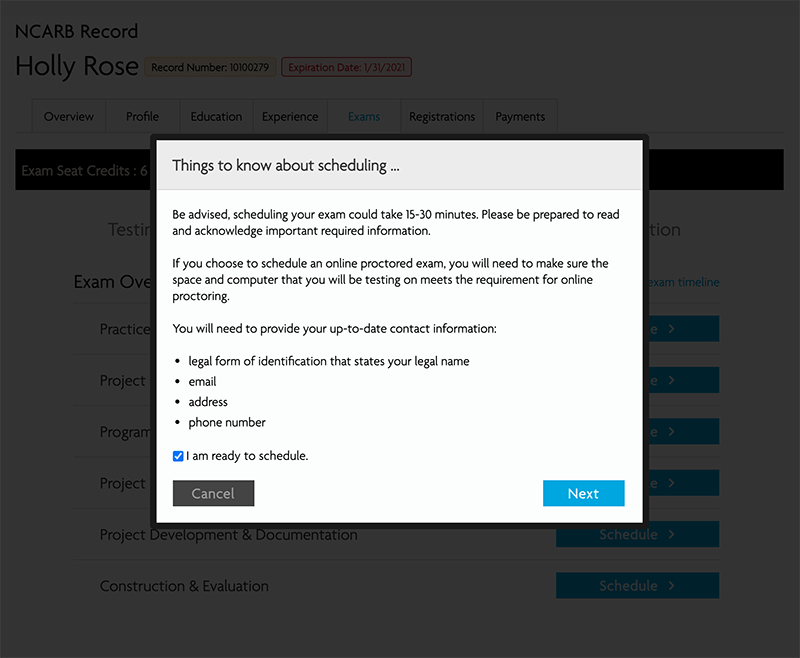 Select "Schedule" next to the division you'd like to book. You will be reminded that scheduling an exam can take 15-30 minutes (including time to read all required materials) and asked to confirm that you are ready to schedule.
3: Confirm Your Contact Information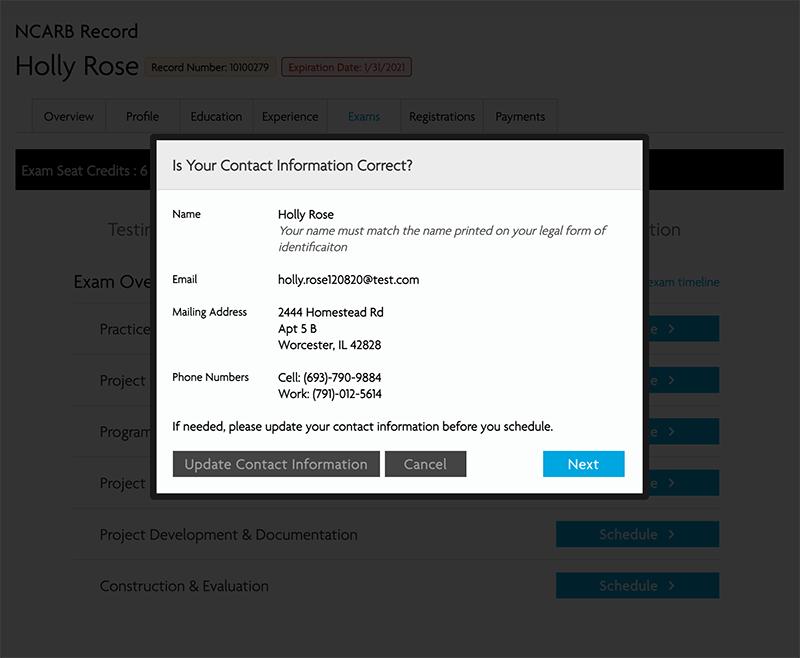 You will be asked to confirm the contact information in your NCARB Record, as shown on the screen. Remember, your name must exactly match the name on your legal ID. If you need to change your name, you will be prompted to contact us.
4: Accept the ARE Candidate Agreement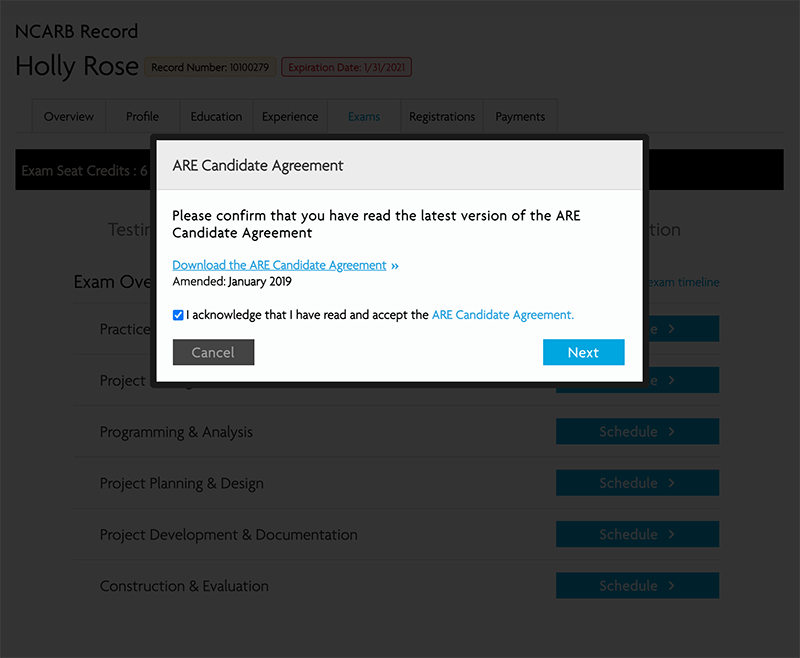 Next, you will be asked to read and accept the ARE Candidate Agreement, which details your responsibility when it comes to protecting exam content and security.
5: Select Your Delivery Method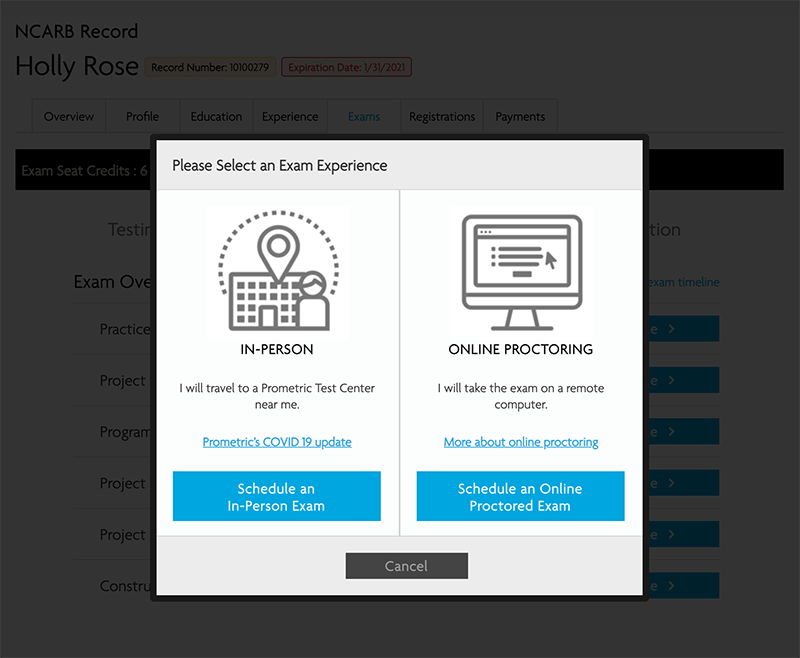 Choose whether you would like to schedule an online exam or an in-person exam. You will have this option each time you schedule an exam appointment.
6: Acknowledge Online Proctoring Requirements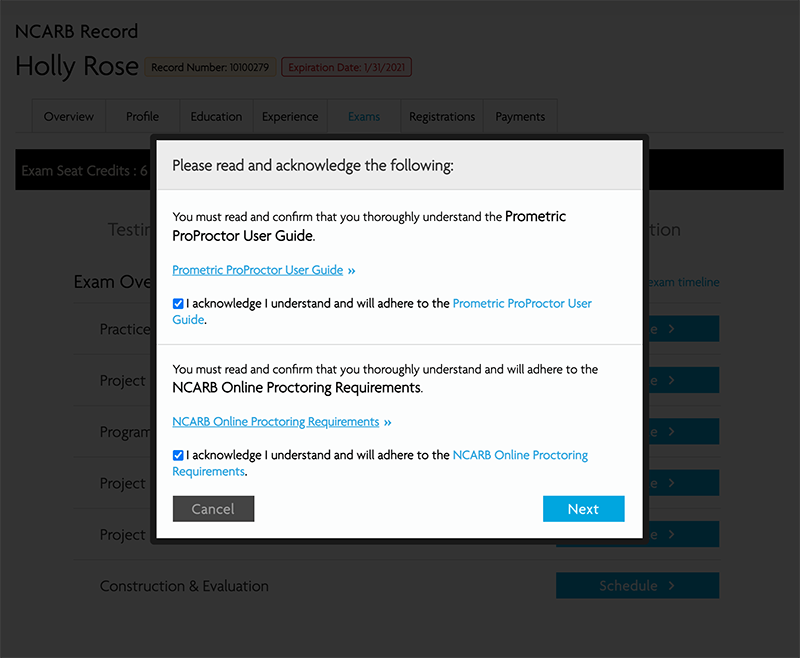 If you choose online delivery, you will be asked to confirm that you understand the requirements for taking an online-proctored exam. If you can't meet these requirements, please plan to test in person.
7: Read Prometric Reminders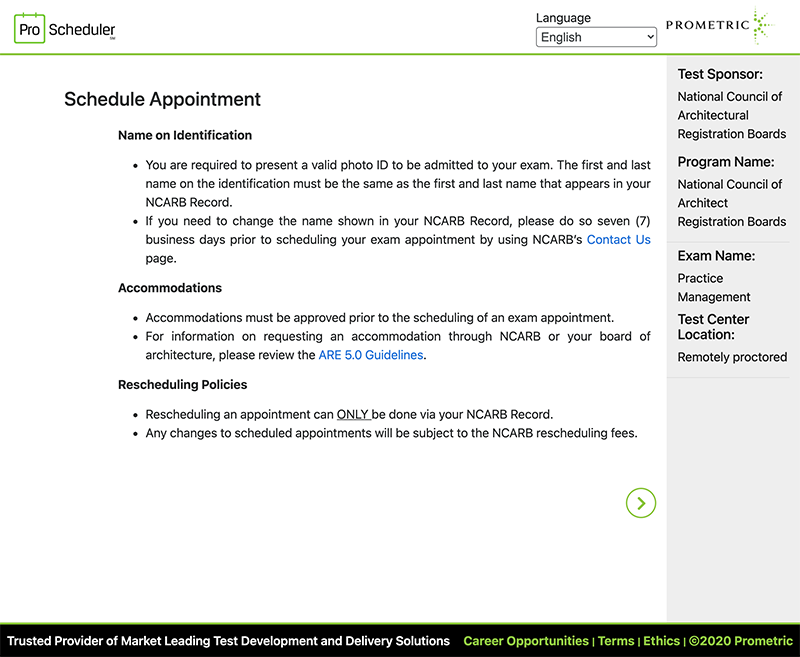 You will be taken to Prometric's scheduler, where you will see several reminders about your ID, accommodations, and rescheduling.
8: Acknowledge Prometric Policy Notice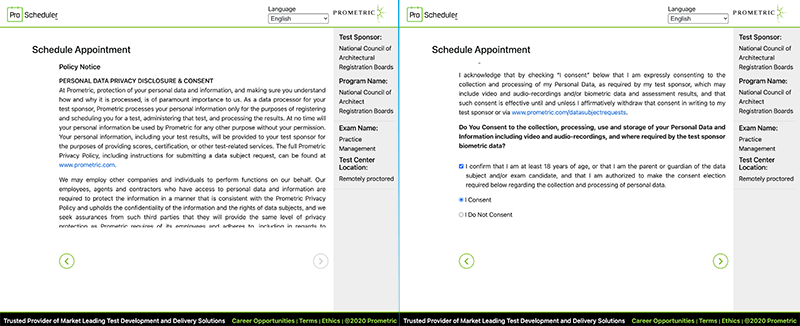 Next, you'll see Prometric's privacy policy, which you'll need to read and consent to before scheduling your appointment.
9: Select Your Time Zone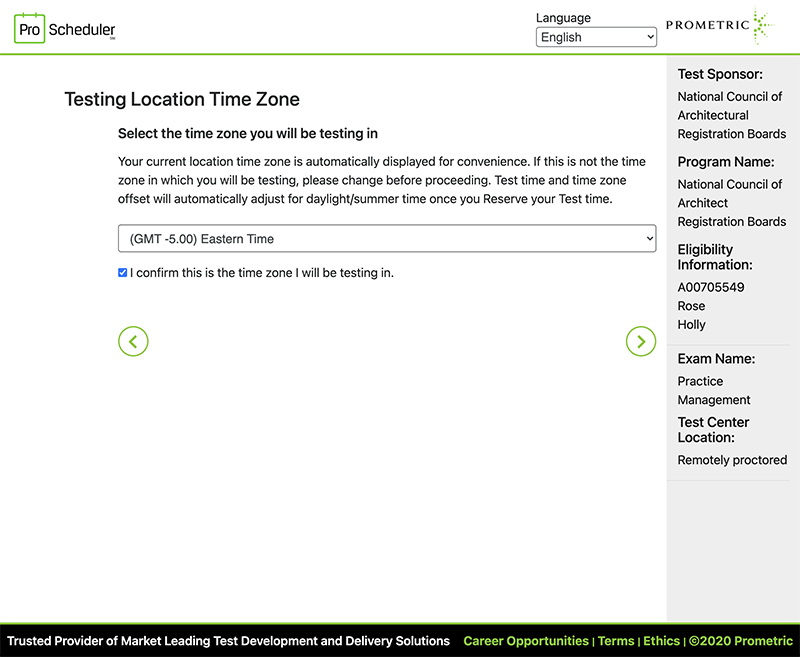 If you're testing online, you'll be asked to select the time zone you intend to test in. This will automatically be set to your current time zone—so pay careful attention if you need to select a different time zone.
10: Select an Appointment Date and Time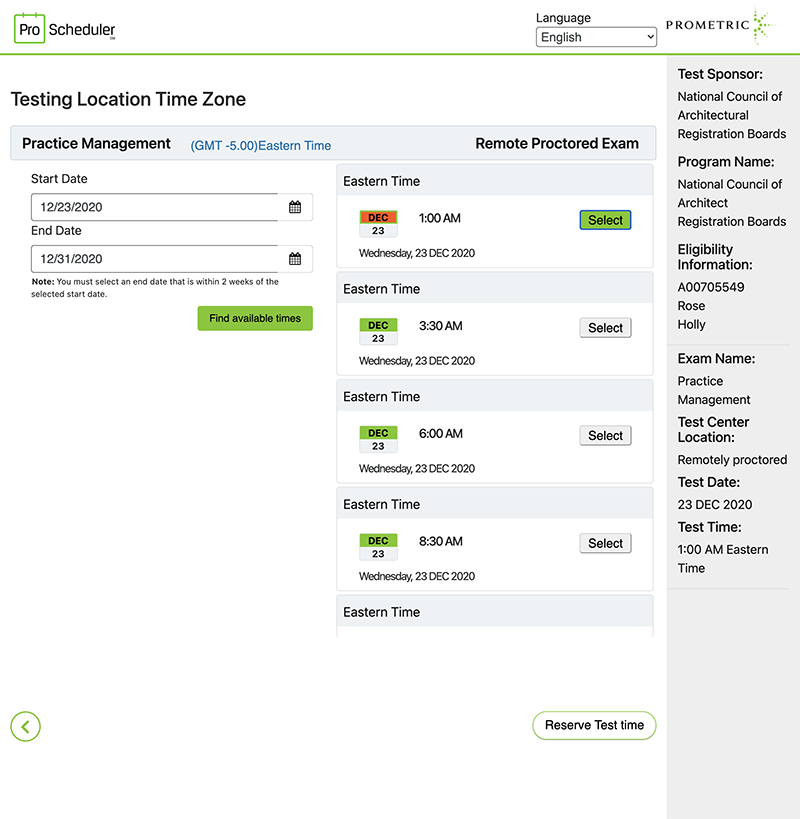 For online proctored appointments, you'll be asked to pick an appointment date and time, both of which are determined based on the time zone you just selected. If you're testing in-person, you'll be able to select a test center and then select an appointment from available dates and times.
11: Accept Biometric Disclosure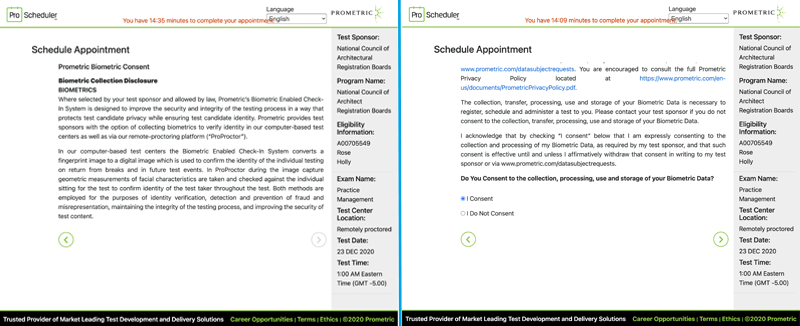 After choosing an appointment slot, you'll be reminded of Prometric's Biometric Collection Disclosure, which you must consent to before proceeding.
12: Fill in Your Prometric Profile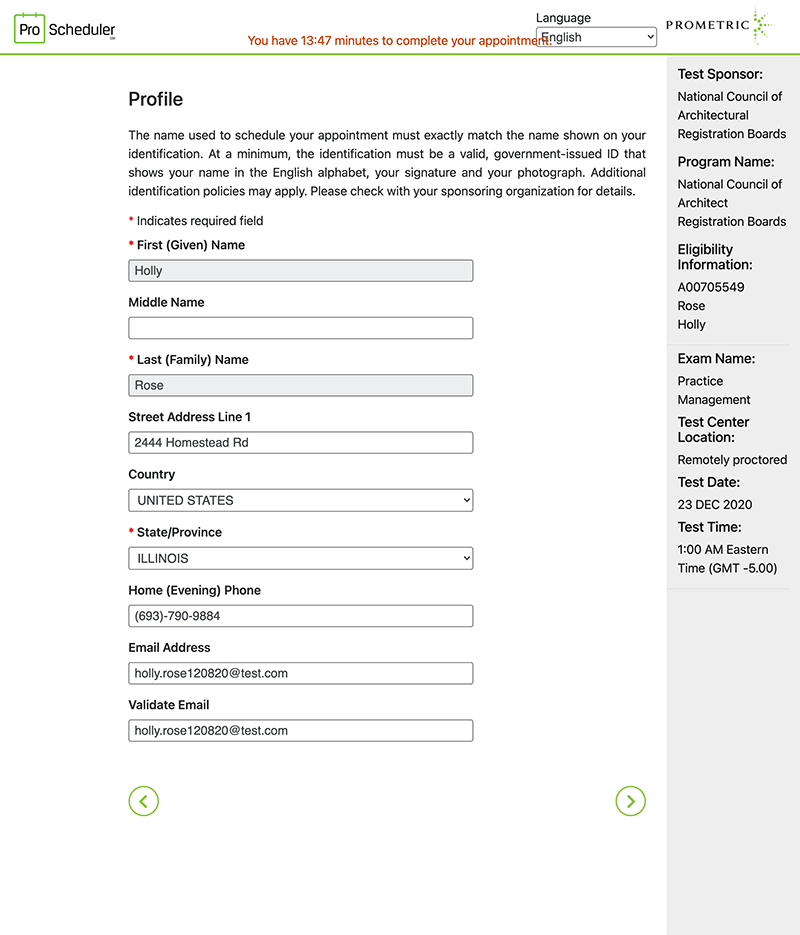 You'll be asked to fill in your contact information on Prometric's website. Your name will auto-fill from your NCARB Record, and you will not be able to change it here.
13: Verify Appointment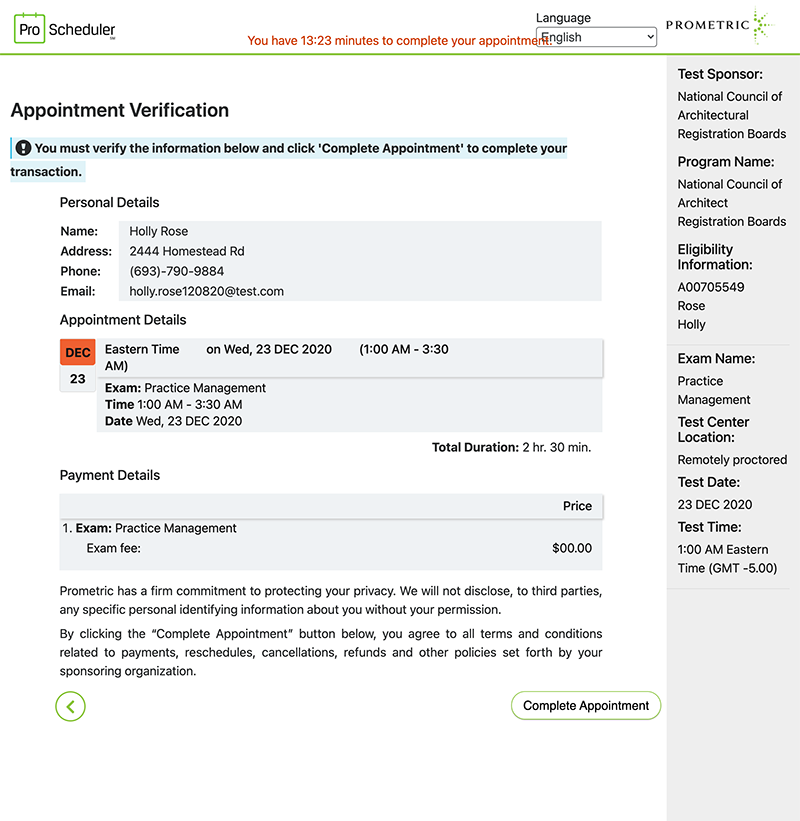 Next, review your appointment details and be sure all the information is correct. Then, select "Complete Appointment." You're done!
Reviewing Appointment Details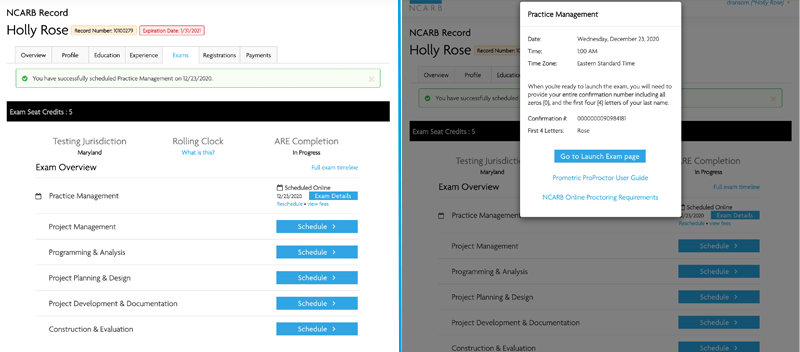 Once it's scheduled, you'll be able to see your appointment details in the "Exams" tab of your NCARB Record. You can return to this page on test day when it's time to launch your exam, and select "Go to Launch Exam Page" to begin your appointment.
Rescheduling an Existing Appointment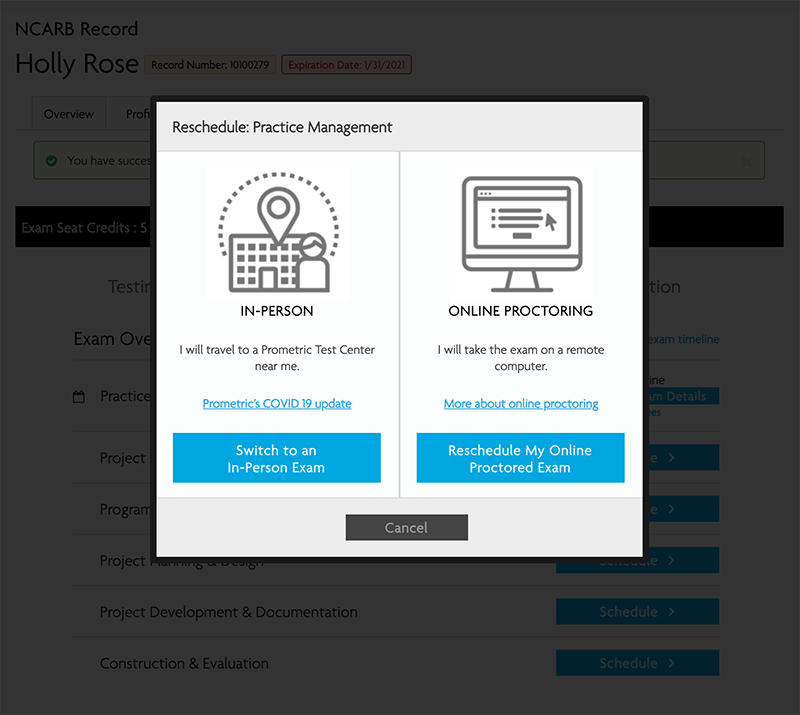 You can also reschedule an existing exam appointment via the "Exams" tab and, if desired, switch delivery methods. To reschedule, select "Reschedule" under the previously scheduled appointment you'd like to change. From there, you'll select your delivery method and go through the scheduling steps above.
Preparing for an Online Proctored Exam
Before you schedule an online proctored exam, please review the requirements for setting up your online proctored testing space, and watch our video on how to prepare for the check-in process. Plus, watch Prometric's video of what to expect during your appointment above. If you don't think you can meet the requirements for testing online, please plan to test in person.
If you're testing from a computer with a firewall or antivirus software, or from a Mac, you may need to take additional steps to prepare for your appointment.
Remember: Even if you're testing from home, you should still avoid wearing jewelry and accessories except for religious reasons. As with in-person appointments, you're not allowed to have water or other beverages in your testing space unless you have a specific accommodation.
During your appointment, you'll need to be able to move your webcam to provide a 360-degree view of your testing space. To facilitate the ID verification portion of your check-in, make sure you use a webcam that can auto-focus.