Record Number of Candidates Complete Core Licensure Requirements
For the past several years, we've worked to streamline our programs, provide greater flexibility, and remove unnecessary hurdles along the path to licensure—and according to the 2018 edition of NCARB by the Numbers, it's starting to affect the time it takes to become an architect.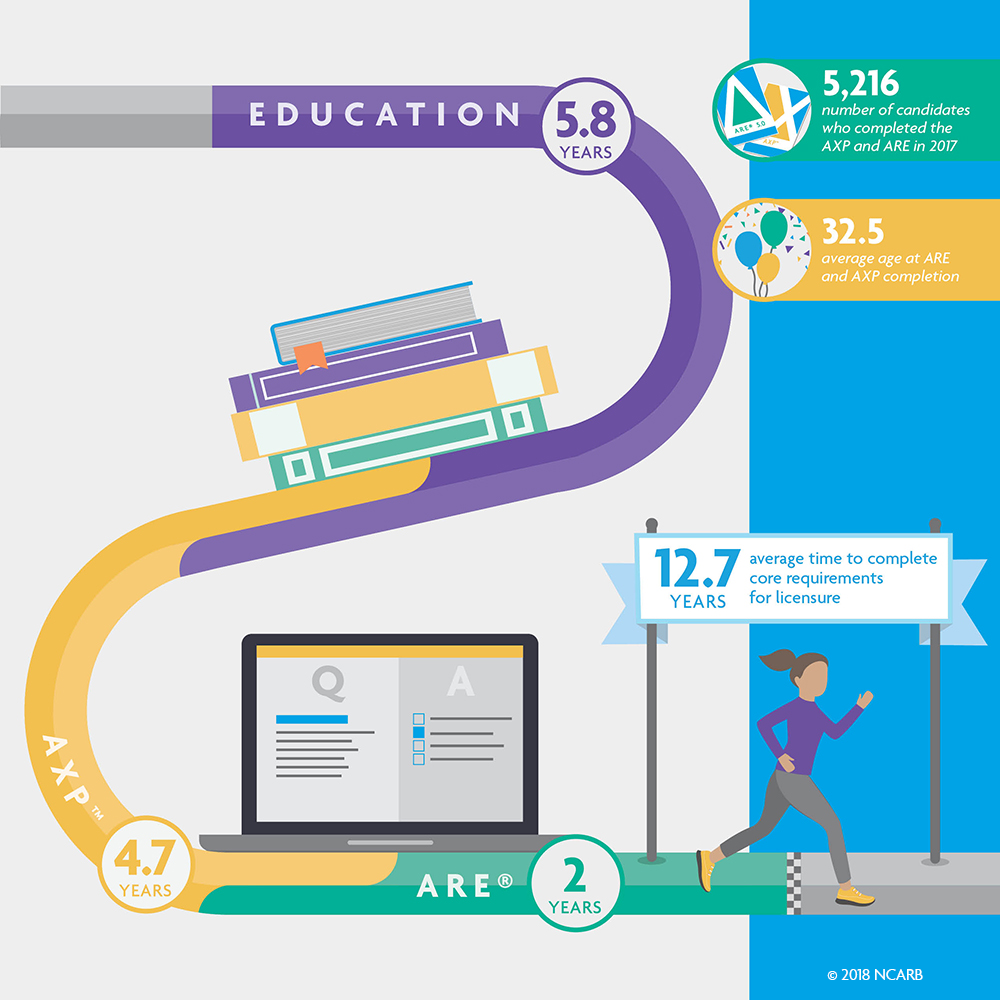 The path to licensure includes three core requirements: earning a degree, completing the Architectural Experience Program® (AXP™), and passing the Architect Registration Examination® (ARE®). As NCARB has aligned and updated the AXP and the ARE, the time it takes to complete these requirements has steadily dropped. We hope to see continued progress, especially as more students take advantage of Integrated Path to Architectural Licensure (IPAL) options, which allow them to overlap their education, AXP, and ARE.
In 2017, the average candidate took just over 12 and a half years to complete the core requirements for licensure, and almost half of this time (5.8 years) is spent earning a degree.
While the time it takes to complete education, experience, and examination has dropped just one year over the past decade, the time it takes to complete NCARB's programs (the AXP and ARE) has fallen by over two years. In 2017, candidates finished the AXP and the ARE 2.4 months sooner than in 2016.
The age at which candidates complete the path to licensure has fallen in tandem with the time to complete core requirements, dropping nearly two years from its high in 2009. Updates like the experience area realignment, the 60-day retake policy, and the ability to take the ARE while earning work experience have helped break down barriers in the licensure process.
In addition to taking less time, more candidates than ever are completing the path to licensure. Over 5,200 candidates finished their final core requirement for licensure in 2017—the highest number on record by over 11 percent. With the high volume of candidates rushing to complete the exam before ARE 4.0's June 30, 2018, retirement, we expect this number to be even higher in 2018.
A number of factors influence the time it takes to navigate the path to licensure—including what type of degree a candidate earns, how early they start reporting experience, and whether they complete the AXP and ARE concurrently. Candidates who choose to overlap their education, experience, and examination requirements finish the path to licensure more than two years sooner than the average candidate.
To learn more about the path to licensure, visit our interactive NCARB by the Numbers database.