The Value of Volunteer Leadership Early in Your Career
The opinions expressed in this commentary are solely those of the author and do not necessarily reflect those of the National Council of Architectural Registration Boards (NCARB).
The path to licensure can take a variety of forms. For many, it includes getting involved with organizations like the AIA, NCARB, and community groups. Serving the profession at an early career stage can be critical to the professional and personal development of a licensure candidate or young architect. The connection to a larger network and skills learned through volunteer service often make it easier to get licensed and determine long-term career goals.
Learn how emerging professionals David Flecha, Assoc. AIA, and Gabriela Baierle-Atwood, AIA, are giving back through professional organizations and jumpstarting their careers.
Tell us about your involvement with AIA and/or NCARB communities.
David Flecha, Assoc. AIA: I'm currently serving as the New York Regional Associate Director on the National Associates Committee, I'm part of the Advocacy Task Force, and I serve as the National Design Services Act (NDSA) liaison. In New York, I created proposed guidelines that can be used by local components to effectively run an emerging professional committee, and develop and promote leadership opportunities. As a result, the AIA New York State executive committee was able create a position that will be seated by an emerging professional in 2018. In the local Brooklyn component, I'm the founder and co-chair for the Brooklyn Emerging Professionals Committee and co-chair of the Brooklyn + Queens Design Awards. I've also participated in other programs and community events such as Figment NYC and the Future Now Summit in AIA NY chapter.
Gabriela Baierle-Atwood, AIA: I was part of NCARB's 2015 Think Tank, where we discussed the current and future states of the licensing process, and provided criticism and insight. It was a great experience, and afterward I became part of the Architect Licensing Advisors community. When I moved to Boston, I was eager to take part in the many opportunities that the Boston Society of Architects (BSA—AIA's Boston component) provided for networking and learning. I didn't know anyone in town, so it was a great way to meet people and participate in the tightly knit architecture community of the area. With that, my role as a licensing advisor expanded to also serve the AIA Massachusetts chapter.
How did your participation help you on the path toward licensure?
GB: Being able to speak with people who are also going through the examination was helpful to me, even if just for support and encouragement. Additionally, the experience of participating in the NCARB Think Tank and the BSA committees allowed me to understand the process in depth.
DF: Being involved [with the] AIA affirmed and enforced the importance of obtaining your license … to ensure the quality of the built environment. [The AIA also] helps us train for being licensed with the programs and opportunities they offer, whether through conferences or leadership opportunities. Our members throughout the AIA are successfully addressing issues of sustainability and community development that we are facing today. Having a license helps us push the envelope further and open doors for discussions.
What value do you see in volunteering? Have you learned any skills from your volunteer involvement that you might not have developed otherwise?
DF: Volunteering gives you a platform to voice your opinions for the profession. As an associate AIA member, I've obtained knowledge and new skills that I wouldn't normally get from my office. I've learned ways to converse confidently and properly in order to advocate for the profession. I learned what is needed to create successful programs and how to push my ideas further.
How would you encourage others to get involved?
GB: I would suggest starting by expanding your network. It's so easy to attend meetings at the local AIA chapter or volunteer for a committee. Calls for AIA committees should be starting soon, so keep an eye on email newsletters and social media, and find the opportunities that are out there.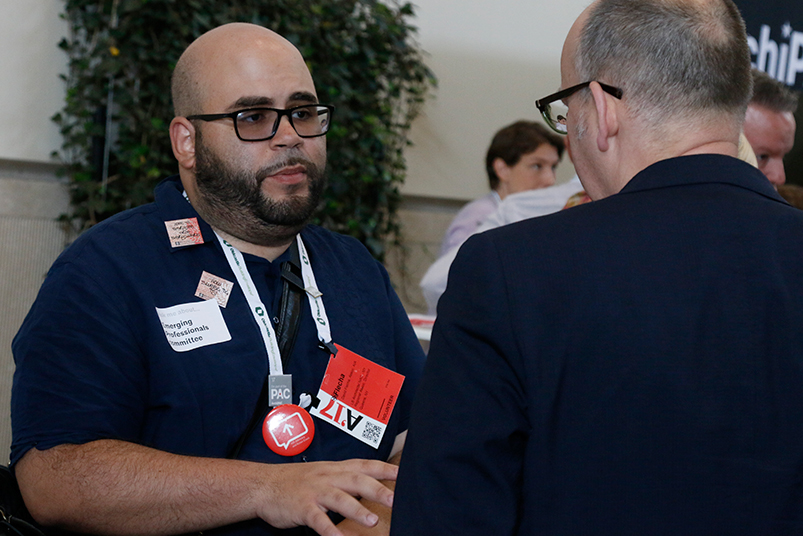 AIA members have access to a variety of resources for licensure and beyond, including AXP support and ARE prep, as well as a network of 90,000 architecture professionals. The Institute strives to publish relevant and insightful content for the rising generation of architects and provide opportunities for local and national service. For more information, visit AIA.org or email the AIA Center for Emerging Professionals to get involved.