Last year, a record number of licensure candidates completed the Architectural Experience Program™ (AXP™), formally named the Intern Development Program (IDP). Candidates are also finishing the program in less time than ever before.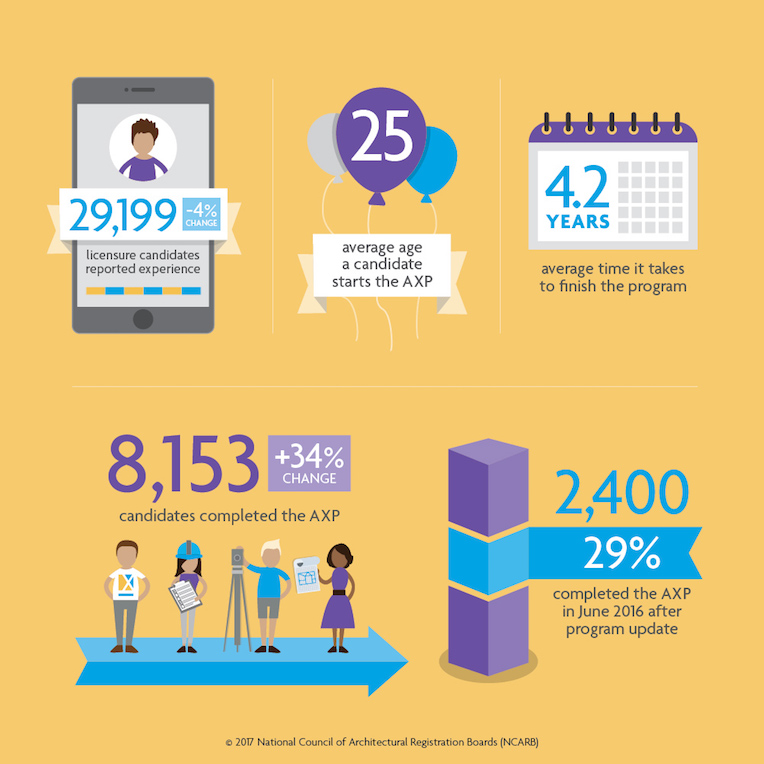 Several changes have contributed to this shift, namely a reduction in required hours and the re-alignment of experience areas. By refocusing these areas to mirror the phases of an architecture project, candidates and their supervisors have been able to approach the AXP—and the path to licensure—with greater flexibility.
AXP Completions Reach All-Time High
More than 8,100 licensure candidates completed the AXP in 2016—the highest number on record. Three key updates contributed to this growth, including: enabling candidates to log experience beyond eight months (July 2014); reducing the number of required hours from 5,600 to 3,740 (July 2015); and re-aligning the program's 17 experience areas into six (June 2016). In fact, about 2,400 licensure candidates completed the program in June 2016 with the latest update.
Note: Historical data can shift because licensure candidates can backdate experience up to five years. For example, if someone today submitted a final experience report from 2015, their AXP completion date would be 2015.
Licensure Candidates Complete the AXP Sooner
In 2016, the average licensure candidate completed the AXP in just over four years. This shift is likely tied to recent program updates, particularly a reduction in required hours (see AXP Completions Reach All-Time High). The 2016 re-alignment of experience areas, however, did not significantly alter the time it takes to complete the AXP. 
Age at AXP Completion Stays Consistent
On average, licensure candidates who completed the AXP in 2016 were 25 when they started the program and 30 when they finished. While the ages candidates start and complete the AXP have remained consistent over the past few years, these two points are growing closer. For comparison, 2016 saw a 5-year difference, while 2013 was 5.9.
More Candidates Complete the ARE Before AXP
Of the licensure candidates who completed the AXP and ARE in 2016, 28 percent finished the exam before their experience—the largest percentage to date. Not surprisingly, this proportion has grown over time, particularly as the path to licensure becomes more flexible (see Record Number of Candidates Overlap the ARE and AXP).
The jump in 2009 is likely tied to the launch of ARE 4.0, as candidates testing in 3.1 hurried to complete the exam; and a similar spike occurred in 2015 before the transition from ARE 4.0 to 5.0. The dip in 2012 is the result of IDP 2.0 launching and a reorganization of required hours.
---