In 2016, the number of U.S. architects held steady, with nearly 110,000 practitioners across 54 jurisdictions. However, two key trends reveal there's a continued demand for architectural licenses: Architects now hold more than 126,000 reciprocal (out-of-state) licenses—a sign that practitioners are looking to expand their careers across borders. The pool of licensure candidates also remained healthy, with more than 41,400 professionals reporting experience and/or taking the licensing exam.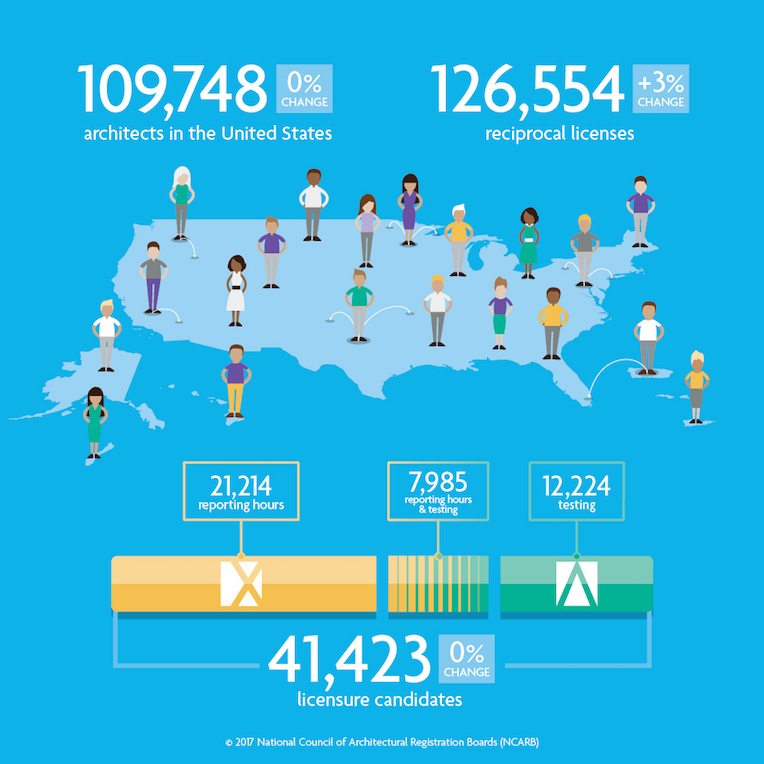 While NCARB acknowledges there are a variety of factors that contribute to the state of licensure, these insights point to a bright future.
Number of U.S. Architects Holds Steady
There are 109,748 architects in the United States, according to the 2016 Survey of Architectural Registration Boards. This represents a minimal drop from the previous year (roughly .4 percent). Each year, NCARB collects this data from its 54 Member Boards, which include the 50 states, the District of Columbia, Guam, Puerto Rico, and the U.S. Virgin Islands.
The survey also reveals that architects increasingly hold licenses in multiple states. In fact, U.S. architects now have 126,554 reciprocal (out-of-state) licenses, a 3 percent increase from 2015.
Pool of Licensure Candidates Remains Strong
In 2016, the number of professionals working toward licensure matched last year's peak, with more than 41,400 candidates either taking the ARE and/or reporting AXP hours.
Of this pool, nearly 8,000 licensure candidates took at least one exam while reporting experience hours—a 3 percent increase from 2015. Currently, 50 of the 54 licensing boards allow an overlap between gaining experience and examination.
Note: Historical data can shift because licensure candidates can backdate experience up to five years.
---