With over 114,000 Record holders, more than 15,000 AXP supervisors, and hundreds of volunteers, NCARB's community continues to grow. In 2017, our volunteers worked across 28 committees—the highest number on record—to tackle a wide range of initiatives. Licensure candidates, architects, educators, and other professionals worked together to write exam questions, examine the future of architecture, develop new training and resources for AXP supervisors, and more.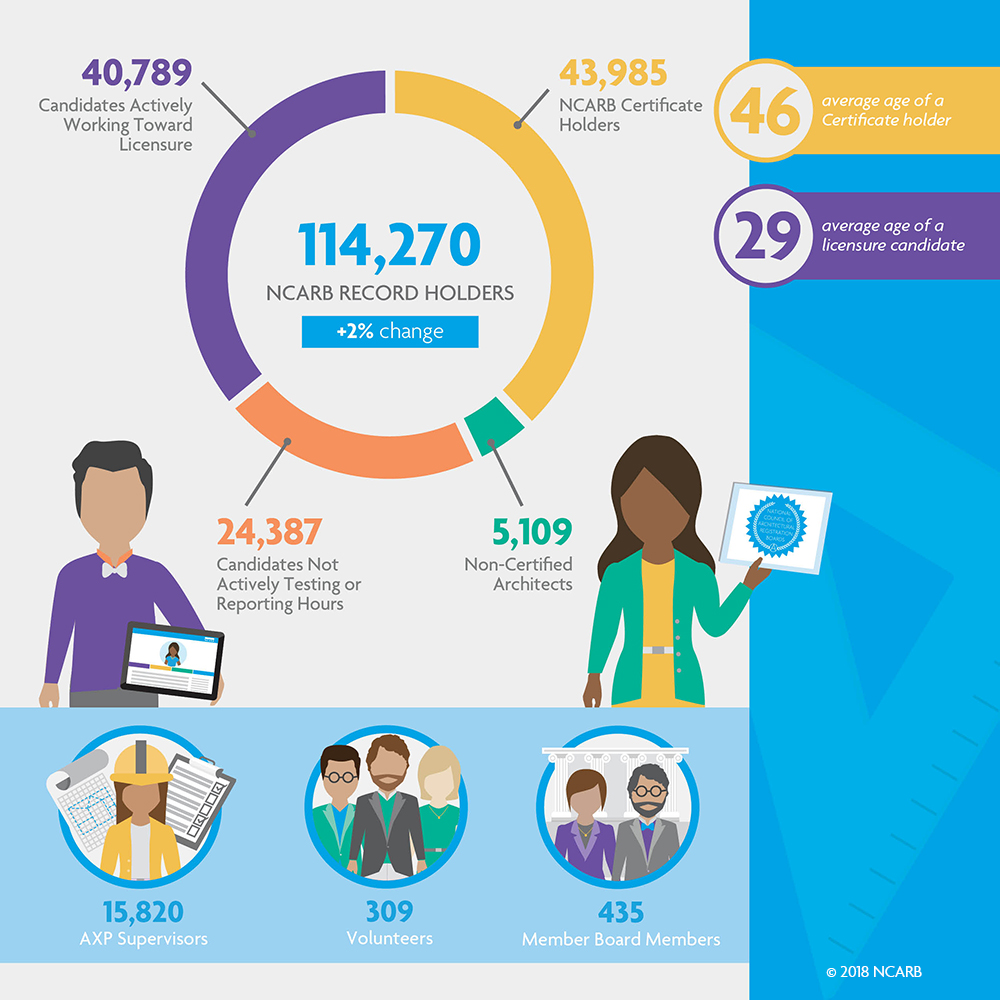 NCARB supports the efforts of the 54 U.S. licensing boards, also known as Member Boards, who work to advance national programs and initiatives while protecting the public. Of the 435 members who serve on these boards, nearly half are practicing architects, 142 are in related professions (such as engineering and landscape architecture), and 68 are members of the public.
Number of NCARB Certified Architects Reaches All-Time High
By the end of 2017, just under 44,000 architects held an active NCARB Certificate—an increase of almost 4 percent from the previous year, and the third year in a row this number has reached an all-time high. In addition, increases in the number of candidates becoming certified immediately after initial licensure signals that young professionals are more aware of the Certificate and its benefits.
The NCARB Certificate facilitates reciprocal licensure across the United States and enables U.S. architects to earn licenses in Australia, Canada, Mexico, and New Zealand. Certified architects also have access to free continuing education opportunities through NCARB's Continuum Education Program.
NCARB's Community Continues to Grow
In 2017, over 114,000 individuals held an NCARB Record, a 2 percent growth from the previous year. Of those Record holders, 39 percent are architects with an NCARB Certificate (up 1 percentage point from 2016), 4 percent are architects without a Certificate (no change from 2016), and 36 percent are candidates actively working toward licensure (down 1 percentage point from 2016—see Number of Licensure Candidates Dips Slightly). The remaining 21 percent are candidates who haven't taken a division of the ARE or reported AXP hours in the last year (no change from 2016).
Number of New NCARB Records Declines
Just over 8,600 individuals started an NCARB Record in 2017, a 2 percent drop from the previous year. This marks the third year in a row the number of new Records has fallen, putting 2017 slightly below the 10-year average of 8,974. Despite this downward trend, the number of new Records has remained relatively stable over the past three years following nearly a decade of unpredictability. The spike in 2009 was the result of a new policy that required licensure candidates taking the exam to hold a Record.
NCARB Customers Around the World
Licensure candidates and NCARB Certificate holders are located in countries across the globe. Outside of the United States, the largest populations of Record holders are based in Canada (710), the Republic of Korea (109), the United Kingdom (103), and China (79).
Through mutual recognition arrangements, NCARB Certificate holders can pursue reciprocal licenses in Australia, Canada, Mexico, and New Zealand. NCARB also offers the ARE at Prometric test centers in Canada, London, Hong Kong, and Abu Dhabi.
---