With the help of licensing boards, NCARB has spent the past several years streamlining and aligning its programs to provide greater flexibility and remove unnecessary hurdles along the path to licensure. This year, we have shifted our data to focus on the impact of NCARB's national programs on the time to licensure. 2017's data shows most candidates now overlap the AXP and ARE, and the time it takes to complete these core requirements has steadily decreased over the past eight years.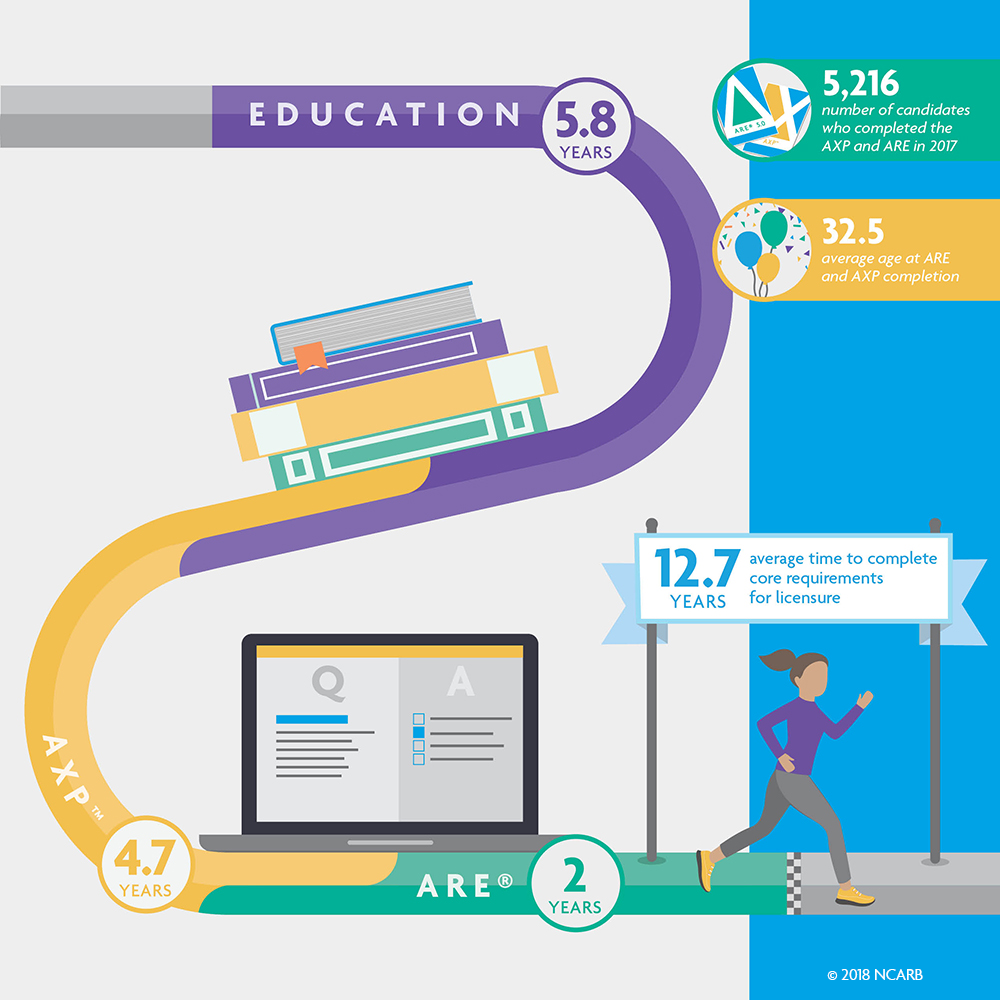 NCARB expects to see this positive trend continue as recent program improvements continue to take hold, and students participating in Integrated Path to Architectural Licensure (IPAL) options begin to graduate. Launched in 2015, this new initiative enables accredited programs to incorporate experience and examination into curricula.
Candidates Complete the Core Requirements for Licensure Sooner
On average, it now takes candidates just over 12 and a half years to complete the core requirements for licensure—including education, experience, and examination—and almost half of this time (5.8 years) is spent earning a degree. Focusing solely on NCARB's programs, the average candidate spends 6 and a half years completing both the AXP and the ARE, 2.4 months sooner than in 2016.
The time it takes to complete NCARB-administered programs has dropped by 2.2 years (or 25 percent) since 2009, as updates like the experience area realignment and 60-day retake policy encourage increased overlap and reduce the time spent in each program.
New Architects Overlap Education, AXP, and ARE
The average path to licensure in 2017 included overlaps among education, experience, and examination. Nearly half (47 percent) of licensure candidates who finished their core requirements in 2017 started the AXP while in school, and 65 percent completed the AXP and ARE concurrently.
Together, these overlaps have led to a decrease in the overall time it takes to earn a license. Among individuals who completed their final core requirement for licensure in 2017, earning a degree typically took almost six years, while completing the AXP and ARE took just under six years.
Candidates Complete Licensure Requirements Younger
In 2017, the average age of an individual who completed the core requirements for licensure was 32 and half, the same age as the average candidate in 2016. While this average has not changed dramatically from year to year, candidates completing their licensure requirements are now a year younger than they were a decade ago.
Three Factors Impact Time to Licensure
There are three key factors that influence a candidate's timeline to licensure: (1) the type of architecture degree they pursue; (2) how early they start reporting experience; and (3) whether they take the ARE before completing the AXP (Early Eligibility).
In 2017, candidates who earned a degree from a NAAB-accredited program, reported experience before graduation, and took at least one exam while completing the AXP were able to complete the core requirements for licensure in 10.4 years—over two years sooner than the average candidate.
Note: NCARB recognizes there are a variety of other factors that also influence the timeline to licensure, including the time it takes to complete the ARE, as well as economic and personal circumstances.
---