In May 1919, a small group of architects representing 13 states gathered in Nashville, Tennessee, to form the organization that would become NCARB. Their goal was straightforward: to encourage licensing boards to establish uniform standards and improve the process for architects seeking out-of-state licensure.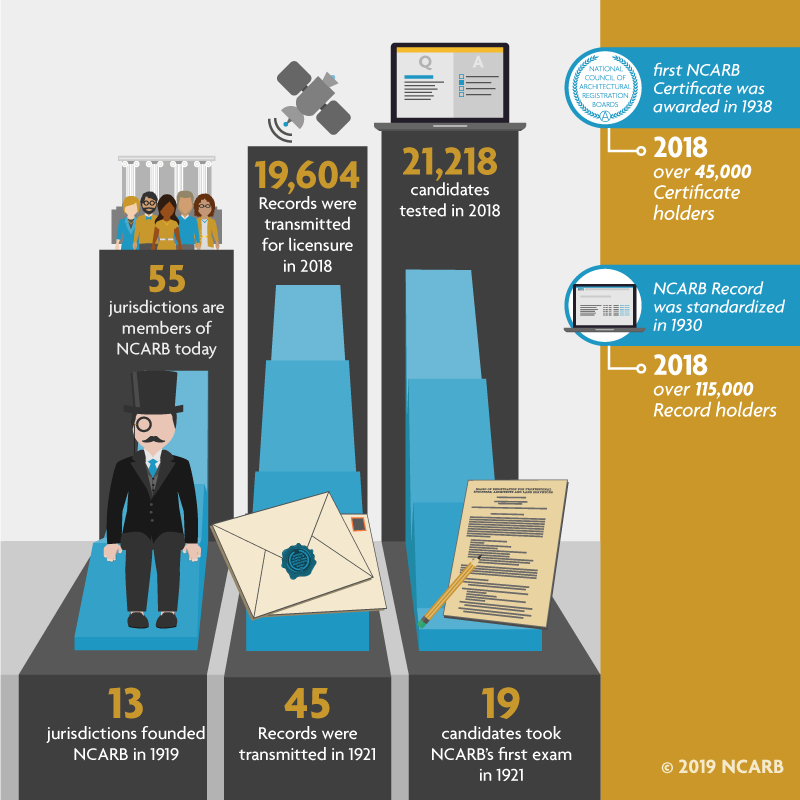 Over the past 100 years, NCARB has adapted to keep pace with the growing profession, becoming a leader in architectural regulation and taking on new roles to serve its members, customers, and the public. This look back at historical data offers a glimpse at NCARB's evolution as we celebrate our first 100 years and begin our second century. 
Number of NCARB Record Holders Continues to Grow
Although NCARB stored education, experience, and examination information for candidates and architects beginning in 1921, it wasn't until 1930 that NCARB formalized its processes and introduced the NCARB Record. In 1930, Illinois architect McDonald Lovell became NCARB's first Record holder. 
Demand for NCARB's storage and verification services grew slowly over the next several decades, increasing exponentially between the 1960s and the present day. In 2018, NCARB had over 115,000 active Record holders.
Demand for Licensure Increased in Recent Years
To apply for both initial and reciprocal licensure, individuals can have their NCARB Record transmitted to a jurisdictional licensing board. Requests for transmittals initially gained popularity during and after World War II, as military service necessitated seeking licensure in additional states. 
As more U.S. licensing boards adopted NCARB's recommended standards for education, experience, and education throughout the second half of the 20th century, reciprocity became more accessible and demand for transmittals increased. The number of transmittals grew dramatically in the 2010s, aligning with the high numbers of newly licensed architects seen in the past few years, but also pointing toward the impact of the global economy on architecture practice. 
Number of NCARB Certificate Holders Continues to Grow
First introduced in 1938 as a way of signaling that an architect had passed NCARB's "highest minimum standard" version of the licensure exam, the NCARB Certificate is now a valuable credential that indicates architects have met NCARB's requirements for education, experience, and examination. 
Like Records and transmittals, demand for the NCARB Certificate increased during the 1960s, as more uniform licensing requirements—including widespread acceptance of the Certificate for reciprocity—were put into place. In 2018, over 45,000 architects held an active NCARB Certificate. 
Tests Administered Increase During Exam Transition
NCARB first created exams in 1921 and introduced the national exam that would become the ARE in 1965. However, reliable exam volume data wasn't established until the late-1990s with the introduction of computerized testing. 
As seen in 2008-09 and 2015-17, the number of divisions taken by candidates increase when a version of the ARE is nearing retirement, as was the case in 2009 following the sunset of ARE 3.1. Following the retirement, test administrations decrease before returning to a normal level. In 2018, candidates took 55,265 divisions of the ARE. 
---