The number of candidates completing the Architectural Experience Program® (AXP®) in 2018 dropped for the second year in a row, following a peak in 2016. With 6,091 candidates finishing the experience component of licensure in 2018, AXP completions still remain well above the decade's average of 5,290.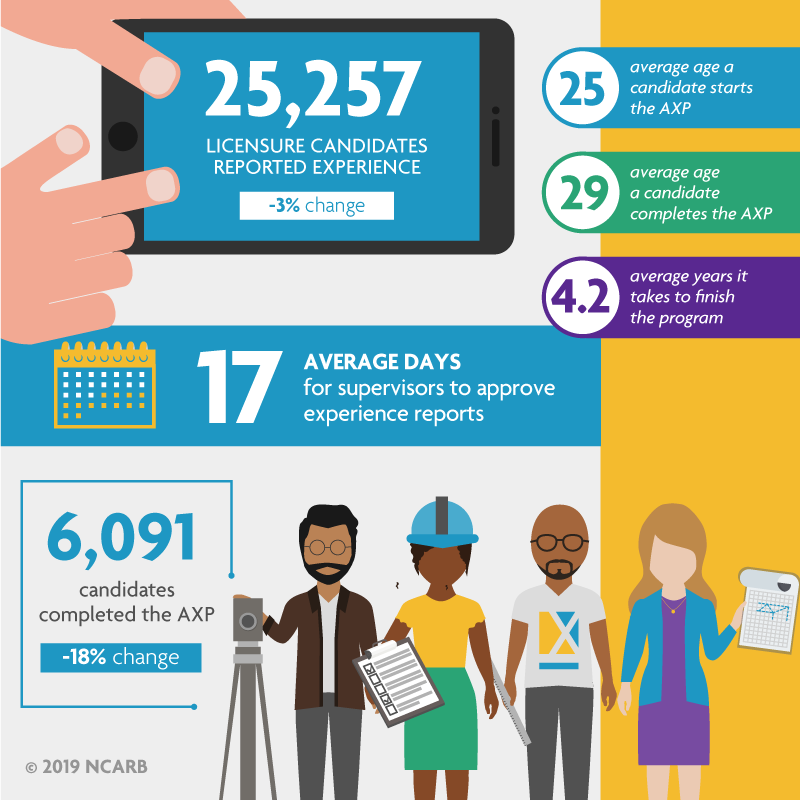 Candidates are typically starting to record AXP hours earlier, often while earning a degree. On average, candidates took one month longer to finish the AXP in 2018, but were typically two months younger than those who completed in 2017. Despite the slight uptick in time to complete the program, current licensure candidates continue to complete the AXP in less time than those before the program's 2015 and 2016 updates, which removed elective hours and re-aligned experience areas. 
AXP Completions Decrease
In 2018, the number of AXP completions fell by 18 percent. While significant, this drop was anticipated given the record high seen in 2016, when nearly 2,400 candidates completed the program after the experience areas were re-aligned. 
Over 6,000 licensure candidates completed the AXP in 2018—still well above the decade's average of 5,290. 2018's total suggests a return to a more sustainable level as candidates navigate the restructured program and other updates, including removing elective hours (July 2015) and enabling candidates to earn 50 percent credit for experience more than eight months old (July 2014). 
Note: Historical data can shift because licensure candidates can backdate experience up to five years. For example, if someone today submitted a final experience report from 2016, their AXP completion date would be 2016.
Time to Complete Experience Increases Slightly
The average licensure candidate completing the AXP in 2018 took 4.2 years—an increase of just over one month compared to 2017. This is the first increase since 2013; however, candidates continue to complete the AXP in less time than the average candidate before the program's restructure. 
The overall downward trend in time to complete the program seen in recent years was a result of several program updates, including allowing experience older than six months (2014), removing elective hours (2015), and realigning experience areas (2016). 
Age at AXP Completion Continues to Decrease
On average, licensure candidates who began the AXP in 2018 were just over 25 when they started the program, and licensure candidates who completed the AXP in 2018 were 29 when they finished—a little over two months younger than in 2017. While not a dramatic shift, the ages candidates start and finish the AXP are gradually growing closer. For comparison, 2018 saw a 4.6-year difference, while the difference was six years in 2009. 
Fewer Candidates Are Completing the Exam Before Finishing Their Experience
Just 16 percent of licensure candidates who completed the AXP in 2018 finished the exam before they completed their experience—a 5 percentage point decrease compared to 2017. 
The two-year decline from 2016's peak of 29 percent (following a steady increase over the previous five years) is likely linked to the alignment of the AXP and ARE. Candidates may be more likely to choose to complete an experience area before sitting for its corresponding exam division.
Supervisors Review Experience Reports Sooner Than Ever
The majority of experience reports (53 percent) are now reviewed and signed off on by a supervisor within three days of the report's submission. However, the much lengthier times taken in some circumstances drove 2018's average review and approval timeframe to 17 days—five days sooner than in 2017. 
Supervisors' approval time has been steadily decreasing over the past decade, as supervisors become more familiar with NCARB's online experience reporting tools. Prior to 2009, all experience was reported via mailed forms. The final day to report experience outside of NCARB's newly instated six-month reporting requirement was June 30, 2010, which likely caused the spike seen that year. 
Gender Equity Among Supervisors Improves Slightly
Of active AXP supervisors in 2018, 19 percent were women—a 2 percentage point increase compared to 2017, but slightly less than the proportion of NCARB Certificate holders who are women (20 percent). 
Racial Equity Among Supervisors Remains the Same
The proportion of AXP supervisors who identified as either non-white or Hispanic did not change, remaining at 12 percent. These data points highlight the ongoing challenge of providing a diverse set of supervisors and mentors to act as leaders and role models in the architecture profession. 
---