NCARB's community is larger than ever, with over 115,000 Record holders, nearly 21,000 AXP supervisors, and more than 300 volunteers. In 2018, our volunteers—including architects, licensure candidates, educators, and experts from other professions—worked across 24 committees to offer insight on initiatives ranging from developing the exam to refreshing NCARB's Model Law.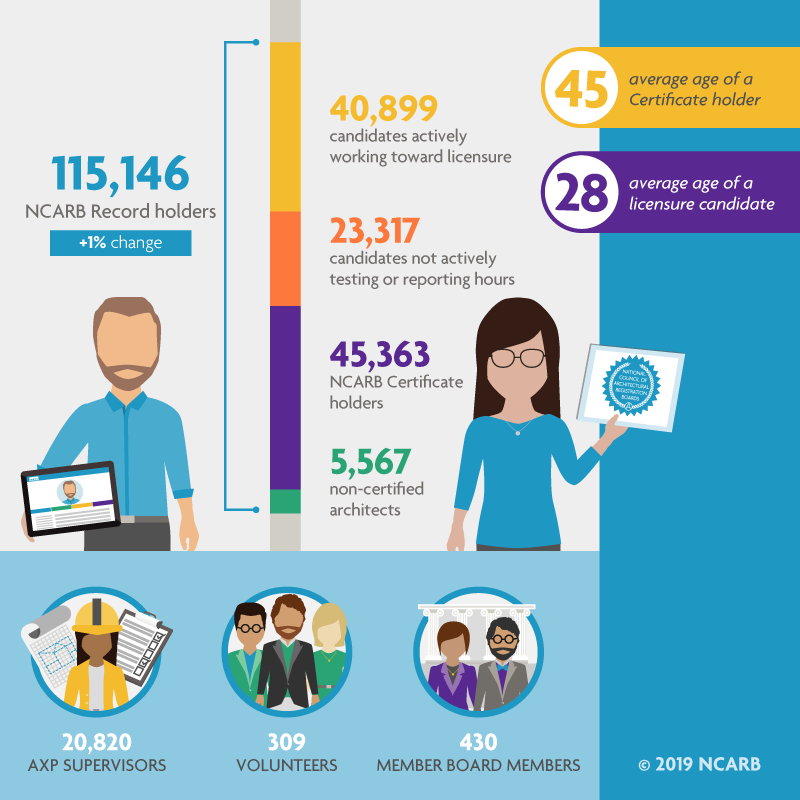 In October 2018, the architectural licensing board of the Northern Mariana Islands rejoined NCARB, bringing our membership up to 55 jurisdictions. NCARB works to support the boards of those jurisdictions, who protect the public through the regulation of architecture in their state or territory.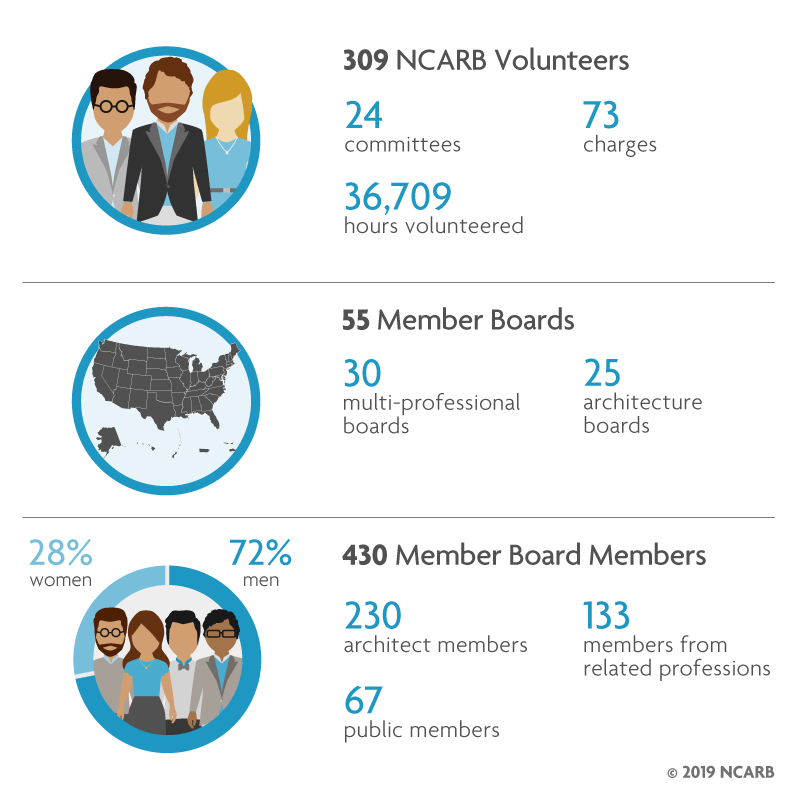 Of the 430 members who serve on these boards, 230 are practicing architects, 133 are in related professions (such as engineering and landscape architecture), and 67 ensure the public consumer has a voice on their board. 
Number of NCARB Certificate Holders Reaches All-Time High
In 2018, over 45,000 architects held an active NCARB Certificate—an increase of 3 percent from 2017 and a new record high. A greater proportion of architects are now seeking certification immediately after becoming licensed, suggesting that awareness of the Certificate and its benefits among young professionals continues to grow. 
The NCARB Certificate facilitates reciprocal licensure across the United States and enables U.S. architects to earn licenses in Australia, Canada, Mexico, and New Zealand. Certified architects have access to free continuing education opportunities through NCARB's Continuum Education Program. 
NCARB's Community Continues to Grow
In 2018, over 115,000 individuals held an active NCARB Record, a 1 percent growth compared to 2017. Of those Record holders, 39 percent are architects with an NCARB Certificate (no change from 2017), 5 percent are architects without a Certificate (up 1 percentage point from 2017), and 36 percent are candidates actively working toward licensure (no change from 2017). The remaining 20 percent are candidates who haven't taken a division of the ARE or reported AXP hours in the last year (down 1 percentage point from 2017). 
Number of New Records Holds Steady
Over 8,500 individuals started an NCARB Record in 2018, roughly the same amount as in 2017. This number has been on a shallow decline since 2014; this year's consistency might indicate that new Record applications have reached a new level of "normal." The spike in 2009 was the result of a new policy that required licensure candidates taking the exam to hold an NCARB Record. 
---