Assessing when and why candidates stop pursuing a license is a crucial part of understanding the impact licensure requirements—specifically NCARB's programs—have on emerging professionals in the architecture field. In addition, comparing the progress of different demographic groups allows NCARB to identify pinch points throughout the process of becoming an architect and examine how program adjustments might combat inequity in the profession.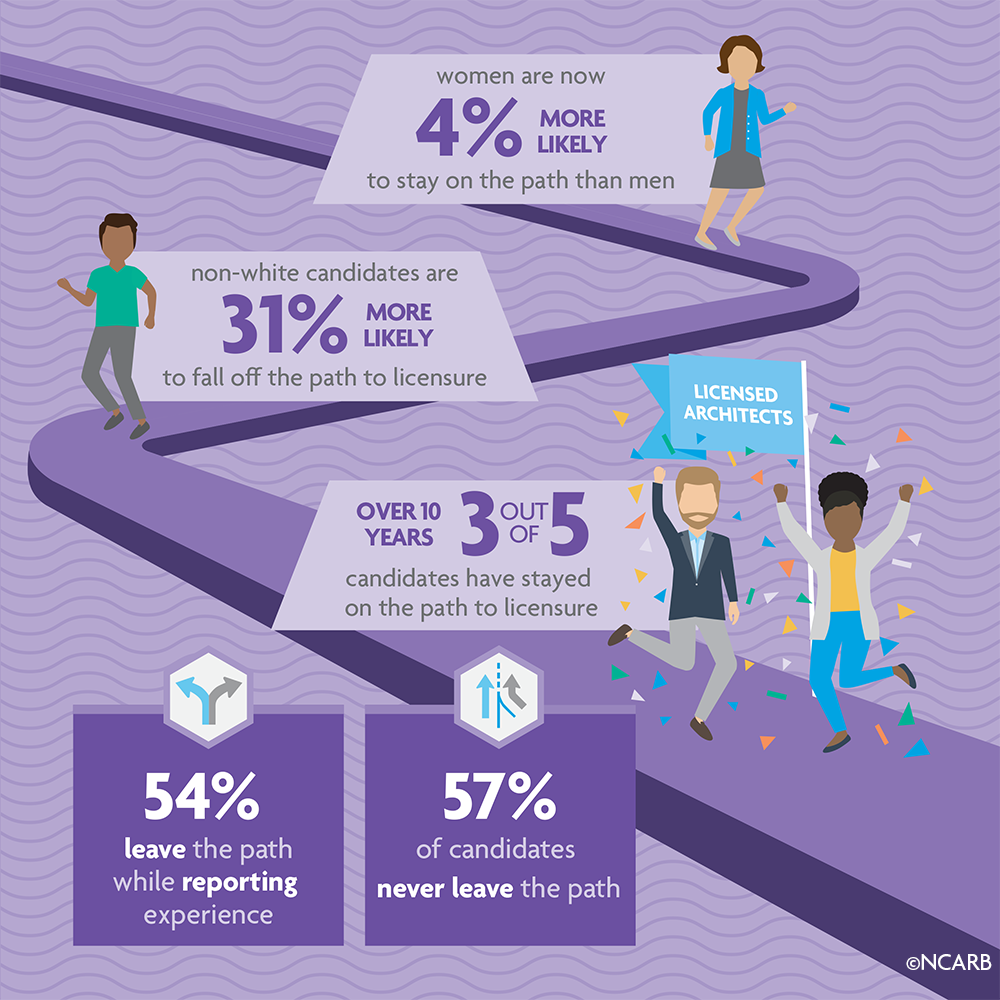 By 2019, 38 percent of candidates who started the licensure path a decade ago had stopped pursuing a license, with 62 percent having completed, or still working on their licensure requirements—a slight improvement compared to the proportion of attrition seen in 2018.
Since 2012, the proportion of women who continue their pursuit of licensure has been equal to, or has surpassed, their male counterparts. The opposite is true for candidates who are people of color; on average, non-white candidates are 31 percent more likely to stop pursuing a license than their white peers.
Most candidates fall off the path while working to gain and report experience. Many candidates who stop pursuing a license are likely to continue working in the architecture industry, and could decide to resume the licensure process in the future. NCARB's data shows that 57 percent of candidates who finished the licensure path in 2019 never fell off the path, and 31 percent returned within the first two years.
Over 10 Years, 2 Out of 5 Candidates Stop Pursuing Licensure
Of candidates who created an NCARB Record 10 years ago (Y-10), 38 percent are currently not working toward earning a license—suggesting that two out of every five candidates are likely to stop pursuing licensure over the course of a decade. Many of these candidates likely continue to work in the architecture industry, and could decide to resume the licensure process in the future.
2019's attrition rate at the 10-year mark (candidates who started in 2010) is one percentage point below the rate of attrition seen after a decade in 2018. In addition, the percentage of candidates who started a Record in 2011 and have since left the licensure path is 5 percentage points below the rate seen for candidates at the nine-year mark in 2018. These small differences could indicate that recent programmatic changes are encouraging more candidates to stay on, and complete, the licensure process. Increases in attrition for candidates three and four years after starting their NCARB Record may be a result of ARE 4.0's retirement or other recent program changes.
The data shows that 25 percent of candidates leave the licensure path within the first three years after creating a Record, only increasing by 13 percentage points over the next seven years—indicating that the majority of candidate attrition is seen soon after beginning the licensure process.
By nature, candidates who started their NCARB Record in 2019 are all still active.
Women Now More Likely to Maintain Licensure Goals
Prior to 2012, women stopped pursuing licensure at higher rates than men. However, women who started their NCARB Record in 2012 and onward reversed this trend. Of women who began the licensure process in 2012 (Y-8), 27 percent have since become inactive—2 percentage points fewer than their male counterparts.
This trend continues from 2013-2018, with women maintaining their focus on earning a license at equal or higher rates than men—including up to 3 percentage points lower attrition rates for women who started their NCARB Record in 2016 and 2017. The average female candidate who started an NCARB Record in the past decade is 4 percent less likely to stop pursuing licensure than the average male candidate.
While studies—including NCARB's 2020 joint survey with the National Organization of Minority Architects (NOMA)—and NCARB's demographic data show that there continues to be disparity between men and women in the profession, lower rates of female attrition on the path to licensure should help address this historical imbalance over time.
People of Color More Likely to Stop Pursuing a License
The average candidate of color who started an NCARB Record in the past decade is 31 percent more likely to stop pursuing licensure than the average white candidate.
Although NCARB's demographics data indicates that representation in the profession is increasing slowly along most career stages, candidates who identify as non-white or Hispanic experience higher rates of attrition. This trend appears largely unchanged compared to previous years.
Forty-three percent of candidates of color who started an NCARB Record in 2010 (Y-10) have since stopped making active progress toward earning a license, compared to 34 percent of their white counterparts—a 9 percentage point difference. This is 1 percentage point wider than seen in the previous year's data set, suggesting that the cause of this disparity is not being effectively addressed.
Combined with findings from NCARB's 2020 joint survey with NOMA and NCARB's own demographic information, this stark difference in attrition rates highlights the need to identify and remove barriers in the architecture profession and licensure pathway that disproportionally impact the career progression of minority candidates.
Most Candidates Who Earn a License Remain Active Throughout the Licensure Path
Of candidates who finished their final core requirement in 2019, 57 percent spent less than a year not actively working toward licensure.
Twenty-one percent of candidates who finished the licensure process in 2019 spent approximately one year inactive, and another 10 percent spent two years inactive. The remaining 12 percent of candidates who finished their core requirements in 2019 spent between three and 10 years inactive.
Together, this data indicates that the majority of candidates who finish the licensure process demonstrate ongoing active work toward finishing the AXP and ARE. It also suggests that returning to the licensure process may be smoother within the first few years of falling off the path.
Inactive Candidates Most Likely to Stop Pursuing Licensure While Earning Experience
Candidates who stop pursuing licensure are most likely to become inactive while reporting experience toward the AXP—whether solely reporting experience or reporting experience while testing.
Thirty-two percent of candidates who stopped pursuing licensure in 2019 were working toward completing the experience program (a 3 percentage point increase compared to 2018), and 6 percent were both reporting experience and testing (a 1 percentage point increase compared to 2018).
Sixteen percent of candidates who fell off the path in 2019 were testing and had finished the AXP, a 3 percentage point increase compared to 2018 that is likely due to the impact of ARE 4.0's retirement.
---