In January 2019, NCARB partnered with Benenson Strategy Group to better understand the public's perception of licensure and regulation—revealing that most voters feel that professional licensure for architects is an important factor in protecting the public health, safety, and welfare.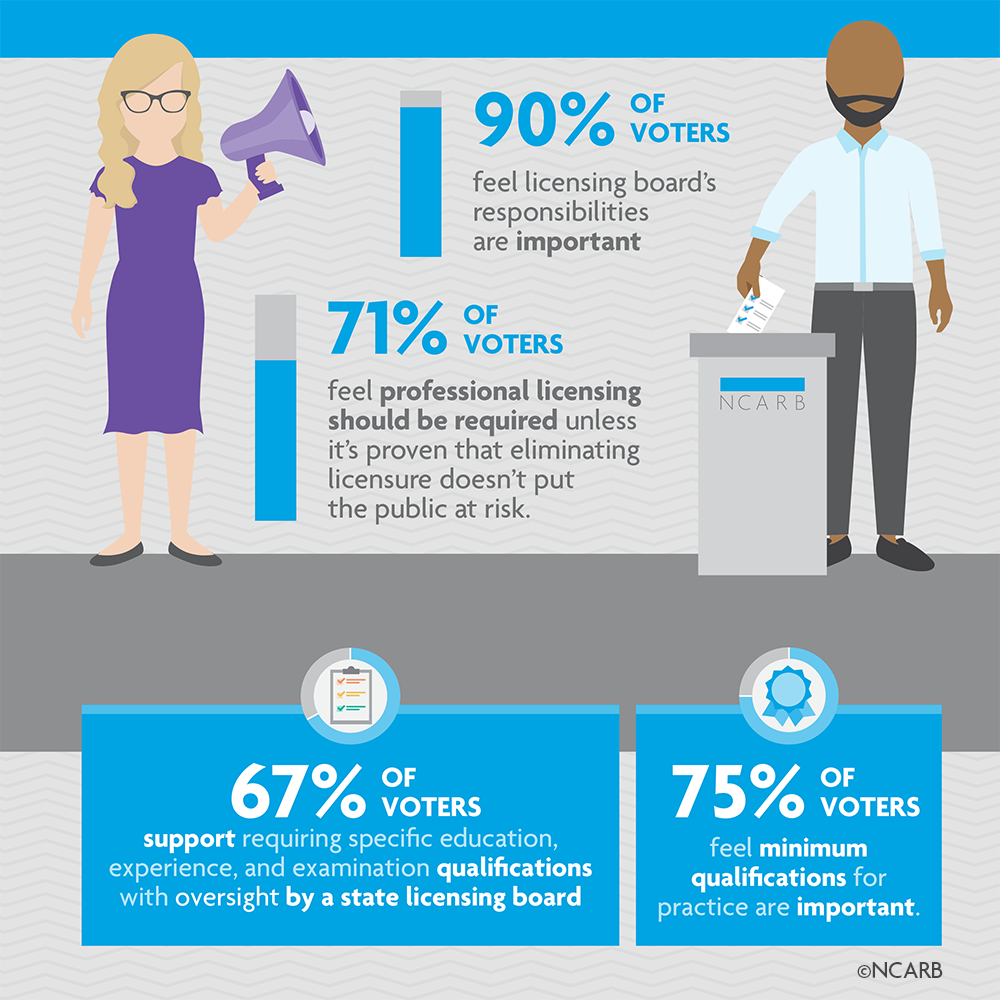 Building on this initial study, the Alliance for Responsible Professional Licensing (ARPL) and Benenson Strategy Group conducted a follow-up survey in fall 2019 to get a better understanding of the public's position on current licensing standards and requirements. The survey received nearly 1,000 responses from registered voters, representing a diverse mix of genders, ages, races, and political ideologies.
The study indicates that while voters are open to changes in the regulatory system, most voters believe minimum competency requirements are important, and support the current regulatory model used by architecture and other professions. In addition, most respondents would prefer to require licensure as the default system, and value the current role of regulatory boards.
Voters Support Minimum Competency Requirements
When asked how important is it that complex, highly technical professions ensure a person working in that field has met, and continuesto meet, minimum qualifications to perform their work, 75 percent of surveyed voters indicated it is important or extremely important. Twenty-one percent indicated it is neutral or somewhat important, and only 4 percent indicated that holding practitioners to minimum qualifications in certain professions is not important.
Industries that voters considered complex and highly technical—with a direct impact on public health, safety, and welfare—include accounting, architecture, and engineering.
This demonstrates that the public recognizes the need for minimum competency requirements and supports licensing regulations for architecture and other professions like it.
Public Prefers Licensing Standards
When asked to select a statement that aligns with their views on professional licensing in the United States, over two-thirds (71 percent) of respondents indicated that professional licensing should be required unless it can be proven that eliminating licensing will not have a negative impact on public health and safety.
The remaining 29 percent indicated that they believe professional licensing should not be required unless it is proven necessary for public protection.
This highlights that a significant majority of the public prefers requiring professional licensing as the default approach toward regulation.
Voters Prefer the Current Regulatory Model
When asked which regulatory model provides the best protection to consumers, two-thirds of surveyed voters indicated that practitioners should complete education, experience, and examination requirements set out by a professional licensing board—the model currently used by the architecture profession in all 55 U.S. jurisdictions.
The remaining third indicated that professionals should be allowed to practice unlicensed as long as they inform consumers that they do not hold a license, leaving responsibility for public protection up to the consumer.
The two-thirds majority suggests that professional licensing boards are viewed favorably by the public, and that the three "E's" of education, experience, and examination remain critical components of the licensure process.
Public Believes Licensing Boards' Role Is Important
While most respondents were aware licensing boards exist, many were unaware of the specific duties they perform in order to protect the public. After being made aware of these responsibilities, most respondents indicated that the functions a board carries out on behalf of the public are important.
Ninety percent of surveyed voters indicated that the board's responsibility to assess professionals' qualifications is important, 91 percent indicated the board's role in enforcing disciplinary actions and investigating consumer complaints is important, and 92 percent indicated the board's responsibility to ensure professionals maintain continuing education is important—with over half of respondents indicating "Very Important" for each item.
Voters Are Open to Regulatory Reform
In recent years, many states have proposed legislation that would reform the current regulatory process for architecture and other professions—these proposals include consumer choice acts, "right to earn a living" bills, and interstate licensing compacts, among others.
When asked if they would support potential legislation to change professional licensing laws regardless of their current awareness level of that legislation, over 40 percent of voters indicated that they were unsure whether they would support or oppose regulatory reforms. Thirty-nine percent of respondents said they would support changes to professional licensing laws, and just 18 percent said they would oppose changes to current licensing laws.
This suggests that while many are undecided, the average voter is open to the idea of changing current regulatory requirements.
Informed Voters More Likely to Oppose Regulatory Reform
However, after learning about the benefits of licensing and the potential impact of proposed changes to professional licensing, 45 percent of respondents indicated they would oppose regulatory reforms.
The proportion of undecided voters fell by 25 percent—increasing the proportion who indicated strongly or somewhat oppose.
This suggests that informed voters are more likely to oppose potential regulatory reforms than uninformed voters, highlighting the importance of public awareness regarding potential local legislation.
---