Michigan Architect Kenneth R. Van Tine Elected NCARB Regional Director
Kenneth R. Van Tine was elected as an NCARB regional director at the 2018 Annual Business Meeting.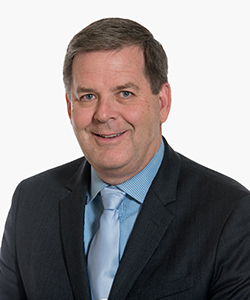 Detroit—Kenneth R. Van Tine, AIA, NCARB, LEED AP, of Brighton, Michigan, was elected as an NCARB regional director at the National Council of Architectural Registration Board's (NCARB) 99th Annual Business Meeting. Van Tine was nominated to serve on the NCARB Board of Directors by the Mid-Central Conference (Region 4), which is comprised of Illinois, Indiana, Iowa, Kentucky, Michigan, Minnesota, Missouri, Ohio, and Wisconsin.
First appointed to the Michigan Board of Architects in 2011, Van Tine currently serves as the board's chair, a position he has held since 2015. He was elected by his peers to the Mid-Central Conference's regional leadership in 2014, serving terms as chair, vice chair, and treasurer.
A dedicated volunteer, Van Tine has offered his expertise to multiple NCARB committees, including the Audit, Experience, Procedures and Documents, and Regional Leadership committees. He also helped develop the most recent version of the Architect Registration Examination® (ARE®), volunteering on the ARE 5.0 Item Development Subcommittee. Additionally, Van Tine has represented NCARB as a member of several National Architectural Accrediting Board (NAAB) visiting teams.
Van Tine is the technical design principal, chief financial officer, and a founding partner of inFORM studio, a multidisciplinary design firm with offices in Detroit and Chicago that practices throughout the United States and internationally. As an active Architectural Experience Program® (AXP™) supervisor and a volunteer counselor for teens and young adults at his local church, Van Tine is dedicated to guiding and mentoring young professionals. He is a member of the American Institute of Architects (AIA), and has participated in the AIA Mentorship Program for nearly eight years. 
He earned both a Bachelor of Architecture and a Bachelor of Science in Architecture from Lawrence Technological University. Van Tine is LEED-certified, a member of the U.S. Green Building Council, and holds the NCARB Certificate. He is licensed to practice in Michigan and 31 other states, as well as Washington, DC.
#####
About NCARB
The National Council of Architectural Registration Boards' membership is made up of the architectural registration boards of all 50 states as well as those of the District of Columbia, Puerto Rico, Guam, and the U.S. Virgin Islands. NCARB assists its member registration boards in carrying out their duties and provides a certification program for individual architects.
NCARB protects the public health, safety, and welfare by leading the regulation of the practice of architecture through the development and application of standards for licensure and credentialing of architects. In order to achieve these goals, the Council develops and recommends standards to be required of an applicant for architectural registration; develops and recommends standards regulating the practice of architecture; provides to Member Boards a process for certifying the qualifications of an architect for registration; and represents the interests of Member Boards before public and private agencies. NCARB has established reciprocal registration for architects in the United States and Canada.
Visit: www.ncarb.org
Twitter: www.twitter.com/ncarb
Facebook: www.facebook.com/NCARB
YouTube: www.youtube.com/NCARBorg