Washington, DC—The National Council of Architectural Registration Boards (NCARB) and the UK's Architects Registration Board (ARB) signed a new Mutual Recognition Agreement (MRA), increasing international practice opportunities for U.S. architects. The MRA goes into effect on April 25, 2023.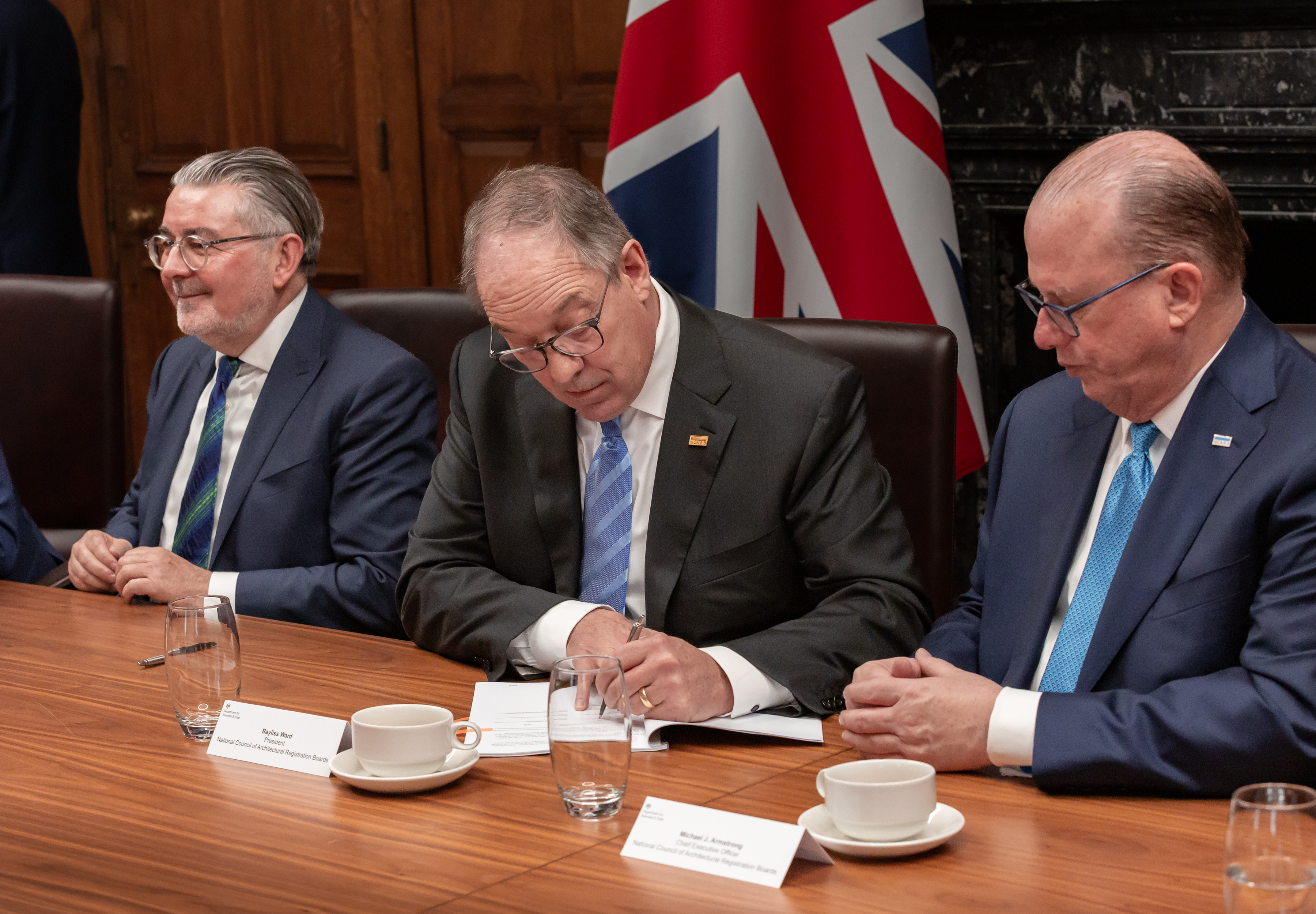 The agreement will provide a new path for eligible architects to get licensed and expand their careers in each country. NCARB will be offering this new option to each of its 55 jurisdictional licensing boards for incorporation into their individual licensure eligibilities. 
"This agreement will allow many NCARB-certified U.S. architects to increase their engagement internationally while having confidence in the shared commitment to strict standards of health and safety," said NCARB President Bayliss Ward, NCARB, AIA. 
"Signing this MRA—creating a reciprocal arrangement whereby UK architects can register and practice in participating jurisdictions within the United States—is an exciting moment for the sector. The agreement helps to open up opportunities for cooperation between individuals and firms in the UK and United States in a way which upholds standards", said Hugh Simpson, Chief Executive and Registrar, Architects Registration Board. 
The agreement is based on an assessment of similarities in architecture licensing standards as established by NCARB for utilization by its member jurisdictions, and the requirements for registration in the United Kingdom. Modeled after similar arrangements between NCARB and Canada, Australia, and New Zealand, the agreement has three key requirements. To apply for a reciprocal license in either country, architects must: 
Hold a valid license/registration in good standing from their home licensing authority (A jurisdiction within the United States or in the United Kingdom) 
Have lawful authorization to work in the locality in which they are registered 
Hold an active and qualifying NCARB Certificate   
"Through this agreement, NCARB celebrates a new relationship with the United Kingdom as it continues to enhance the value of the NCARB Certificate as a facilitator of domestic and international mobility for many U.S. licensed practitioners. We are pleased to sign this Mutual Recognition Agreement emphasizing a shared approach of appropriate rigor in guiding the licensure of architects, thus furthering our mutual desire to enhance the global health, safety, and welfare of the public," said NCARB CEO Michael Armstrong. 
This agreement is the result of over five years of research and negotiation between NCARB and the ARB and was approved by NCARB's membership at the 2022 Annual Business Meeting. Because each U.S. jurisdiction is responsible for the regulation of architecture within its borders, each U.S. jurisdiction must individually determine if it will accept the Mutual Recognition Agreement. 
Legislation passed in the U.K. in early 2023 to allow for the implementation of the MRA.  
To learn more about earning a license to practice architecture abroad, visit www.ncarb.org/international. 
About NCARB 
The National Council of Architectural Registration Boards' membership is made up of the architectural licensing boards of the 50 states, the District of Columbia, Guam, the Northern Mariana Islands, Puerto Rico, and the U.S. Virgin Islands. NCARB, in collaboration with these boards, facilitates the licensure and credentialing of architects to protect the health, safety, and welfare of the public. 
To achieve these goals, NCARB works with its Member Boards and volunteers to develop and facilitate standards for licensure, including the national examination and experience program. NCARB also recommends regulatory guidelines for licensing boards and helps architects expand their professional reach through the NCARB Certificate. Connect with NCARB on Twitter, Facebook, and YouTube.  
About ARB 
The Architects Registration Board (ARB) is an independent professional regulator, established by Parliament as a statutory body, through the Architects Act, in 1997. It is accountable to government. The law gives ARB a number of core functions: 
To ensure only those who are suitably competent are allowed to practice as architects. ARB does this by approving the qualifications required to join the UK Register of Architects. 
ARB maintains a publicly available Register of Architects so anyone using the services of an architect can be confident that they are suitably qualified and are fit to practice. 
ARB sets the standards of conduct and practice the profession must meet and take action when any architect falls below the required standards of conduct or competence. 
ARB protects the legally restricted title 'architect'.