4 Marketing Strategies for Architecture and Design Firms During the Pandemic
The opinions expressed in this commentary are solely those of the author and do not necessarily reflect those of the National Council of Architectural Registration Boards (NCARB).
When the coronavirus forced employees across the country to work from home in spring 2020, marketing plans had to shift, too. As was the case with other companies and industries around the world, project openings were put on hold, travel was postponed, and health became the first and foremost priority.
By trade, designers are inherent problem-solvers. As the onset of the pandemic brought to light both new and existing challenges, it also presented opportunities for innovation. In turn, marketers for the design industry are charged with identifying, communicating, and amplifying those solutions in creative ways. At design firm Cooper Carry, our marketing team quickly went to work doing what we do best: bringing together people and ideas, embracing what makes our brand unique, and elevating the expertise of thought leaders. Here are four strategies marketing professionals can use to keep calm and design on.

Maintain a Social(ly Distanced) Connection
At the heart of any resilient organization is a strong culture. With entire companies now working away from the office, marketing professionals are finding new ways to unify teams, boost morale and exemplify company values. That's why our first step was to devise a plan to bring Cooper Carry together while apart.
There's a natural collaborative aspect to the work of architects and designers. Our own firm champions the concept of "Connective Architecture," which advocates for the cross-pollination between sector disciplines as a mixed-use ecosystem. Although our teams were already accustomed to collaborating across three offices and working remotely while traveling frequently, the daunting reality of the public health crisis paired with an indefinite timeline for a return to the office posed unique challenges.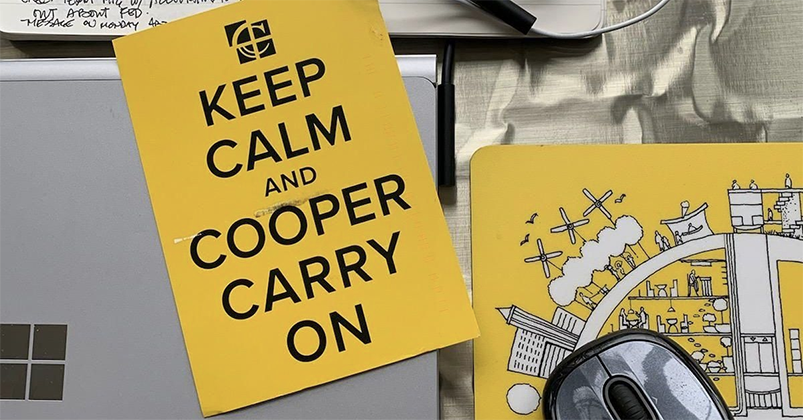 With a sea of grim news headlines, we knew we wanted our initial internal communication tactics to take on a more light-hearted and uplifting tone. Within the initial weeks of remote work, we developed the #KeepCalmandCooperCarryOn campaign, mailing branded postcards to our 300-plus employees at Cooper Carry. On social media, we used the hashtag to share how our architects and designers were adapting to their home offices and collaborating through various virtual communications tools.

Ultimately, the key with any firm is to make an effort. Whether it's sending something to the staff, hosting a virtual town hall, or giving everyone a random Friday off to give teams a mental break, the effort makes each employee feel valued and part of a community.  
Embrace What Makes Your Brand Yours
Our firm's founder and Chairman of the Board Jerry Cooper, who recently celebrated his 90th birthday, is admired as a regular presence around our headquarters office, meeting with various employees and continuing his pursuit for thoughtful architecture. We knew we wanted to acknowledge him in our efforts to unite the team from a distance.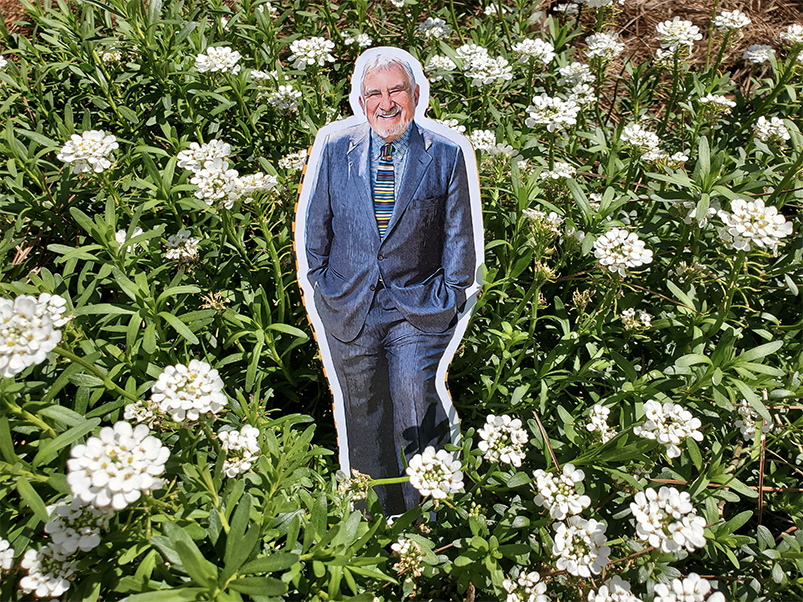 Inspired by the children's book character "Flat Stanley," we shipped off a playful "Flat Jerry" surprise to all employees, encouraging our staff to cut him out and post a picture of "Flat Jerry" in their new work environments. We received dozens of photo submissions featuring all the places our collective mascot was tagging along, from long bike rides and project construction sites to ordering take-out and playing with household pets.
When considering strategies to unite your team, the primary goals should be to tap into an existing brand or cultivated culture while also finding fresh, memorable ways to encourage employee participation. Activating these touchpoints will spark conversations, ignite imagination, renew a sense of belonging, and give everyone something to hold on to moving forward.
Help Thought Leaders Find Their Voices
As more research from health experts about the pandemic became available and guidance from government leaders took shape, design firms needed to decide how they would share their expertise as part of a conversation that was already crowded. During frequent brainstorm sessions, we virtually met with firm leaders to discuss emerging trends in their respective sectors to guide our efforts—identifying the key voices, honing their messages, and executing tactics to amplify them.
Leaders across our firm believed COVID-19 was accelerating many trends in the AEC industry, so we focused on reinforcing real solutions to the problems our clients are facing. Through each brainstorming session, our team collected the diverse ideas and saw common themes surface. We used this insight to produce content that could be used across a variety of channels, such as e-blasts to clients or blog posts for the firm's website. We also developed press releases, custom pitches, and byline articles to secure coverage in target media and increase engagement with the firm's social media channels. As a result, the media tuned in as well—and asked for more.
One key to finding your firm's voice is to listen. The more voices we listened to from people across the firm, the more we were able to recognize core themes. The other key is to know your audience. When you have limited resources, you have to focus on what will make the most impact and share information that will resonate with your clients.
Keep One Foot On the Gas
After growing accustomed to remote work, and even as we begin to return to our offices, we continue to maintain consistent communication through all available tech tools to ensure nothing or no one is out of mind, even if out of sight. Our president and CEO, Kevin Cantley, shares insights with staff weekly, and we're now holding monthly town halls. These new habits have encouraged more free-flowing dialogue and consistency among our staff.
Even when the pandemic subsides, project timelines resume, and travel picks up again, we must not forget these strategies—whether in crisis mode or not. Design is always changing to solve new problems, and so our marketing strategies must continue to evolve to stay on pace with them.
Katherine Stone serves as Brand Director at Cooper Carry. With more than 25 years of award-winning experience in marketing and public relations, Katherine's previous roles include The Coca-Cola Company's first Director of Experiential marketing and an account supervisor at Cohn & Wolfe, a top 10 global public relations firm now known as BCW. She was recently named to GlobeSt. Real Estate Forum's 2020 Women of Influence in commercial real estate marketing, and her work advocating for maternal mental health won numerous awards including a 2008 WebMD Health Hero. Katherine has been an invited speaker at multiple marketing conferences and has been featured in a number of books. Stone holds a Bachelor of Arts degree in Journalism from Michigan State University.