5 Key Takeaways About Online Proctoring
Editor's note: This page has been updated to reflect the new launch timeline for online proctoring and the migration to PSI. 
In mid-December 2020, Architect Registration Examination® (ARE®) candidates will have the option to test online, in-person, or a combination of both. NCARB is excited to launch an  online option for the ARE, which will provide candidates with greater flexibility and accessibility. To help you prepare for the upcoming launch, here are five takeaways to keep in mind, plus a high-level timeline of when you can expect additional information and resources. To receive the latest news about online proctoring, subscribe to our ARE Update newsletter (or update your subscriptions under the "Profile" tab in your NCARB Record). 
1. Online proctoring option launches in mid-December.
Changes that will make online proctoring possible are expected to launch December 14, 2020. Once online proctoring is available, you'll be able to schedule online exam appointments through My NCARB. Whether you test in-person or via online proctoring, exam fees will remain the same, and all candidates will experience the same format. As test center closures and limited availability continue to impact candidates' licensure progress, we'll also waive exam rescheduling fees for in-person appointments until January 1, 2021.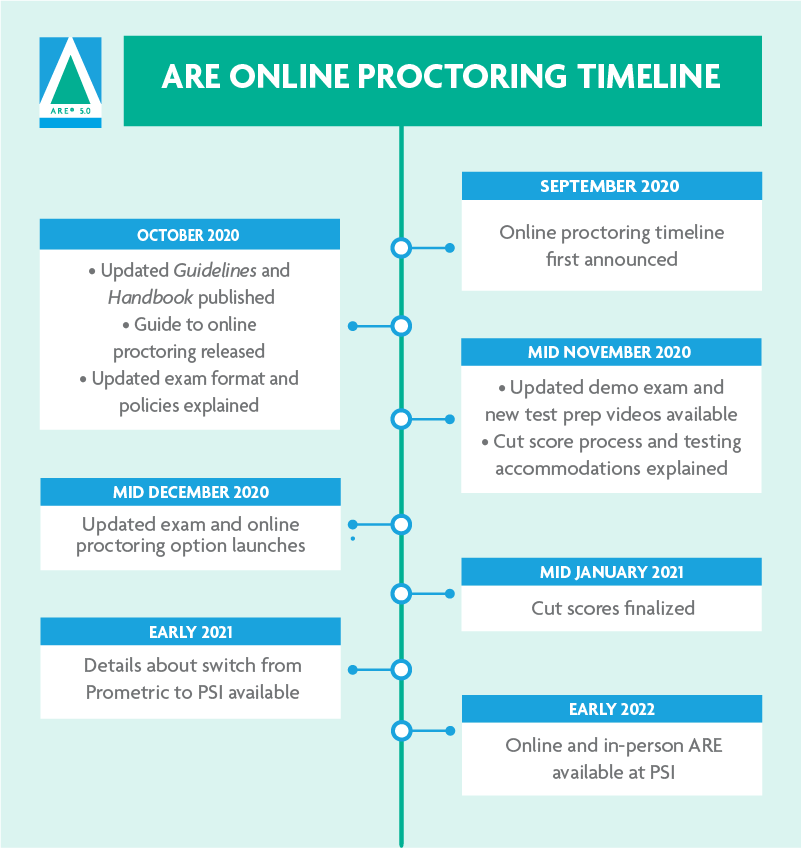 2. You'll need to meet specific environment and technical requirements.
To ensure the ARE's security and validity, exam appointments will be closely monitored by a live "online proctor," who will ensure compliance with testing conditions. At a minimum, you will need:
A private testing area, free from noise or distractions
A computer with a live audio and video feed
Prometric's free, secure testing browser application
High-speed internet connection
NCARB will share the technical and environmental requirements for online testing this fall. You can also visit Prometric's website to learn about their online platform.
3. The ARE's content and divisions will not change.
It is important to note that the exam content areas and division structure will not change. This means you can continue to use your existing study materials and resources. We're also planning to release updated resources in October, including the updated ARE Handbook and ARE Guidelines. 
4. The exam's format and "experience" will be updated to make online delivery possible.
For both online and in-person exams, updates will be made to the exam "experience," including navigation, breaks, the number of questions per division, and overall testing time per division. These changes—which have been validated by independent psychometricians (or testing experts)—will enhance exam security and make online delivery possible. This means you may need to adjust your test-taking strategies; we'll share additional details about the new exam experience in late-September. Remember, regardless of delivery mode, all candidates will experience the same format.
5. NCARB will switch to a new test administration vendor next summer.
As we look to the future of licensure and the continued evolution of our programs, NCARB will switch to a new test administration vendor, PSI, in early 2022. PSI offers both in-person and online proctored exam appointments. More information around the migration to PSI will be available early next year.
Our team is here to support you. If you have any questions about online proctoring, please contact us on our website or through the ARE 5.0 Community.