Lilian Noya, AIA, NCARB, LEED AP BD+C, WELL AP, views architecture as more than just a career—she sees it as her opportunity to make an impact for good. Compelled by the beauty of the natural world and strengthened by her community through mentorship, Lilian successfully navigated the path to licensure as a non-native English speaker. Learn from Lilian as she shares her passion for sustainable architecture and how she hopes her story can help aspiring architects succeed.
At what point in your life did you know you wanted to pursue a career in architecture?
I have always cared deeply about our natural environment and felt a close connection to it. I grew up in Brazil, close to subtropical forests, with fresh air and an immense diversity of wildlife. When I moved to Florida as a young teenager, my life was turned upside down. Suddenly, we had to drive everywhere, and most free time was spent within the walls of our small home. This transition triggered my interest in architecture, and I began reading about climate change, urban planning, and the impact of the construction industry on our environment. I had found my calling: I wanted to dedicate my life to building strong communities that live in harmony with nature.
Tell us about your experience taking the Architect Registration Examination® (ARE®) with English as your second language.
The ARE process was challenging for me because I am not a native English speaker. There were many words and expressions that I had to look up and learn, and like learning a language, I kept many flashcards that taught me the "vocabulary" of architecture. This was a personal struggle, but I would not say that it was a fundamental disadvantage. Everyone has challenges, but it's important to discern the advantages and disadvantages that come with a challenge. I consider myself lucky to speak a different language. The exams were more difficult, but this forced me to be more disciplined and structured. I took many valuable lessons from the ARE process that extend into my life today, and I am very thankful for that.
You serve on the Sustainability Committee at your firm, WDG Architecture in Washington, DC. Tell us about the types of projects the committee works on and the impact your service has on you.
Sustainability has always been my passion, and I am fortunate that WDG takes environmental stewardship seriously. The committee works on integrating environmentally focused design into everything we do. We look at office practices (reducing our consumption, integrating reuse) and conceive ways to improve our sustainable design practices. The most critical yet challenging topic is educating our clients on the importance of their choices. This can be a delicate and nuanced task, and leading effective client dialogues is an art by itself. We share our collective insights via a monthly newsletter, which I issue jointly with other colleagues. Additionally, through my participation in the committee, I was able to deepen my understanding of sustainable practices. It has also allowed me to strengthen my leadership skills by organizing volunteering events, such as park cleanups and planting trees along the Anacostia River. In this way, the committee also fosters team-building and a culture of growth at the firm.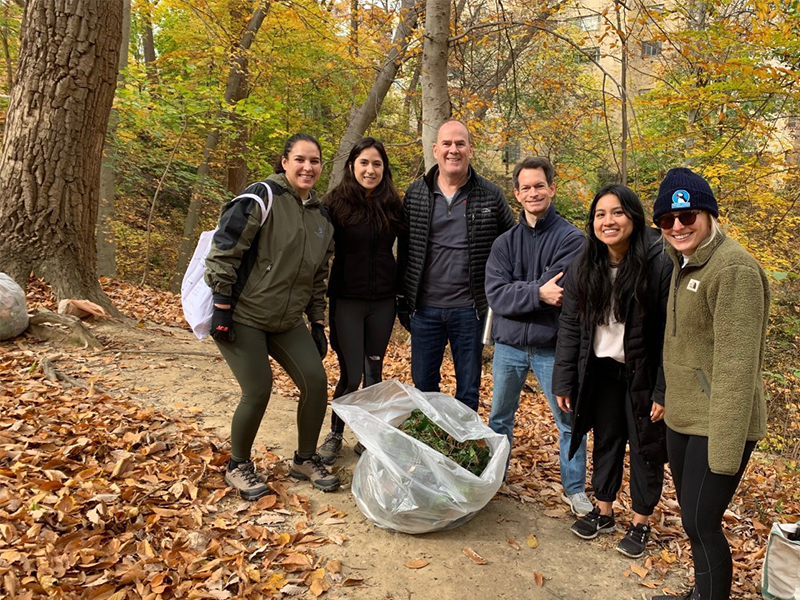 What is your favorite project that you've worked on so far?
My favorite projects are the ones where I can learn just as much from a principal as I can from a recent graduate. At WDG, we work in a team studio setting. The benefit is utilizing my skillset and involvement in several projects in different phases. This type of exposure, such as participating in sustainability reviews during all stages of a project, gives me great flexibility and contact to projects with my favorite nuances of architecture.
In addition to your work and other service areas, you also serve as a firm mentor to help others pass the ARE. Why is it important to you to be a mentor in this area?
Looking back, I wish I had mentorship when I prepared for the ARE. I struggled with the exams—it took me three years, many tears, and failed attempts. Eventually, I found a study method that worked for me, allowing me to also acquire the LEED AP BD+C and the WELL AP credentials not long after testing. Today, I will make sure I pass on my knowledge and support to others who are struggling. I want to be the person I needed when I first started this journey. I see many young architects give up on the ARE—their day jobs are demanding and leave little time to study, children come along, or life just changes completely. Having someone who stands by your side and guides you through the process is invaluable. Most people want to see you succeed.
What inspired you to become an NCARB Certificate holder?
I am proud of my achievements, and I believe it is vital to be an active member of the architectural community. I constantly want to improve myself and refine my skills. This platform provides an excellent opportunity to meet other architects and to grow individually and as a community. Every architect should be involved and have their voices heard in decision-making processes. Diversity is a strength and reflection of the demographics of this country. I would like to encourage other architects to get more involved in NCARB and participate in this community.
What is your favorite thing about being an architect?
Good architecture really makes a difference in the world. We can transform the way people live, and our built environment has a significant impact on every aspect of our society. It can advance and ruin communities, it can protect and destroy nature, it can bring wellness and suffering to people, and it can open and close opportunities. Over the last few years, living in DC has taught me that having an impact does not necessarily start with policy changes. Sometimes, it begins with small steps: an act of service or volunteering, a kind word to a neighbor. I understand my role as an architect is to serve communities, and I want to use architecture as a tool for good. This makes my work much more complicated but also so much more rewarding.
---
Want to read more stories like this one? Check out other articles from our Architect Spotlight series.