How to Dress for Work at an Architecture Firm
All photos courtesy of JLG Architecture.
Okay, so you got the job. Congratulations! Now what are you going to wear? Whether you've just started logging experience or you're switching to a new firm, finding work-appropriate clothes can be stressful. Your style can say a lot about you, your firm, and your work—and potentially, your design aesthetic. Luckily, we're here to help with architect-approved style tips for every situation.
At the Office
Remember what people wore during your interview. Hopefully, you had the chance to meet several employees over the course of your interview process. (If not, check their website for staff photos.) Try to keep in mind what they were wearing: dressy or casual? Trendy or basic? "If most folks are wearing a coat and tie, you probably shouldn't show up in jeans and tennis shoes the first day," said NCARB Assistant Director of Examination Research Ryan Misner, AIA, NCARB.
Each firm has a different feel, and you want to be respectful of your new co-workers. "If you don't have a good sense of the dress culture at your firm, or if you are starting a new job, reach out to HR and just ask," said Michelle Mongeon Allen, AIA, LEED AP, COO of JLG Architects.
Go for over-dressed at first, not under-dressed. Over-dressing might seem awkward, but it's better than the alternative. "Even if we don't expect our employees to wear a suit to work every day, I see it as a sign of respect when someone wears a suit to an interview," said Nea May Poole, AIA, LEED AP, COO of Poole & Poole Architecture. "To me it signals that they understand this is not school and they are ready to move into a career." You can always start wearing more casual outfits once you've established you take your work seriously.
Know your personal style—but be willing to change. "Knowing your personal style will help you to feel more confident," said Allen. Just avoid the temptation to fill your closet with heaps of new clothes. "Find a few good quality pieces that make you feel good, fit well, and can be easily mixed and matched," she advised. But remember, if your personal style clashes with your firm, you may have to adjust.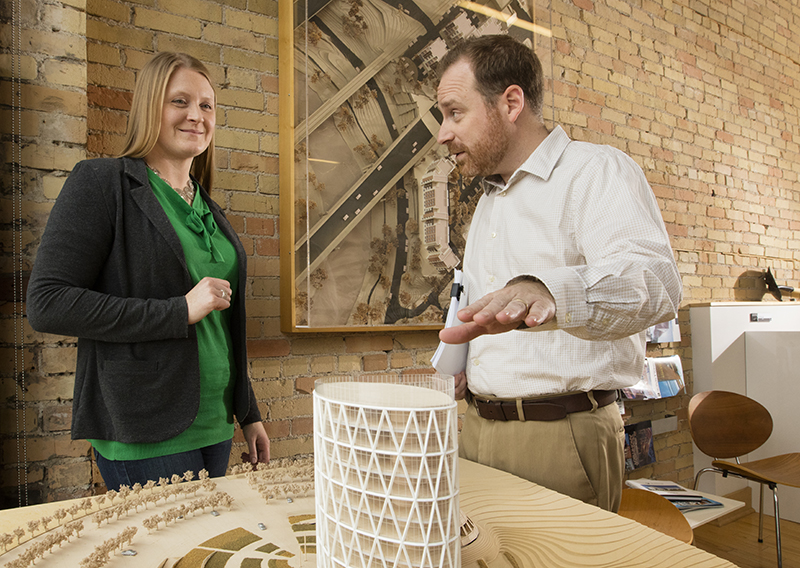 Meeting with Clients
Embrace the classics. You don't want clients to take one look at your über-trendy outfit and imagine that anything you design for them will go out of style just as quickly as your shoes. The best part? Dressing classy is simple: "First, own a well-fitting dark suit. You will need this for job interviews, client presentations, and dinners," advised Misner. Second, know how to use an iron. Clients are not impressed when you show up looking like you slept in your clothes—even if you did." Be a permanent paragon of dressing well, and your career will thank you for it.
Keep your clients in mind. "A savvy architect needs to know their audience. Our general rule of thumb is to show up for meetings in business dress," said Poole. But at a recent series of meetings her firm attended in Madison, WI, they had to abandon that rule. "The client was an extremely casual group who saw our team as 'outsiders.' For the next meeting we wore jeans and a dress shirt." Being able to match your audience's style and tone can go a long way to proving that you're the right firm for them. Conversely, wearing the "wrong" clothes can signal that you don't have much experience or aren't familiar with the area.
It doesn't always take a lot. Depending on your client or the office, "throwing on a blazer may be enough," said Misner. If you don't know the client very well, there's a good chance someone else does, so "don't be afraid to ask one of the principals if you aren't sure what's appropriate for a certain client."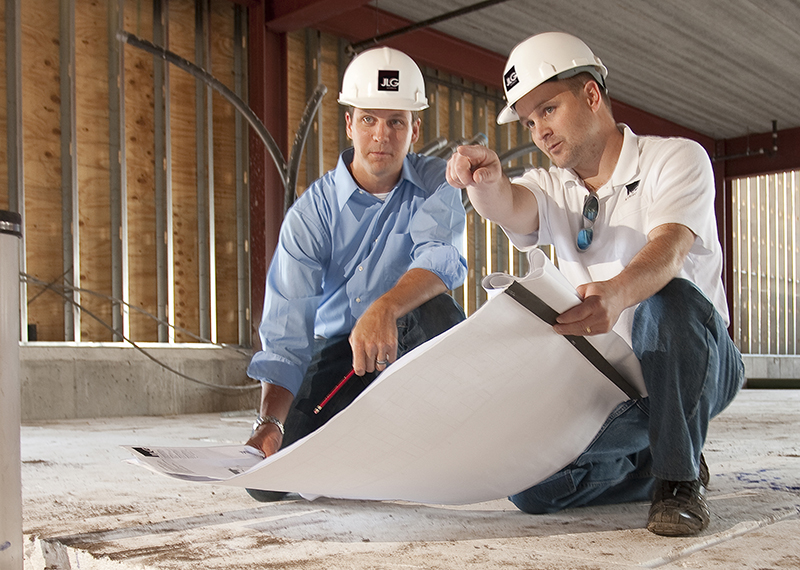 At a Job Site
Always pack boots. "It will go a long way with the contractor if you are able to walk the site safely and not be worried about getting dusty or messing up a nice pair of shoes," advised Misner. Not sure what shoes are going to be appropriate? "Keeping boots in your trunk is good advice for anyone who may be on job sites," said Poole. Having a pair of construction-friendly footwear on hand at all times might save you from buying new office shoes after every site visit. 
Stay safe. Always wear your hard hat, safety vest, and protective eye wear. "Even if it's not required, you will be showing everyone that you know what you're doing, you've come prepared, and you take safety seriously," said Allen.
Professional Meeting or Event
Dress to impress. "Dress slightly better than what you expect your audience to be wearing, and err on the side of conservative," advised Allen. If you find you have a hard time deciding, put together one professional outfit that you can call upon time after time. And no matter what, always make sure your clothes are clean, pressed, and well-fitted.
When in doubt, just wear black. Simple is best, and all black is rumored to be the architect dress code, anyway.
Nea May Poole, AIA, LEED AP, is a principal architect at Poole & Poole Architecture, LLC, in Midlothian, VA. Michelle Mongeon Allen, AIA, LEED AP, COO, is a practicing architect at JLG Architects, as well as the President of AIA Minnesota. Ryan Misner, AIA, NCARB, is the assistant director of Examination Research at NCARB.