Passing the Architect Registration Examination (ARE) is an important step toward demonstrating you have built up the knowledge and skills needed to practice architecture. The exam is challenging, and most candidates fail at least one division while taking the ARE. If you fail, don't be discouraged—here are our tips for getting back in the test center with confidence.
---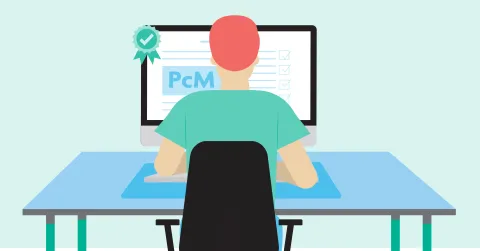 Free Practice Exams for Each ARE Division
Developed the same way as real Architect Registration Examination® (ARE®) divisions, NCARB's practice exams are free, full-length, and fully scored.
---
1. Review Your Score Report
You'll receive an email notification once your score has been processed and is available to view in your NCARB Record. Results for all divisions are typically processed within one week of your test date.
If you fail a division, your score report will include descriptive feedback indicating the percentage of questions you answered correctly per content area, a comparison to the average percent answered correctly by passing candidates, and a scaled score. Your scaled score is a good indication of how close you were to passing: if you're in the 500+ range, you just need to focus in on a few areas before you return to the test center, but if you're below 400, you might want to spend a while reviewing all content areas before scheduling a retake.
Use your score report details to craft a new study plan to boost your performance in the exam content areas where you struggled. Understanding your score report is the first step toward crafting a strategic plan to pass the division the next time. Learn more about how to interpret your ARE 5.0 score report.
2. Review NCARB's Recommended Resources
After identifying the areas that you need to strengthen, using the right resources to sharpen those skill sets is critical to passing your exam the next time. The ARE 5.0 Guidelines include study resources such as the ARE 5.0 Reference Matrix which contains a list of recognized architectural references that item authors use to write the items you'll see on the exam.
We also offer free, full-length practice exams for each division of ARE 5.0 that are available for all licensure candidates with an active record. To access these free practice exams, log in to your Record and navigate to the Exams to access your Practice Exam Dashboard.
Plus, you can find tips and advice from licensed architects and candidates on NCARB's blog and on the ARE 5.0 Community. Our YouTube channel also offers a host of videos to help you understand the ARE and how to prepare for each exam.
3. Reschedule Your Exam
You can retake a failed ARE division as soon as 60 days after your previous test date—and if you were close to earning a passing score, we recommend you retake sooner rather than later. NCARB's data shows that candidates are more likely to pass their exam after completing a related experience area. For example, candidates who took the Project Planning and Design (PPD) division within three months of completing the corresponding experience area saw a pass rate of 67%. However, candidates who hadn't yet started the PPD experience area before taking the division had a 40% pass rate—27 percentage points lower.
Keep in mind you can only take the same division three times within any twelve-month period.
Schedule your exam retake once you feel you understand the areas in which you struggled before. Don't let failing an exam division keep you from moving on your path to licensure! Read more for details on rescheduling your exam division.