How to Transmit Your NCARB Record for Initial or Reciprocal Licensure
Your NCARB Record is a valuable tool that serves as a bridge to licensure, NCARB certification, and volunteer opportunities. Here are a few tips on how to easily navigate and transmit your Record for initial or reciprocal licensure.
Transmitting Your Record for Initial Licensure
Once you have met the requirements for initial licensure in your selected jurisdiction, NCARB will automatically transmit your Record to that jurisdiction for licensure.
If your jurisdiction has additional requirements, you may have to complete those before becoming licensed. Check your jurisdiction's requirements through our Licensing Requirements Tool.
Transmitting Your Record for Reciprocal Licensure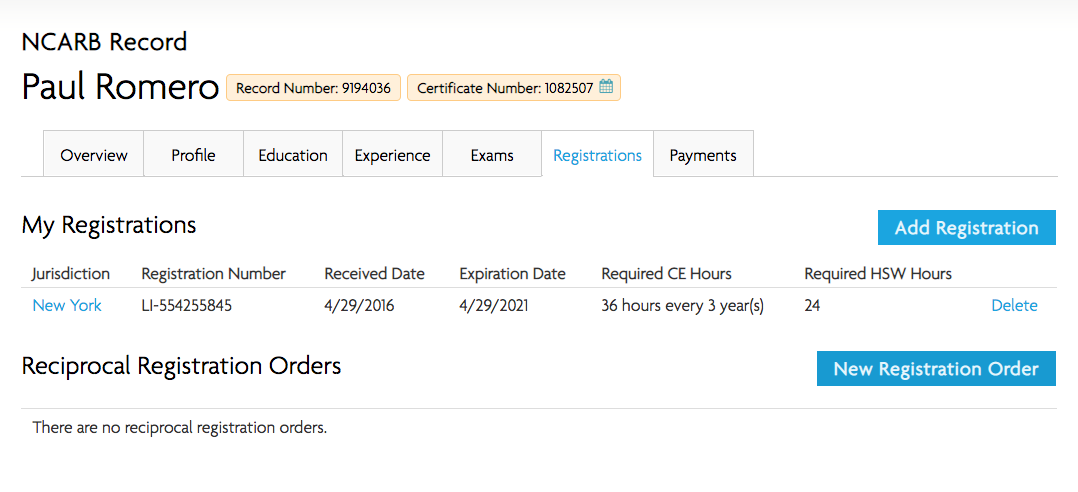 If you plan to work in any other jurisdictions, you can request for us to transmit your Record to the jurisdiction of your choice. The easiest way to do this is by earning an NCARB Certificate—a credential that will help you expand your professional reach. While it's possible to gain a reciprocal license without being certified, all 55 jurisdictions accept the Certificate and 26 require it. As an added perk, licensure candidates who maintain an active NCARB Record will receive the first year of certification for free, plus half off the annual renewal fee for your second year.
 If you're not a Certificate holder, you'll still be able to transmit your Record for reciprocal licensure. To apply for licensure in another jurisdiction, you'll want to:
Log in to your NCARB Record through My NCARB
Navigate to the "Registrations" tab
Select the "New Registration Order" button
Follow the instructions on your screen
There is a $385 transmittal fee.
Questions?
You can contact us by calling our Customer Relations team at 202-879-0520 or by filling out this form.