We spoke with architect Julia Oderda, AIA, about her path to licensure, how she navigated the process of coming out at her firm, and what other firms can do to support trans architects.
What inspired you to become an architect?
I took an art class when I was in high school. I'd always been into the arts, but also into the sciences. We had an art class that had an architecture segment where we had to design a house, and I spent more time on that than any other project that semester. I just really, really got into it. I thought it was fascinating, and I started learning as much as I could. That put me on a path to seeking out architecture as a career.
Can you tell us a little about your path to becoming licensed?
I went to University of Maryland for my undergraduate degree. After high school, and when I went to University of Maryland, I started working at architecture firms—as a runner, and then as a drafter—so I could see what the profession was like and make sure it was what I wanted to do.
After I got my undergraduate degree from University of Maryland, I went to University of Utah for my master's degree. I worked all through my schooling, and then started working full-time and got my hours. I took all of the exams, passed them, and got licensed.
Highlighting and supporting trans voices is more important now than ever before. You came out as a transgender woman while working at your current firm, VCBO. How did you navigate that process in the workplace?
Navigating the workplace was the last step for me. There were a lot of things I had to go through and do and accept personally before I could start the professional journey. I was very confident in myself by the time I got to the point where I was coming out at work. I'd already come out to my wife, family, and friends, so coming out at work was kind of the ultimate step to being out everywhere, publicly.
A lot of what I did to help pave the way for me—and hopefully for others behind me—but also just to address my own anxieties about the process was a lot of overpreparation. I researched transition plans that other people had done. I read a lot of articles. I ended up creating a document that was probably 70-something pages long, with appendices and articles for my leadership team.
I pretty much spelled out a transition timeline and framework for them that I wanted them to go along with. I didn't want to leave anything up to chance, because I was a little afraid that anything that was left open might either slow things down or give room for pushback. So I had emails drafted, including emails I intended to send myself and emails I wanted them to send to staff, clients, and contractors. I had timelines. I had a list of all the areas that would need to be updated in our firm, our website, our marketing software, and our timekeeping software. I had outlined all the tasks that would need to be done. I started coordinating with them about two months before I intended to come out to give time to set things up before what was essentially the "go live" day. And then I sent about 700 emails at once in less than a day, and that was it.
That sounds amazingly thorough. You must be a great planner!
I think as architects we tend to think that way anyway. I just did what I figured I'd usually do: map it all out and put the pieces put together.
A friend of mine who transitioned from male to female in the workplace noted that colleagues who had previously treated her like a competent, capable professional suddenly doubted her abilities. Is that something that you experienced?
To a small degree, I have experienced that. Less so from coworkers, but from contractors and some consultants. A lot of the people I worked with knew me fairly well, so it hasn't really been an issue for me that much. There have been times where I'm on site and I get treated like every other woman architect, where I get looked over and someone other than me gets looked to for the answers. So that's a very relatable thing that I get to experience now. But it hasn't been an issue in my office.
How have your identity and experiences informed your design decisions?
I'm not sure I can really describe any particular changes—just the fact that having a diverse set of voices on any project, or in any office, or in any profession makes for a better product in general. I come at my projects with my life experiences, and another architect is going to come at it from their life experiences, so having people who have diverse life experiences only benefits the products that we create.
A thing that often comes up with trans people and architecture is bathrooms, and access to them. That's something that I've been conscious of since transitioning, and so that's something that plays into it—having equitable access to facilities. But that's not something that's new. Having grown up under the Americans With Disabilities Act (ADA), trying to get as equitable access to facilities as possible is something that's been ingrained in me, so I feel like it's just a continuation of that.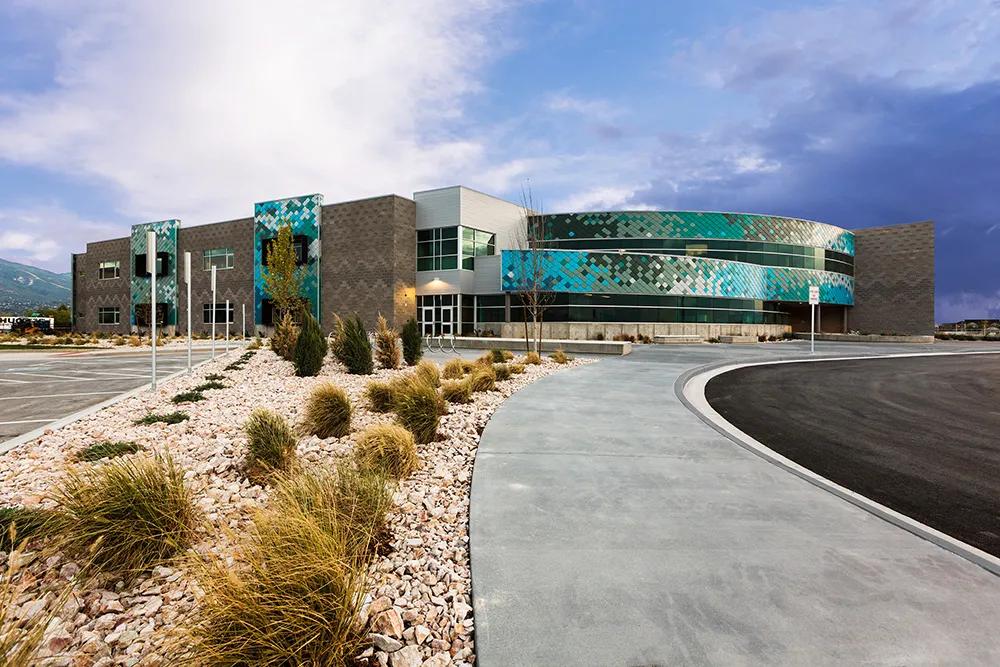 Can you share one of your favorite projects you've worked on?
I've worked on so many great projects over my career. One that I'm very proud of is Odyssey Elementary School. I had the opportunity to work with a school client here to redevelop their prototype elementary school and Odyssey was the first iteration of that new. It was a great project for a lot of reasons—advanced educational design, fun wayfinding that the kids love, and many others. It also was a highly sustainable project; it had the lowest energy usage index of any school we had done before, it was the first certified Net-Zero Energy school in Utah, and the first LEED Gold public school in Utah. We worked really hard to get the energy use down, and it was a really fun, collaborative process with the client and their consultants and the contractor.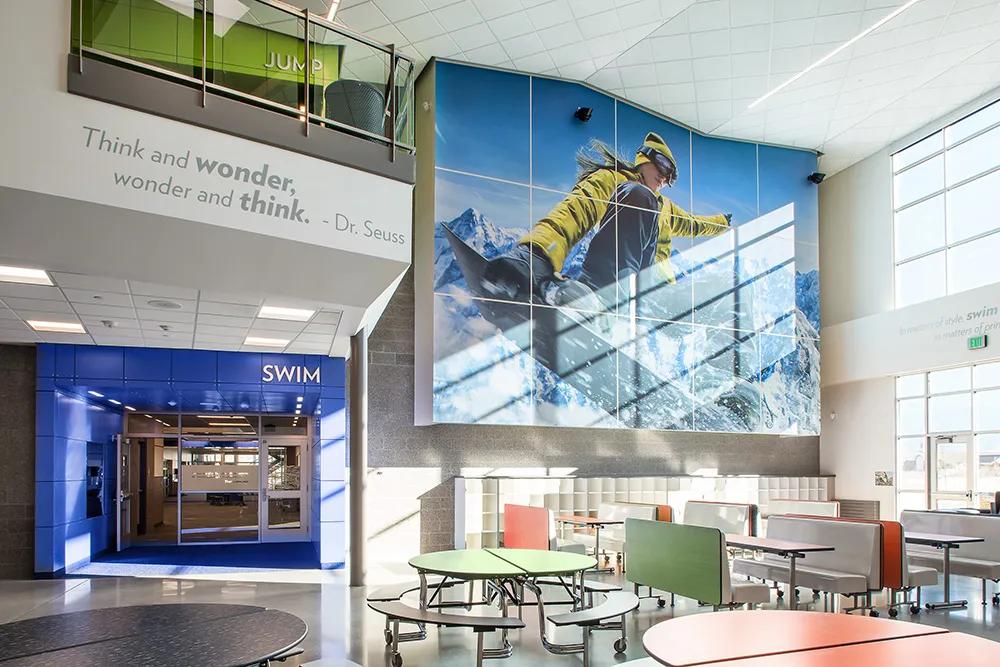 What advice do you have for architecture professionals who are considering coming out as transgender at work?
My advice is to be prepared. There are a lot more resources now than there were. If you're thinking about coming out, hopefully your firm has already started thinking about having trans employees as a possibility. But more likely than not, they haven't. So finding resources that you can provide to them and being prepared to do some educating is probably something you need to be ready for.
The other side, and unfortunately less positive, is to be considerate of where it is that you're coming out. It sucks to have to say that, but with the current political climate that's going on across the country, some states are safer than others, and some workplaces are going to be safer than others within those states and other states.
I had a pretty good feeling about my firm when I came out. I'd only ever seen positive things related to acceptance in the firm as a whole. And Utah was one of the few red states that had passed legislation outlawing discrimination on the basis of gender identity, so I felt comfortable there as well. But not all states have that. We have some federal protections not, but attempts are being made to erode that. Coming out where you are currently may not always be the safest option, so I think people just need to be clear about where they are and what they expect will happen.
Do you have any tips for architecture firms that are looking to foster a more inclusive culture?
There are lots of really good resources out there already. And it's not just queer architects or people that we need to be thinking about. There are also women, people of color, and all other aspects that our firms can be more accommodating of when it comes to inclusion.
If you have someone in your firm who is coming out as trans, look into resources on what needs to be done to accommodate their transition – websites, rolodexes, email addresses, etc. Also look in to allowing preferred names instead of legal names—that's a big one. There are hurdles that can't be overcome. For example, timekeeping software often requires legal names, which requires the outing of individuals who haven't changed their legal names on a daily basis—that's problematic. But inquiring with software provided to find ways to use preferred names is a great start.
Really, setting up your firm culture to stress inclusion is the biggest thing you can do. If you state inclusion as one of your goals, you have to follow it up with actions that show that you're following through. That, and providing diverse leadership, are two of the green flags for people who are looking for a place to work. If there is a very diverse leadership group, I think you can usually trust that their policies are going to be fairly inclusive. So I think there are a lot of ways firms can create an inclusive culture, from small steps to big steps.
A lot of that can apply to organizations like NCARB as well. But is there anything else that NCARB or some of our counterpart organizations could be doing?
NCARB recently just allowed usage of preferred names, which is huge. I have friends who are transitioning or who have transitioned but haven't been able to change their name, and it's been a huge source of anxiety for them, because they have to either out themselves or present themselves in a way that is not who they are. That's an added stress that they don't need. Allowing preferred names instead of legal names helps not just people who are trans, but also people who go by a different name. On the whole, I think our organizations have done well. I think the best we can do is to keep making progress.