Licensing Board Members Nominate Regional Leadership
As the practice of architecture becomes increasingly mobile, the ability to pursue work across state lines is more important than ever. To encourage national licensing standards and create a forum to share best practices, NCARB's 55 licensing boards are divided into six regions. This structure enables boards to discuss regional architecture concerns impacting regulation, and develop programs for the benefit of licensing boards, licensure candidates, and architects.
2020 Regional Summit
From March 6-8, board staff and volunteers met in Cambridge, Massachusetts, for the 2020 Regional Summit. During the two-day event, attendees explored national regulatory trends, discussed regional business, heard from candidates running for the FY21 NCARB Board of Directors, and nominated regional leadership.
2020-2021 NCARB Officer Candidates
The following individuals are running for office on the NCARB Board of Directors for the 2020-2021 year. Elections are held at the Annual Business Meeting in June.
First Vice President/President-elect: Alfred Vidaurri Jr., FAIA, NCARB, AICP (Texas)
Second Vice President: Bayliss Ward, NCARB, AIA (Montana)
Treasurer: Jon Alan Baker, FAIA, NCARB, LEED AP (California)
Secretary: 

Mary Morissette, FAIA, NCARB, LEED AP (Colorado)
Stephen D. Schreiber, FAIA, NCARB (Massachusetts)
Kenneth R. Van Tine, AIA, NCARB, LEED AP (Michigan)

Member Board Executive Director: Katherine E. Hillegas (Louisiana)
Public Director: 

Gary Ey, CDT (Maryland)
Mark A. Glenn (New Mexico)
Regional Director Candidates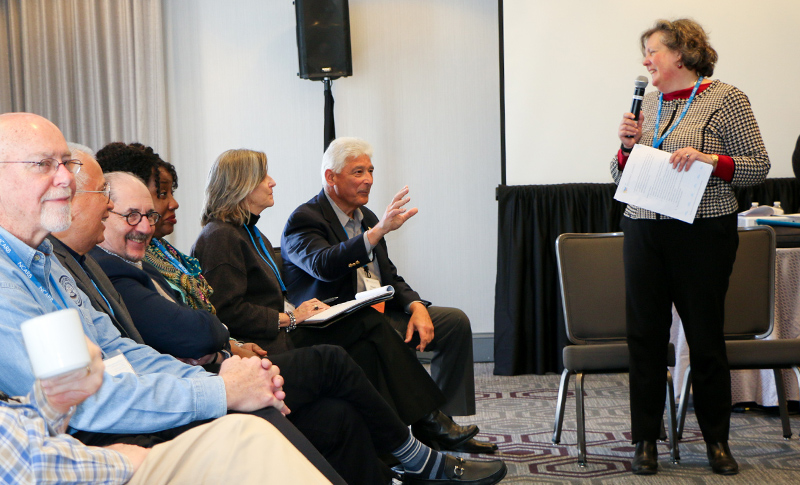 During the Regional Summit, each region nominates a director to sit on the NCARB Board of Directors. Directors are officially elected by NCARB's full membership at the Annual Business Meeting in June.
Region 1: Janet L. Hansen, AIA, NCARB, LEED AP (Maine)
Region 2: Philip M. Leinbach, NCARB, AIA, CSI (Pennsylvania)
Region 3: Robert W. McKinney, Ed.D., NCARB (Lafayette, LA​)
Region 4: John P. Rademacher, AIA, NCARB (Ohio)
Region 5: David W. Hornbeek, AIA, NCARB (Oklahoma)
Region 6: Edward T. Marley, NCARB, AIA, LEED AP (Arizona​)
Members also provided feedback on resolutions that will be voted on at the organization's Annual Business Meeting in June. Prior to the Regional Summit, Member Board Executives from 40 licensing boards met to discuss the current regulatory landscape, explore case studies, and share best practices. 
To learn how you can get involved, visit your board's website for news on upcoming public meetings and volunteer opportunities.