Trent Schmitz, NCARB, shares how he became the youngest licensed architect in the state of Michigan when he was just 23 years old. Currently working as a designer at Neumann/Smith Architecture, Trent shares his early career experience, plus career advice and encouragement for other emerging professionals. 
Q: At 23, you became the youngest licensed architect in Michigan. How has earning a license impacted your career goals? 
A: Since I was 11, I have wanted to be an architect—and a crucial step of becoming an architect is obtaining your license. For me, licensure was really a box to check for my career to fully start. By becoming licensed as soon as I finished my master's degree, I was able to jumpstart my career and position myself for advancement even faster. The average age of licensure is 32, and I was able to do that nine years earlier than average. Since becoming licensed, I have had more opportunities and been given more responsibilities in practice.  
Q: You pursued your architecture license through the Integrated Path to Architectural Licensure (IPAL) program at your college, Lawrence Technological University (LTU). Tell us about the decision to choose this accelerated path to earning a license and your experience with the program. 
A: I heard about the program during my sophomore year when LTU ran their first class of IPAL students. At LTU, you could apply to the program during the fall of your junior year—so the next year, I applied as soon as I could. The program was amazing, as it placed students at a metro Detroit architecture firm to start practicing. The program also provided a platform to form study groups and share experiences at various firms.  
Q: Are there any career development tips or tools you would recommend to other emerging professionals? 
A: One of the most helpful things I did while working toward licensure was being open about what I both knew and didn't know. If there was an exam or experience area I was lacking, I could talk to professors or leadership at work, and they would help me find ways to gain that experience. To gain construction administration hours, I was able to sit in on meetings with owners, architects, and contractors every week and learn about construction from the architecture perspective. It was small things like this that helped me to move through the Architectural Experience Program® (AXP®) and study for the Architect Registration Examination® (ARE®) through everyday experiences.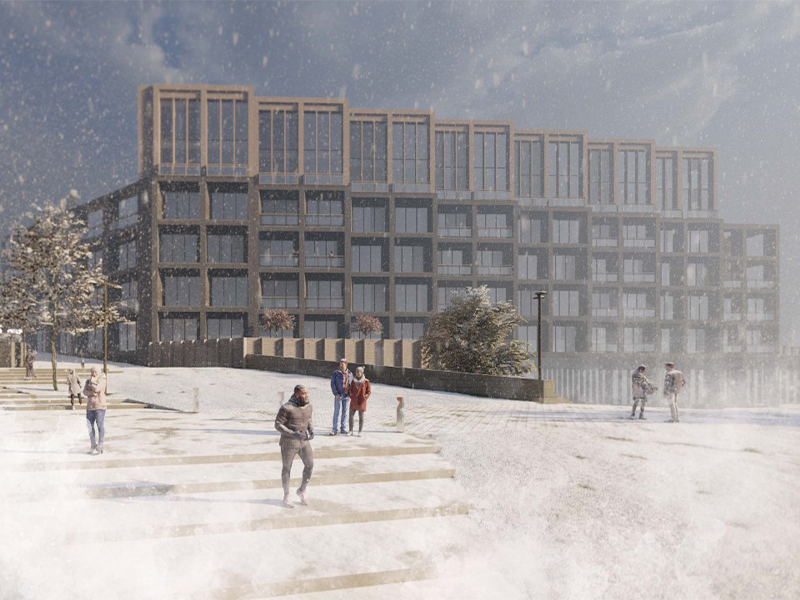 Q: In your work as a designer at Neumann/Smith Architecture, what is one project you have been really proud to work on? 
A: I have been at Neumann/Smith (N/S) for almost four years and have thoroughly enjoyed my time there. N/S works on a variety of projects, and I have been fortunate enough to work on a variety of project types. One of the projects I'm most proud of is a recent RFP that we won for a large-scale development. I had expressed interest in working on proposals and being involved with projects from the time we win them to completion. While this project is still in the very early stages, it was great to be a part of the initial design thinking and presentation team to help win the job.  
Q: What advice do you have for anyone looking to dive into the field of architecture? 
A: My advice to anyone looking to dive into architecture would be to start practicing in any way that they can. The practice of architecture is so broad, and there are so many different things to try. My senior year of high school I started working in construction to gain experience and started to learn about architecture from the ground up. After that, I ended up working in a small firm environment, then a residential firm, and now a larger firm (N/S). All of these diverse experiences also helped me complete the experience program. I recommend trying out many different aspects of the industry when you are young to help you discover your passions within architecture and shape your career.  
---
Learn more about the Integrated Path to Architectural Licensure (IPAL), an accelerated pathway to licensure for motivated students seeking to become architects.