Texas architect Alfred Vidaurri Jr., NCARB, NOMA, FAIA, was inaugurated as NCARB's FY22 president at its 2021 Annual Business Meeting. During his year as president, Vidaurri will focus on two issues essential to architectural regulation: how the path to earning an architecture license should evolve to meet the needs of the future; and how NCARB can support greater justice, equity, diversity, and inclusion (JEDI) along that path. Currently a vice president and principal architect at Freese and Nichols, Vidaurri shared with us about his hopes for the next year, his reflections on being NCARB's first Hispanic/Latino president, and more. 
When did you realize you wanted to become an architect? 
I decided to become an architect very early on—probably during my late junior high days—when I went to a career counseling day and they talk to you about all the career choices out there.  
I remember specifically telling my counselor I wanted to become an artist. I've always been interested in art, and I still create art today. But I remember the counselor saying, "Wow, that's a tough profession. It's hard to make a living with that."  
After that, I think they simply looked at a list of careers, and the next one alphabetically was architect. When she asked me if I had considered architecture, I thought, "That's kind of interesting. I do enjoy drawing." I was doing drafting classes and drawing plans at the time. And that was it—architecture became my focus.  
How did your educational experience shape your path and values as an architect? 
I started my educational path at the local community college in Fort Worth, Texas, and matriculated to the University of Texas in Arlington, where I earned my undergraduate and graduate degrees.  
One of the things I still remember about that experience was always being taught to communicate well, think critically, and problem solve. I was told that, as long as I could problem solve, I could learn to practice other skills along the way. I credit that teaching with the diversity of challenges and different hats I've been able to wear over the years. Whether I was trying to deal with issues when I was running a marketing team or a healthcare team, I always resolved back to that foundation of being a critical thinker.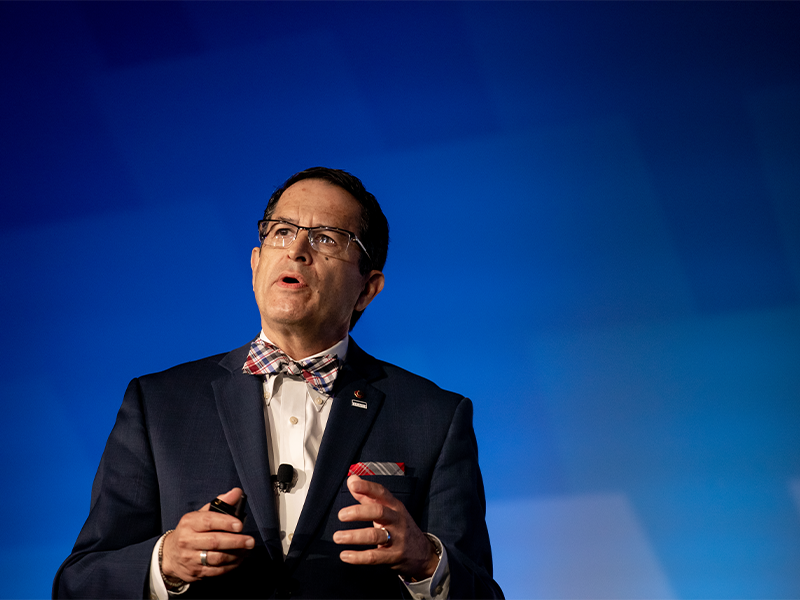 What do you wish architects knew about NCARB that they may not? 
I think many architects just associate NCARB with the exam and the Architectural Experience Program® (AXP®), or see it as this group of individuals who are creating the laws of the land and the exam themselves. And not everyone realizes the depth of other projects and services that we pursue to support the profession, as well as the robust volume of volunteers it takes to do the work. 
As the incoming president, I had the opportunity to actually put together all of the committees for this fiscal year. Little did I realize that would mean putting together groups of 39 different committees, task forces, and special work groups, placing somewhere close to 400 volunteers. I don't think that architects realize that, at the core of NCARB, is the energy and passion of practitioners from across the country who are devoting themselves to the profession and its regulation. And those are hours that we could never afford—hundreds and thousands of hours that are donated.  
What's your favorite part about the profession? 
To me, architecture is one of the few professions where I can take an idea that is bouncing around in my mind and put it to where it has final form and format and it gets built. I can see in my mind what I think the space should look like, what it should feel like, how I would like it oriented, the light, the height of the structures, the look, the materials—and then I can go test the model and walk through it! It's very exciting. I can judge the finished project of what was originally just in my brain and see if there's something I can do better on future projects.  
As architects, we design wonderful places, wonderful environments, the places that we work in, live in, worship in—all of those places that inspire people. Architects are behind the beauty of being able to create those beautiful places and spaces. But there's also another very technical side—a responsibility to make sure that the things we do are energy-efficient, sustainable, and work well. We have a tremendous number of codes that we have to make sure we comply with, whether it's life safety codes, building codes, or energy codes. There's always an interesting dance between the technical responsibility of meeting the codes for it to be a safe place and yet the beauty side of what we do—what I call the "art of architecture." 
Why did you want to become a leader of the organization? 
I happen to be a part of a company that has always been very supportive of volunteering and being involved in your profession. So, I was really encouraged by leaders at my organization, but I was also encouraged by others around me, including NCARB.  
Still, I never planned that I was going to become president of NCARB one day. It was just one of those things that started to feel right, and opportunities and doors opened. And I said, "Why not? Let's do this." I never would have imagined this, but I believe that I can contribute and move us forward as an organization.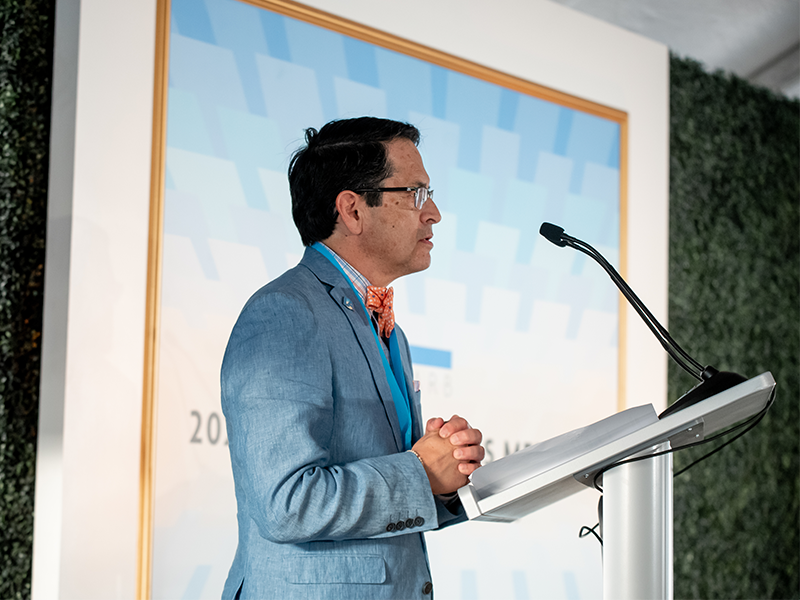 What are you excited to learn about during your year as president? 
Following the shut-downs from the pandemic, we will be trying to safely get back into a rhythm with a lot of the things that we may have taken for granted for so many years—our committee meetings, annual meetings, and regional meetings, and all the face-to-face interaction that had to be disrupted. I am excited to get back on pace in that way, as well as to continue the great work in some of the committees stood up by President Robert M. Calvani, FAIA, NCARB. 
I also think there are going to be opportunities to engage with bigger-picture ideas that I have been working through. NCARB has done a wonderful job in our century of service as an organization, with regard to the model for licensure. But I'm one of those individuals who like to go in, ask the hard questions of "why not" and "what if," and imagine all the possibilities.  
I am currently working to prepare us for a more robust conversation regarding the licensure model of the future. This is pressing to me because the paths to become licensed have become increasingly diverse. I think it's time for us to have these courageous conversations around the path and how we measure competency. 
What does being the first Hispanic/Latino president mean to you? 
I would first say it is a tremendous honor. During my architectural career—even starting with my education—I rarely saw anybody who looked like me who helped train me, helped educate me, or helped mentor me. 
So, I feel a call to serve as an example of what can be accomplished and the doors that can be opened and then help others succeed. While I'm delighted and excited to be the first Hispanic/Latino president, I know I'm not the last. I truly stand on the shoulders of others who have come before me to make this possible. 
You've talked a lot about your colleagues and volunteers around the country that work with NCARB. What is your message to them? 
As I think about the opportunity to be NCARB's FY22 president, I recall one of my favorite quotes by Daniel Burnham: "Make no small plans because small plans do not have the ability to change man's heart." And that simply means to think big, act bold, and be ready to take action. 
And I hope with the volunteers and with the help of each and every member of our community, that we'll take bold steps, we'll take bold actions, we'll move forward with many of the programs, the issues, the services, and the ideas that will come before us. And while I know we will have many different thoughts and approaches along the way, I think that's okay. I want to encourage everyone to be a part of the conversation.