Plan Your Testing Strategy With the ARE Transition Calculator
The Architect Registration Examination® (ARE®) 4.0 retires on June 30, 2018—that's less than a year from now. If you're currently testing in 4.0, now's the time to make sure you have a plan to either complete the exam in 4.0 or transition to the new version. With our ARE Transition Calculator, you can test as strategically as possible by exploring how the 4.0 divisions you've taken will transfer to 5.0.
Using the Calculator
You can access the basic calculator online, or a customized version with your pre-loaded exam information by logging into your NCARB Record. In the calculator, you can select one of two views: "calculator" or "credit model."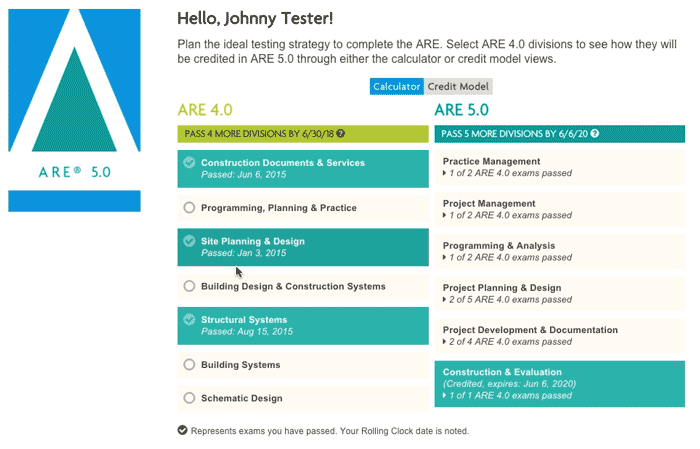 In the calculator view, you can explore which 5.0 divisions you will receive credit for based on your current or selected 4.0 progress. Or, you can click the 5.0 division buttons to see the list of 4.0 divisions you'd need to take to receive credit.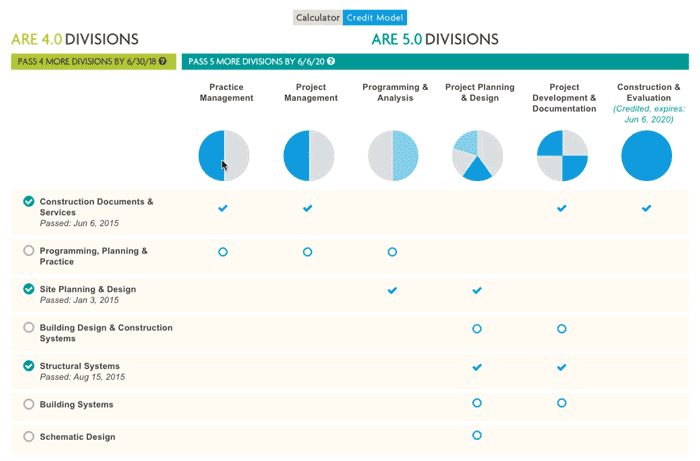 In the credit model view, you'll see a matrix showing the ARE 4.0 divisions along the left side, with the corresponding ARE 5.0 divisions along the top. To receive credit in 5.0, you'll need to pass all asterisked 4.0 divisions.
There is no partial credit for divisions, so you'll need to pass all listed 4.0 divisions to receive credit for a corresponding 5.0 division.
Planning Your Transition
Once you've determined which divisions you'd like to pass in 4.0 before the exam retires, you can begin planning your transition timeline, scheduling divisions, and laying out your study outline. As you look at your calendar, keep in mind:
Your rolling clock still counts—Any expiration dates for 4.0 divisions carry over into 5.0. If a 4.0 division expires before you've completed the exam, you will lose credit for any 5.0 divisions it counted toward. If you're logged in, the Transition Calculator will display these expiration dates.
You can retake a division after 60 days—If you fail a 4.0 division, you only need to wait 60 days before retaking it. Schedule your tests with enough time to retest if you need to.
You can take a division up to three times within a 12-month period—If you fail a division three times between now and when ARE 4.0 retires, you will be unable to take it again.
Test centers will fill up—Schedule your divisions early to ensure you have a seat before 4.0 retires.
Transitioning to ARE 5.0
You can transition at any time between now and June 30, 2018, by logging in to your NCARB Record, going to My Examination, and selecting "Transition."
If you haven't completed 4.0 by the time it retires, you'll need to complete your examination requirement using ARE 5.0 divisions.
Need help? Join the ARE 4.0 Community to talk to our experts, ask questions, and share study tips with your peers.