Understanding whether or not your testing space meets all the specific requirements for online proctoring can be stressful. To help remove the guesswork from your preparation, take advantage of our "test run" resource for candidates preparing to take an online proctored Architect Registration Examination® (ARE®) appointment.
Through the test run service in your NCARB Record, you can schedule a free, 30-minute trial appointment with Prometric to confirm your computer and testing space meet the requirements for online proctoring. You can also use this time to understand how you'll be interacting with your Prometric proctor during your appointment, and what to expect on test day.
Set Up for Your Test Run
To get the most out of your test run, treat it as a dress rehearsal for your real online proctored appointment. You should be prepared to use the exact same setup for your test run appointment that you are planning to use for your actual ARE appointment, so be sure to set up your space in advance of the test run.
To learn more about setting up your space, carefully review our Online Proctoring Requirements document and watch this helpful walk-through.
During your test run appointment, you'll go through the ARE check-in process with a real Prometric proctor. You'll have the opportunity to confirm that your computer system and internet connection meet the technical requirements to launch the ProProctor application, and have the chance to ask your proctor any questions you have about what is and isn't permissible in your testing environment. You'll also see a short, unscored "quiz" as part of the test run, but you are not required to complete it.
Curious about what you'll encounter during the check-in process? Watch this helpful video from Prometric.
When and How to Schedule
Because you may identify potential problems with your online testing setup, it's a good idea to schedule your test run far enough in advance of your actual ARE appointment so that you are able to implement a solution or reschedule if necessary.
You can schedule your test run by navigating to the "Exams" tab in your NCARB Record and selecting "Schedule Your Test Run" from the Exam Overview page.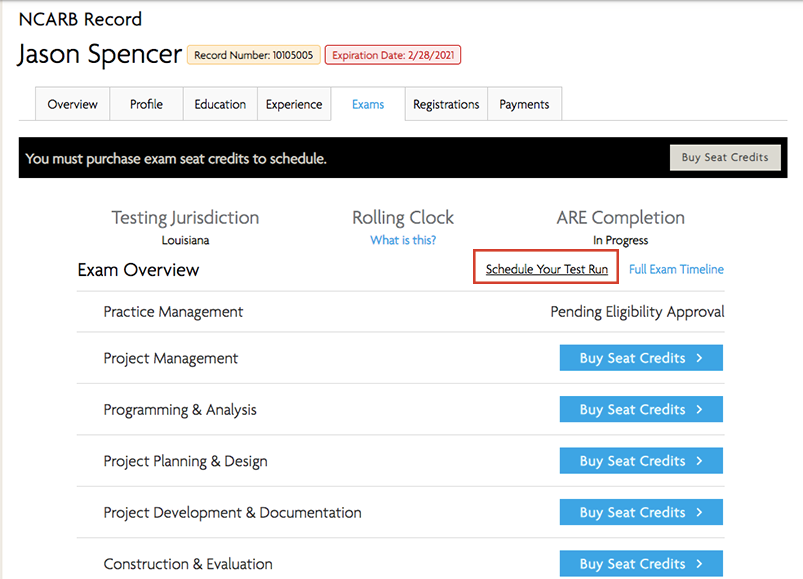 You will receive some information about the test run before being taken to the Prometric website to schedule your 30-minute appointment.  After you schedule your appointment, you'll receive an appointment confirmation email from Prometric. Hold onto this email—you'll need it to launch your test run. Your test run appointment information will NOT appear in your NCARB Record. If you have questions about your appointment or need to request another copy of your confirmation email, contact Prometric.
Note about accommodations: Even if you have approved accommodations for the ARE, please click "No" when asked, "Are you pre-approved for testing accommodation(s) for the test you wish to schedule?" Because this is just a trial of your setup and connection, no accommodations are necessary for the test run. This will not impact any approved accommodations for actual exam appointments.
How to Troubleshoot During and After
If you run into technical trouble during your test run—including launching the appointment or ProProctor application and connecting with your proctor—work with Prometric's technical support using the chat tool on Prometric's ehelp site for further assistance resolving the issue. The test run allows you the opportunity to resolve any issues before your ARE appointment.
If you find that your computer setup or testing space do not meet the requirements, discuss potential changes with your proctor and refer to NCARB's Online Proctoring Requirements document for more information. If necessary, reschedule your appointment for a later date to give yourself time to resolve any issues.