Licensure candidates and new architects are more diverse than ever before. In 2016, women accounted for 36 percent of newly licensed architects and 42 percent of new ARE candidates. Racial and ethnic diversity is also improving, although at a slower pace. For comparison, 15 percent of new architects and 30 percent of new exam candidates identified as non-white.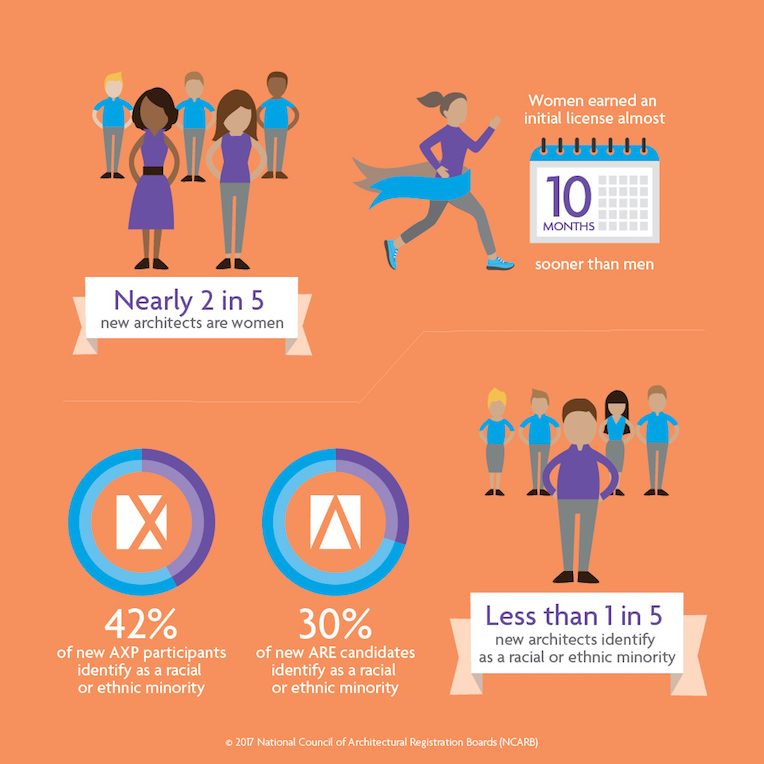 While several groups remain underrepresented within the profession, these trends point to growing diversity among licensure candidates, and eventually, future architects.
Gender Equity Improves Along All Career Stages
For the first time, gender equity improved along every career stage—from starting an NCARB Record to earning an NCARB Certificate. In 2016, women accounted for 47 percent of new AXP participants and 42 percent of new ARE candidates. While women remain underrepresented among practitioners, they now account for 36 percent of newly licensed architects, compared to 34 percent in 2015.
 
AXP Completions by Women Reach Record High
Last year, women represented 40 percent of AXP completions—the highest proportion on record. Several program changes, which were designed to remove unnecessary hurdles, may have contributed to this shift. These include a reduction in the AXP's required hours and the re-alignment of experience areas (see AXP Completions Reach All-Time High). By refocusing these areas to mirror the phases of an architecture project, candidates of all backgrounds have been able to approach the AXP with greater flexibility. 
ARE Completions by Women on the Rise
Women accounted for 38 percent of ARE completions in 2016, a slight improvement from the previous year. Since completing the ARE is often the final step to licensure, this upward trend suggests gender equity will improve among future generations of architects.
Women Earn Initial License Sooner
On average, women earn an initial license almost 10 months sooner than their male peers. While the time to licensure has been declining for both genders, women have consistently completed the path in less time. 
Racial and Ethnic Diversity Improves Among Licensure Candidates
In 2016, racial and ethnic diversity improved slightly among licensure candidates. Most notably, 42 percent of new AXP participants and 30 percent of new exam candidates identified as non-white—up three percentage points for both groups. However, diversity among newly licensed architects and NCARB Certificate holders remained the same. For comparison, 38 percent of the U.S. population identifies as either non-white or Hispanic, according to 2015 estimates from the U.S. Census Bureau. 
Note: NCARB uses the same categories for race and ethnicity as the U.S. Census Bureau.
NCARB Customers Based Overseas
Licensure candidates and NCARB Certificate holders are based around the world. Outside the United States, the majority of Record holders are based in Canada (696), the United Kingdom of Great Britain and Northern Ireland (110), the Republic of Korea (99), and China (87).
Through mutual recognition arrangements, NCARB Certificate holders can pursue reciprocal licenses in Australia, Canada, Mexico, and New Zealand. NCARB also offers the ARE at Prometric test centers in Canada, London, Hong Kong, and Abu Dhabi.
---