NCARB's community continues to grow, with nearly 112,000 Record holders, more than 22,400 AXP supervisors, and hundreds of volunteers. These volunteers, which include licensure candidates, architects, and educators, dedicate thousands of hours to serve on various committees and task forces—from writing exam questions to evaluating experience requirements, 
and everything in between.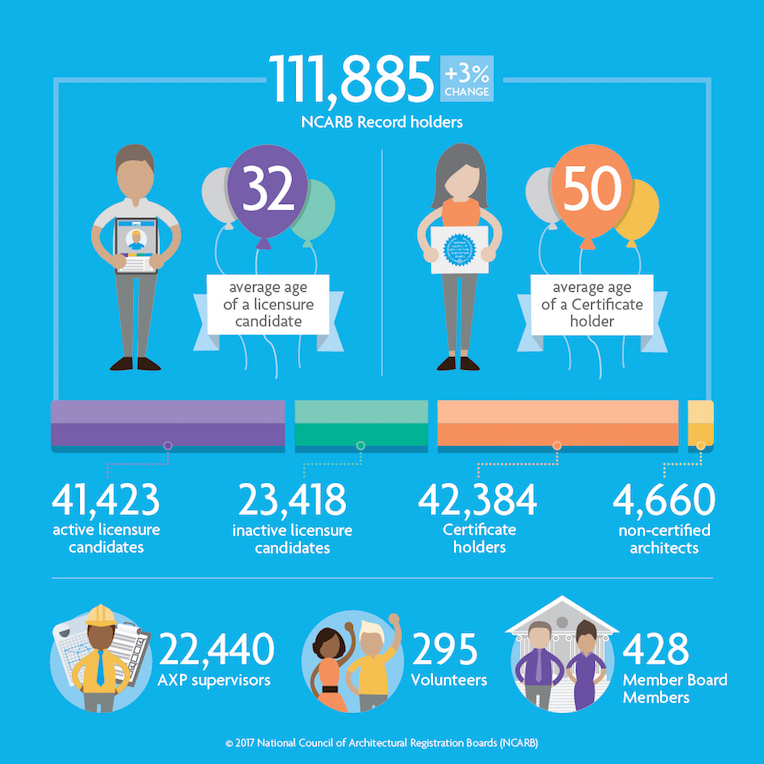 The 54 U.S. licensing boards, also known as Member Boards, play a crucial role in advancing NCARB's programs and initiatives. Of the 428 members who serve on these boards, half are practicing architects, 147 are in related professions (such as engineering and landscape architecture), and 65 are members of the public.
Number of NCARB Certified Architects Reaches All-Time High
In 2016, more than 42,000 architects held an active NCARB Certificate—the highest number on record and a 4 percent increase from the previous year. This credential facilitates reciprocal licensure across the United States and enables U.S. architects to earn licenses in Australia, Canada, Mexico, and New Zealand. Certified architects also have access to free continuing education opportunities through NCARB's Continuum Education Program.
NCARB's Community Continues to Grow
In 2016, nearly 112,000 professionals held an NCARB Record, a 3 percent growth from the previous year. Of those Record holders, 38 percent are architects with an NCARB Certificate, 4 percent are architects without a Certificate, and 37 percent are candidates actively working toward licensure (see Pool of Licensure Candidates Remains Consistent). The remaining 21 percent are candidates who haven't taken a division of the ARE or reported AXP hours in the last year.
Number of New NCARB Records Dips Slightly
Nearly 8,800 individuals started an NCARB Record in 2016, a 1 percent drop from the previous year. Despite this marginal dip, the number of new Records in 2016 remains on par with the 10-year average of 8,783. The spike in 2009 was the result of a new policy that required licensure candidates to hold a Record.
---