Over the past several years, NCARB has worked with licensing boards and architect volunteers to streamline its programs and provide greater flexibility—without compromising rigor or core purpose. Plus, newly licensed architects are increasingly overlapping the AXP and ARE. As a result, the time it takes to earn a license has gradually decreased and the average age of licensure continues to drop.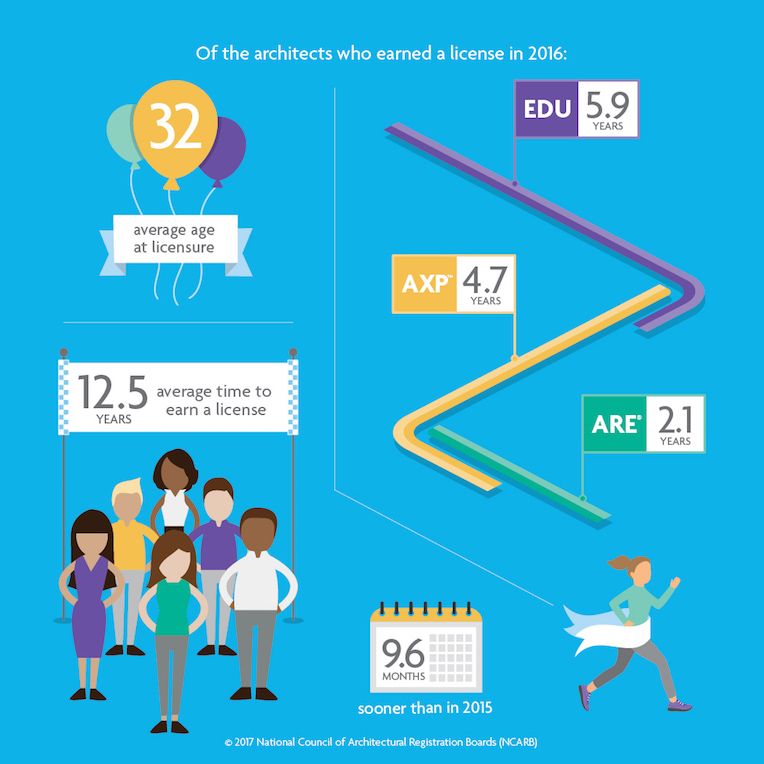 As the components of licensure become more intertwined, this positive trend will likely continue, especially once the inaugural class of Integrated Path to Architectural Licensure (IPAL) students graduate. Spearheaded by NCARB, the two-year-old initiative encourages accredited programs to incorporate professional experience, as well as the opportunity to take the ARE, into curricula.
Time to Licensure Continues to Improve
On average, becoming an architect now takes 12 and a half years—from the time a student enrolls in school to the moment they receive a license. This marks the eighth year in a row that the timeline to licensure has improved, with architects earning a license 9.6 months sooner than in 2015.
Over the past decade, updates to both the AXP and ARE have contributed to this shift, enabling candidates to navigate the path to licensure in a way that fits their lifestyle. For example, candidates now report 3,740 hours across six practice areas (see AXP Completions Reach All-Time High), and they can retake a failed exam in just 60 days (see Time to Complete the ARE Remains Steady).
New Architects Increasingly Overlap AXP and ARE
A breakdown of the average path to licensure reveals overlaps among education, experience, and examination—leading to a decrease in the overall time it takes to earn a license. Among architects who received an initial license in 2016, earning a degree typically took six years, while completing the AXP and ARE took just under six years. For comparison, architects licensed in 2015 took just under seven years to complete the AXP and ARE.
The delay between passing the ARE and earning a license is the result of several factors. Some jurisdictions have additional requirements—such as a supplemental exam, interview, or a minimum employment duration.
Note: This data represents architects who earned a license in 2016.
Age at Licensure Drops
In 2016, the average age of a newly licensed architect was 32, an eight-month drop from the previous year. This marks the eighth year in a row that this benchmark has improved, with architects earning a license 2.8 years sooner than a decade ago.
Three Factors Shave Years Off Time to Licensure
Several key factors influence a candidate's timeline to licensure: (1) the type of architecture degree they pursue; (2) how early they start reporting experience; and (3) whether they take the ARE before completing the AXP (Early Eligibility).
In 2016, newly licensed architects who earned a degree from a NAAB-accredited program, reported experience before graduation, and took at least one exam while completing the AXP earned a license in just under 11 years—almost two years sooner than the average candidate.
Note: NCARB recognizes there are a variety of factors that influence the timeline to licensure, including the time it takes to complete the ARE, as well as economic and personal circumstances.
---