Last year, NCARB introduced the "Navigating the Path" section to examine attrition on the path to licensure—and understand how retention varies for candidates from different backgrounds.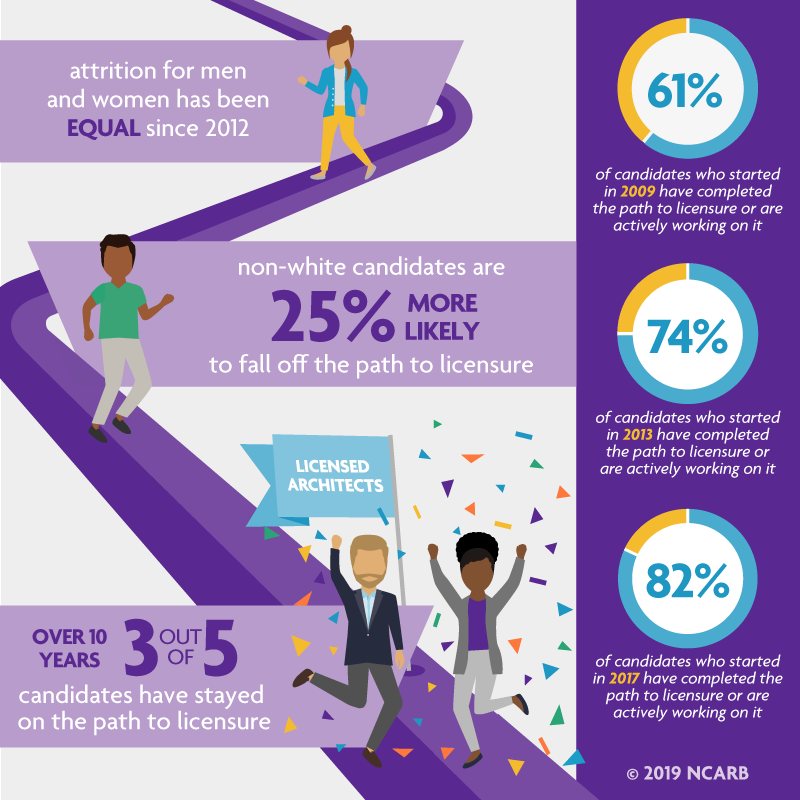 2018 data suggests the improvement in attrition parity between men and women continues, with women who started between 2012-2018 now more likely to stay on the path to licensure than their male peers. However, there is still a significant disparity in attrition between white and non-white candidates, signaling that although diversity is improving in the profession, there is still work to be done. 
Most Candidates Stay on the Path to Licensure
Of all the candidates who started their NCARB Record in 2009 (10 years ago), nearly two-thirds have either finished their core requirements for licensure (32 percent) or are still actively working to complete them (29 percent). Nearly 4 in 10 (39 percent) have stopped working toward licensure and have fallen off the path. 
However, since 2011, candidate attrition has reduced, holding between 20 and 30 percent. In part, these candidates have had less time to complete their education, experience, and examination requirements– and correspondingly less time to fall off the path. However, the proportion of candidates remaining on the path signals that NCARB's efforts to refresh our programs and remove unnecessary burden is having a positive effect on candidates' retention. 
Meanwhile, of candidates who started a Record in 2017 (two years ago), 81 percent are working toward licensure, 1 percent have completed core licensure requirements, and 18 percent have fallen off. These candidates may return to the licensure path in future years. 
Women More Likely to Stay on Path to Licensure Than Men
Up until 2011, attrition on the path was greater among women than men, but 2012 saw a reversal of that trend. Since then, a higher proportion of women have either stayed on the path to licensure or completed the core requirements. This suggests that there are no longer significant differences between genders in their opportunity to complete licensing requirements. 
Of the candidates who started an NCARB Record in 2009, 40 percent of women and 38 percent of men have now fallen off the path to licensure, 31 percent of women and 33 percent of men have successfully completed core requirements, and 29 percent of both groups are still actively working toward licensure. Similar differences between gender are seen in the 2010 and 2011 cohorts. 
From 2012 onward, women and men tend to get licensed at roughly the same rate, with women marginally more likely to remain on the path to licensure than their male counterparts. However, men are more likely to complete licensure requirements within three years. 
Non-White Candidates Experience Higher Rates of Attrition
Although racial and ethnic diversity have been gradually improving along early career stages (See Racial and Ethnic Diversity Improves Along Early Career Stages), candidates who identify as non-white or Hispanic remain more likely to fall off the path to licensure than their white peers. 
Of all non-white candidates who started an NCARB Record in 2009, 25 percent had completed the core licensure requirements by 2018, 11 percentage points lower than their white counterparts. Forty-four percent of non-white candidates have fallen off the path to licensure, compared to 36 percent of white candidates. 
This trend remains unchanged over the past decade, with the average non-white candidate 25 percent more likely to fall off the path to licensure than the average white candidate—the same proportion seen in 2016. 
---