Although 2018 saw an increase in time to complete both the AXP and ARE individually—an impact often seen after similar programmatic changes—the total time to finish earning an education, gaining experience, and taking the examination remains unchanged compared to 2017.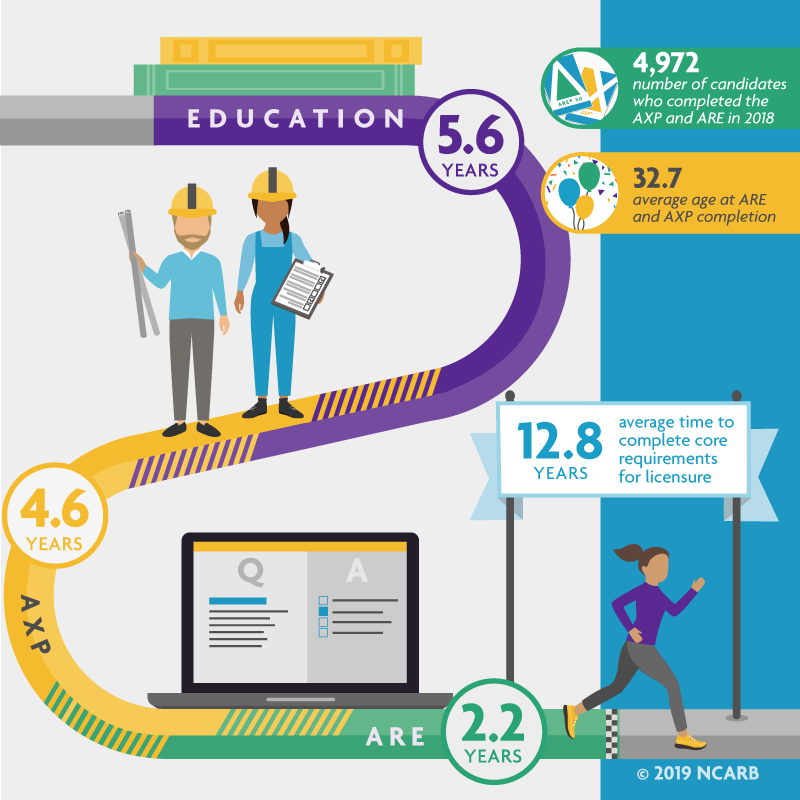 The lack of change in the total time to complete core requirements may also point to the increasing number of licensure candidates who started an NCARB Record while studying. 2018 is the first year that more than half of newly licensed architects began their NCARB Records while in school. As recent program improvements take effect and more individuals take advantage of the Integrated Path to Architectural Licensure (IPAL), NCARB expects to see continued positive trends in the time to complete its programs. 
Time to Complete Core Licensure Requirements Holds Steady
In 2018, the average licensure candidate completed the core requirements for licensure—including education, experience, and examination—in 12.8 years. More than 40 percent of this time is spent earning a degree (5.6 years). Looking solely at NCARB's programs, the average candidate took just over six and a half years to complete the AXP and the ARE, approximately one month longer than in 2017. 
The slight increase in time to complete NCARB-administered programs is likely driven by the 2016 launch of both the AXP and ARE 5.0—historical trends show small spikes in program completion times following the introduction of a new version. However, the time to finish the AXP and ARE requirements has decreased by over two years since 2009, signaling that NCARB's updates over the past decade have been effective in reducing the time it takes to earn an architecture license. 
Note: Historical data can shift because licensure candidates can backdate experience up to five years. 
Age of Candidates Completing Licensure Requirements Increases Slightly
The average age of candidates who completed their final core requirement for licensure in 2018 was 32.7, roughly one and a half months older than in 2017. This average has not changed dramatically from year to year; however, candidates completing their licensure requirements are now more than one and a half years younger than they were a decade ago. 
The slight uptick may be due to the retirement of ARE 4.0, which encouraged a cohort of experienced candidates to push to complete remaining requirements while ARE 4.0 was still available. 
---