With over 116,000 Record holders, more than 400 licensing board members, over 400 volunteers helping shape our programs and initiatives, and nearly 21,000 active AXP supervisors, NCARB's community is larger and more robust than ever. In 2019, our volunteers—including architects, licensure candidates, educators, and experts from other professions—worked across 44 committees to write exam questions, explore the future of architecture, develop resources for licensing boards, and more.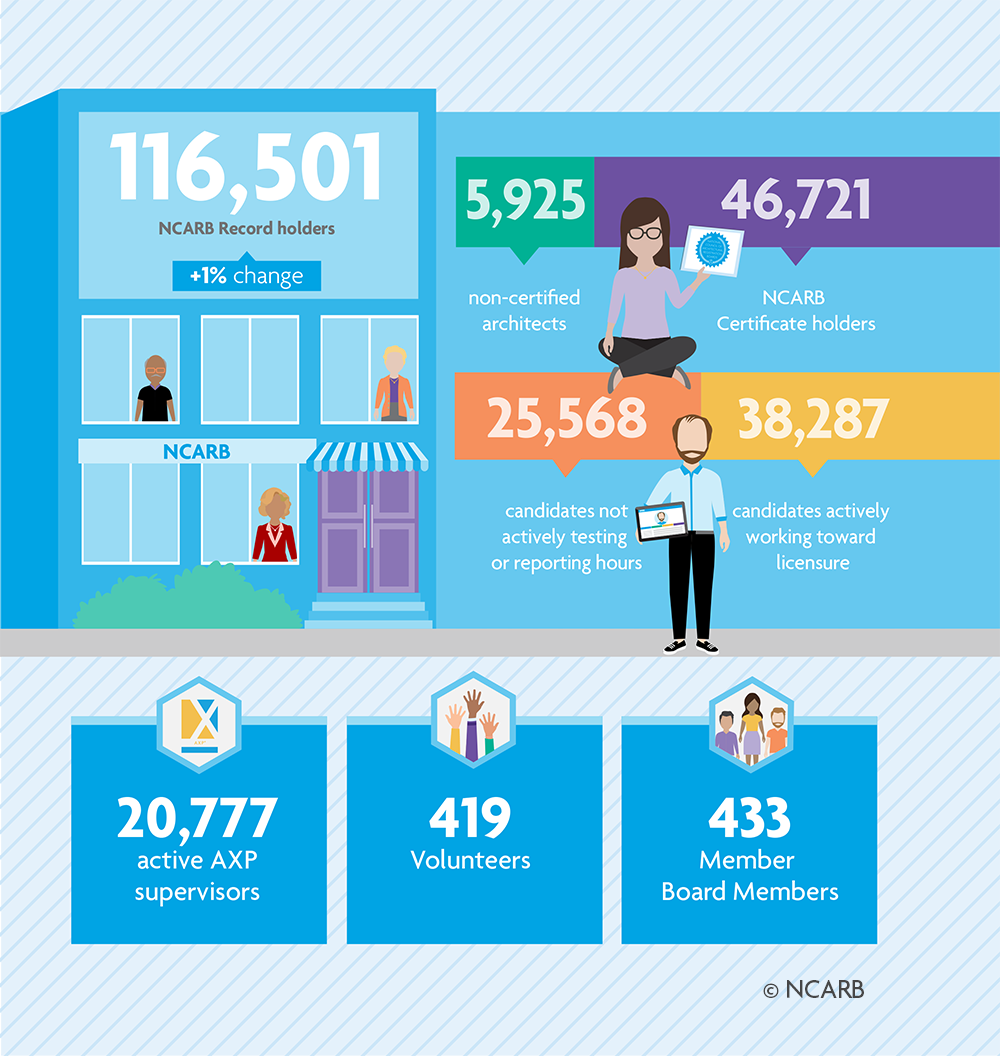 With 55 architectural licensing boards in the United States, each with their own rules and requirements, NCARB works to provide board support, encourage program alignment, and assist individuals seeking licensure. Of the 433 members who serve on these boards, 224 are practicing architects, 132 are in related professions (such as engineering and landscape architecture), and 77 ensure the public consumer has a voice on the board.
Number of NCARB Certificate Holders Continues to Rise
In 2019, over 46,000 architects held an active NCARB Certificate—an increase of 3 percent from 2018 and a new record high. The number of Certificate holders has been steadily increasing since 2014.
Because the NCARB Certificate's primary goal is to facilitate reciprocal licensure across the United States, the growing demand for the Certificate could be a sign that mobility in the profession is increasingly necessary. The rise in Certificate holders is likely also a result of the growing number of architects in the United States.
In addition to simplifying the process of earning additional licenses in U.S. jurisdictions, the NCARB Certificate enables U.S. architects to earn licenses in Australia, Canada, Mexico, and New Zealand. Certified architects have access to free continuing education opportunities through NCARB's newly renamed Continuum Education Program.
NCARB's Community Continues to Grow
In 2019, over 116,000 individuals held an active NCARB Record, a 1 percent growth compared to 2018. Of those Record holders, 40 percent are architects with an NCARB Certificate (a 1 percentage point increase compared to 2018), 5 percent are architects without a Certificate (no change from 2018), and 33 percent are candidates actively working toward licensure (a 3 percentage point decrease compared to 2018). The remaining 22 percent are candidates who haven't taken a division of the ARE or reported AXP hours in the last year (up 1 percentage point from 2018).
Number of New Record Holders Dips Slightly
Nearly 8,500 individuals started an NCARB Record in 2019, 1 percent fewer than the number who started a Record in 2018. While this number has been on a shallow decline since 2015, it has remained close to 8,500 for the past three years—a potential indicator that new Record applications have reached a new level of "normal."
For reference, the average number of new Record holders per year over the past decade is 8,325.
---