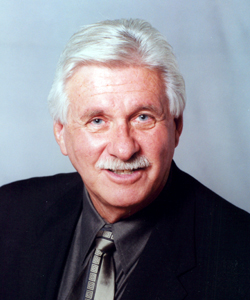 C. Robert Campbell, AIA, of Albuquerque, New Mexico, was recently elected president of the National Council of Architectural Registration Boards (NCARB) during its Annual Meeting and Conference in Boston, Massachusetts. Campbell is a consultant to BDA Architecture PC, an Albuquerque-based architectural firm that specializes in veterinary facilities and advanced technology campuses. Prior to joining BDA Architecture, Campbell served as principal of Stevens Mallory Pearl & Campbell Architects, where his tenure began in 1955.
A multifaceted contributor to many NCARB endeavors, Campbell has served as the Council's first vice president/president-elect, second vice president, and treasurer. He is a former director of the Council's Region 6 Conference. During his tenure with NCARB, he has provided leadership to several committees including the Executive Committee, the Committee on Procedures and Documents, the Committee on Examination, and the Committee on Professional Conduct.
The Campbell presidency will focus on a number of issues related to architectural practice and regulation, including impediments to reciprocity for domestic and foreign architects as well as continued efforts to recognize architecture's role in the global arena. As chair of the Committee on International Relations, Campbell will represent AIA/NCARB at the next gathering of the International Union of Architects in Berlin, Germany. He will also be serving on the 2002-2003 Steering Committee for the Asia-Pacific Economic Cooperation. Campbell is a key figure in ongoing negotiations with the national architectural associations of Mexico and Singapore, among other economies, which are seeking Practice in a Host Nation agreements with the U.S.
Beyond his participation in several NCARB committees, Campbell has played an integral role in the development, implementation, and grading of NCARB's Architect Registration Examination, the nine-part test taken by all candidates in the U.S. and in Canada seeking architectural licensure.
Campbell earned a B.S. in Architectural Engineering from the University of New Mexico, where he now serves as president of the Dean's Council for Excellence in Architecture and Planning. He has also matriculated at the University of Utah where he completed coursework in seismic design. Campbell is registered in New Mexico and Arizona, and holds the NCARB Certificate for national reciprocity.
Campbell has been an active member and leader within the Western Council of Architectural Registration Boards (WCARB), the American Institute of Architects, and the New Mexico State Board of Examiners for Architects. Campbell was appointed to his local, state and national boards in 1991; he served as chair of the New Mexico Board from 1995-1997. Campbell co-authored the "Handbook for New Mexico Building Officials" in 1996-1997 and later co-authored the "New Mexico Architectural License Act" in 1999.
In 2001, Campbell was the first recipient of the New Mexico Architects Medal for Leadership, Ethics, and Mentoring, an honor bestowed upon him by AIA New Mexico. He also received his state board's award of distinction for service to the profession of architecture as well as the distinguished alumni award from the University of New Mexico School of Architecture and Planning.
Campbell has also participated on three National Architectural Accrediting Board (NAAB) teams that assess curricula for college- and university-level architectural programs throughout the United States.
Campbell's full array of professional responsibilities is augmented by a variety of teaching and volunteer roles he has undertaken. He is a visiting critic/lecturer at the University of New Mexico's School of Architecture as well as a former member of the Bernalillo County Board of Appeals for Planning and Zoning and the board of directors for the Presbyterian Healthcare Foundation.