Kansas Architect David L. Hoffman Elected as NCARB First Vice President/President-elect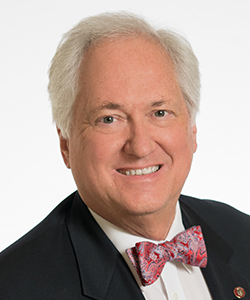 Boston—David L. Hoffman, FAIA, NCARB, of Wichita, KS, was elected first vice president/president-elect of the National Council of Architectural Registration Boards (NCARB) at its 98th Annual Business Meeting. By virtue of his election, Hoffman will become president in July 2018.
"I look forward to working with our Member Boards to serve the architectural community, especially as we celebrate our organization's first 100 years of service and explore new opportunities to help shape the future of licensure," Hoffman said.
First appointed to the Kansas State Board of Technical Professions in 2005, Hoffman served as board chair from 2010-2011. He has volunteered his time and expertise to multiple NCARB committees, including serving as coordinator of the Site Planning & Design group of the Architect Registration Examination® (ARE®) Item Writing Subcommittee, which develops new material for the exam taken by all candidates seeking architectural licensure. Hoffman has also been a dedicated member of the Broadly Experienced Architect, Broadly Experienced Foreign Architect, Member Board Executive, Board Audit, and Regional Leadership committees, as well as the Practice Analysis and Public Director task forces. He has also been a member of several National Architectural Accrediting Board (NAAB) accreditation teams.
Since 2012, Hoffman has served in several positions on the NCARB Board of Directors, including terms as the second vice president, treasurer, and regional director of NCARB's Central States Conference (Region 5). The Central States Conference includes Kansas, Montana, Nebraska, North Dakota, Oklahoma, South Dakota, and Wyoming. Before serving as the regional director, Hoffman was also elected as the region's chair and vice chair.
Hoffman joined LK Architecture, Inc., in 1978 and is a principal and senior vice president. In addition to his service to NCARB, he has been a dedicated member of the Kansas Board for over a decade, serving on and chairing many state committees. Hoffman is also a member of the American Institute of Architects (AIA), having served as the Central States regional director and president of AIA Kansas. In 1993, Hoffman was elevated to the AIA's College of Fellows and named an AIA Richard Upjohn Fellow.
Since 1992, Hoffman has served on several architecture-related advisory boards at the University of Kansas, where he is also a guest lecturer. In addition to his leadership of the architecture profession, Hoffman remains actively involved in his local community, serving on the Wichita Area Chamber of Commerce.
Hoffman graduated from Iowa State University with a Bachelor of Architecture and went on to earn a Master of Business Administration from Wichita State University. He has been an NCARB Certificate holder since 1980 and is currently licensed in 29 U.S. jurisdictions.
#####
About NCARB
The National Council of Architectural Registration Boards' membership is made up of the architectural registration boards of all 50 states as well as those of the District of Columbia, Puerto Rico, Guam, and the U.S. Virgin Islands. NCARB assists its member registration boards in carrying out their duties and provides a certification program for individual architects.
NCARB protects the public health, safety, and welfare by leading the regulation of the practice of architecture through the development and application of standards for licensure and credentialing of architects. In order to achieve these goals, the Council develops and recommends standards to be required of an applicant for architectural registration; develops and recommends standards regulating the practice of architecture; provides to Member Boards a process for certifying the qualifications of an architect for registration; and represents the interests of Member Boards before public and private agencies. NCARB has established reciprocal registration for architects in the United States and Canada.
Visit: www.ncarb.org
Twitter: www.twitter.com/ncarb
Facebook: www.facebook.com/NCARB
YouTube: www.youtube.com/NCARBorg