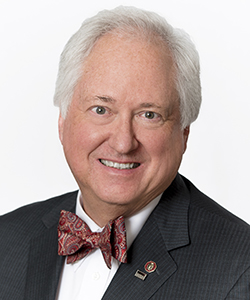 Detroit, MI—David L. Hoffman, FAIA, NCARB, Hon. FCARM, was inaugurated as the president of the National Council of Architectural Registration Boards (NCARB) at its 99th Annual Business Meeting. As president, the Wichita, Kansas, architect will lead the organization—which supports the 54 U.S. architectural licensing boards—through its centennial year.
"Serving as president during our 100th year provides a unique opportunity to celebrate NCARB's accomplishments over the last five generations," said Hoffman. "I look forward to exploring how our role in the regulation of the profession can, and should, evolve with the practice of architecture.
During his term, Hoffman will guide efforts to refresh NCARB's strategic plan, which sets direction for the organization's new and ongoing initiatives. In addition, the incoming president will lead efforts to further develop NCARB's continuing education services for both customers and licensing boards.
First appointed to the Kansas State Board of Technical Professions in 2005, Hoffman served as board chair from 2010-2011. He has volunteered his time and expertise to multiple NCARB committees, including the Audit, Broadly Experienced Architect, Experience Advisory, Member Board Executives, and Regional Leadership committees, as well as the Practice Analysis and Public Member task forces. Hoffman also dedicated many years to developing the Architect Registration Examination® (ARE®), serving on both the Item Writing and Multiple Choice subcommittees. He is currently serving as the chair of NCARB's Centennial Advisory Committee.
Hoffman has held several previous positions on the NCARB Board of Directors, including first vice president/president-elect, second vice president, treasurer, and regional director of NCARB's Central States Conference (Region 5). The Central States Conference includes Kansas, Montana, Nebraska, North Dakota, Oklahoma, South Dakota, and Wyoming. Before being elected as regional director, he also served as the region's chair and vice chair.
Hoffman joined LK Architecture, Inc., in 1978 and is a principal and senior vice president. In addition to his service to NCARB, he has been a dedicated member of the Kansas Board for over a decade, serving on and chairing many state committees. Hoffman is also a member of the American Institute of Architects (AIA), having served as the Central States regional director and president of AIA Kansas. In 1993, Hoffman was elevated to the AIA's College of Fellows and named an AIA Richard Upjohn Fellow. In 2018, he was granted an honorary credential by the Federación de Colegios de Arquitectos de la República Mexicana (FCARM), NCARB's regulatory counterpart in Mexico.
Since 1992, Hoffman has served on several architecture-related advisory boards at the University of Kansas, where he is also a guest lecturer. He has been a member of nine National Architectural Accrediting Board (NAAB) visiting teams. In addition to his leadership of the architecture profession, Hoffman remains actively involved in his local community, serving on the Wichita Area Chamber of Commerce.
Hoffman graduated from Iowa State University with a Bachelor of Arts in Architecture and completed graduate studies in Business Administration from Wichita State University. He has been an NCARB Certificate holder since 1980 and is currently licensed in 29 U.S. jurisdictions.
#####
About NCARB
The National Council of Architectural Registration Boards' membership is made up of the architectural registration boards of all 50 states as well as those of the District of Columbia, Puerto Rico, Guam, and the U.S. Virgin Islands. NCARB assists its member registration boards in carrying out their duties and provides a certification program for individual architects.
NCARB protects the public health, safety, and welfare by leading the regulation of the practice of architecture through the development and application of standards for licensure and credentialing of architects. In order to achieve these goals, the Council develops and recommends standards to be required of an applicant for architectural registration; develops and recommends standards regulating the practice of architecture; provides to Member Boards a process for certifying the qualifications of an architect for registration; and represents the interests of Member Boards before public and private agencies. NCARB has established reciprocal registration for architects in the United States and Canada.
Visit: www.ncarb.org
Twitter: www.twitter.com/ncarb
Facebook: www.facebook.com/NCARB
YouTube: www.youtube.com/NCARBorg