Lake Charles City Administrator John Cardone Jr. Elected as NCARB Regional Director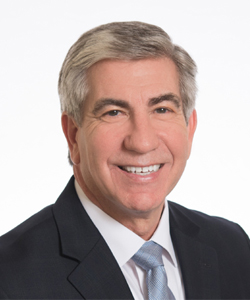 Boston—John E. Cardone Jr., the City Administrator of Lake Charles, LA, was elected as a regional director of the National Council of Architectural Registration Boards (NCARB) at its 98th Annual Business Meeting. Cardone will represent NCARB's Southern Conference (Region 3), which is made up of Alabama, Arkansas, Florida, Georgia, Louisiana, Mississippi, North Carolina, Puerto Rico, South Carolina, Tennessee, Texas, and the U.S. Virgin Islands.
Cardone was elected as NCARB's public director at the organization's 2016 Annual Business Meeting in Seattle. He has previously served as chair, vice chair, treasurer, and secretary of the Southern Conference, and as chair and secretary of the Louisiana State Board of Architectural Examiners.
A dedicated NCARB volunteer since 2006, Cardone has offered his time and expertise to several NCARB committees, including the Audit, Education, Experience, Experience Advisory, and Regional Leadership committees, as well as the Public Member Task Force. He also chaired the Procedures and Documents Committee, where he helped shape NCARB programs and policies by reviewing potential resolutions and publications.
As a city administrator, Cardone is responsible for the management and general operations of Lake Charles and has over 25 years of experience in municipal government. He has served on the Louisiana State Board of Architectural Examiners since 2002, including eight years of service on the Complaint Review Committee. In addition to his commitment to the architectural profession, Cardone remains an active member of his community. He was a member of the Imperial Calcasieu Regional and Development Commission, an organization dedicated to the continued growth of Southwest Louisiana, serving five years on its executive committee. Cardone also volunteered on the Metropolitan Planning Organization Technical Advisory Committee and the Code Enforcement Association, among other community organizations.
Cardone received a Bachelor of Science in Business Administration from Louisiana State University and holds post-graduate certification as a building plan examiner and building code analyst in the legal aspects of code administration.
#####
About NCARB
The National Council of Architectural Registration Boards' membership is made up of the architectural registration boards of all 50 states as well as those of the District of Columbia, Puerto Rico, Guam, and the U.S. Virgin Islands. NCARB assists its member registration boards in carrying out their duties and provides a certification program for individual architects.
NCARB protects the public health, safety, and welfare by leading the regulation of the practice of architecture through the development and application of standards for licensure and credentialing of architects. In order to achieve these goals, the Council develops and recommends standards to be required of an applicant for architectural registration; develops and recommends standards regulating the practice of architecture; provides to Member Boards a process for certifying the qualifications of an architect for registration; and represents the interests of Member Boards before public and private agencies. NCARB has established reciprocal registration for architects in the United States and Canada.
Visit: www.ncarb.org
Twitter: www.twitter.com/ncarb
Facebook: www.facebook.com/NCARB
YouTube: www.youtube.com/NCARBorg