Louisiana Architect Robert W. McKinney Elected as NCARB Regional Director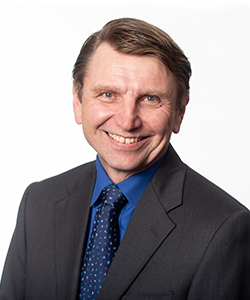 Washington, DC—Robert W. McKinney, Ed.D., NCARB, of Lafayette, Louisiana, was elected as a regional director at the National Council of Architectural Registration Board's (NCARB) 2019 Centennial Annual Business Meeting. McKinney was nominated to serve on the NCARB Board of Directors by Region 3, which is comprised of Alabama, Arkansas, Florida, Georgia, Louisiana, Mississippi, North Carolina, Puerto Rico, South Carolina, Tennessee, Texas, and the U.S. Virgin Islands.
In 2007, McKinney joined the Louisiana Board of Architectural Examiners, serving two terms as the board's president. He was elected by his peers to serve as the chair of Region 3 in 2017, following terms as the region's secretary, treasurer, and vice chair.
McKinney has been a dedicated NCARB volunteer for over a decade, joining an Architect Registration Examination® (ARE®) subcommittee in 2008 and representing NCARB on a National Architectural Accrediting Board (NAAB) visiting team the same year. Since then, he has offered his time and expertise to NCARB's Education, Examination, Experience, Policy Advisory, and Regional Leadership committees, as well as the NCARB Award Jury.
Currently the assistant vice president for Academic Affairs and a professor of architecture at the University of Louisiana at Lafayette, McKinney has four decades of experience as an architectural educator. He received the University of Louisiana at Lafayette's Outstanding Advisor award in 2006, 2008, and 2010, and was granted the Lafayette Coca-Cola/BORSF Endowed Professorship in Architecture from 2008-2011.
In addition to his service to NCARB and academics, McKinney served as the secretary and treasurer of the American Institute of Architects (AIA) Louisiana chapter, as well as president and director of the AIA South Louisiana chapter. He has also served on the Louisiana Architects Selection Board, including a term as chair. McKinney is a member of the Association of Collegiate Schools of Architecture (ACSA) and has previously served on the ACSA's Data Committee.
McKinney is a two-time graduate of the University of Louisiana with a Bachelor of Architecture and Doctorate of Education, and he earned a Master of Architecture from Virginia Tech. He holds the NCARB Certificate for national reciprocity and is licensed to practice architecture in Louisiana.
About NCARB
The National Council of Architectural Registration Boards' membership is made up of the architectural licensing boards of the 50 states, the District of Columbia, Guam, the Northern Mariana Islands, Puerto Rico, and the U.S. Virgin Islands. NCARB, in collaboration with these boards, facilitates the licensure and credentialing of architects to protect the health, safety, and welfare of the public.
To achieve these goals, NCARB works with its Member Boards and volunteers to develop and facilitate standards for licensure, including the national examination and experience program. NCARB also recommends regulatory guidelines for licensing boards and helps architects expand their professional reach through the NCARB Certificate.