Maria Brown Elected as NCARB Member Board Executive Director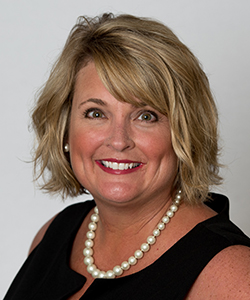 Boston—Executive Director of the Oregon State Board of Architect Examiners, Maria Brown, of Salem, OR, was elected as the Member Board Executive Director of the National Council of Architectural Registration Boards (NCARB) at its 98th Annual Business Meeting. As a member of NCARB's Board of Directors, Brown will represent the executive and administrative leadership of the 54 U.S. architecture registration boards that make up NCARB's membership.
Brown joined the Oregon Board in 2015, following eight years in her role as the executive director of the Idaho Board of Architectural Examiners. She has volunteered her service to several NCARB committees, including the Experience, Member Board Executives, and Procedures and Documents committees, as well as the Resiliency Work Group. Brown served as chair of the Member Board Executives Committee in 2016.
Over the course of her career, Brown has been the administrator of six separate professional licensing boards. In addition to her service to NCARB, Brown has been a dedicated member of several national organizations. In 2014, she was appointed to the Federal Appraisal Subcommittee's Advisory Committee, which was created in response to the 2010 Dodd-Frank Wall Street Reform and Consumer Protection Act. Brown has also served as a member board executive committee member on the Council of Landscape Architectural Registration Boards, and in multiple leadership positions for the Association of Appraiser Regulatory Officials.
#####
About NCARB
The National Council of Architectural Registration Boards' membership is made up of the architectural registration boards of all 50 states as well as those of the District of Columbia, Puerto Rico, Guam, and the U.S. Virgin Islands. NCARB assists its member registration boards in carrying out their duties and provides a certification program for individual architects.
NCARB protects the public health, safety, and welfare by leading the regulation of the practice of architecture through the development and application of standards for licensure and credentialing of architects. In order to achieve these goals, the Council develops and recommends standards to be required of an applicant for architectural registration; develops and recommends standards regulating the practice of architecture; provides to Member Boards a process for certifying the qualifications of an architect for registration; and represents the interests of Member Boards before public and private agencies. NCARB has established reciprocal registration for architects in the United States and Canada.
Visit: www.ncarb.org
Twitter: www.twitter.com/ncarb
Facebook: www.facebook.com/NCARB
YouTube: www.youtube.com/NCARBorg