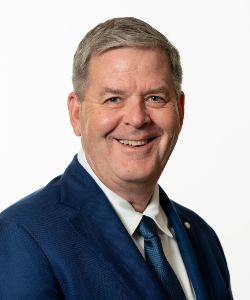 Tampa, FL—Kenneth R. Van Tine, NCARB, AIA, LEED AP, of Brighton, Michigan, was elected as vice president of the National Council of Architectural Boards (NCARB) at the organization's 2023 Annual Business Meeting. Van Tine previously served terms as the organization's second vice president, treasurer, secretary, and director of Region 4. By virtue of his election, Van Tine will become president of the organization, which facilitates licensure and credentialing for architects in the United States, in June 2024.

During the next two years, Van Tine will focus on developing the next iteration of the programs required for architectural licensure.

In 2011, Van Tine was first appointed to the Michigan Board of Architects, serving as the board's chair until 2019. In 2012, he was elected to Region 4's leadership, serving terms as secretary, vice chair, and chair before being appointed to the NCARB Board of Directors as the regional director in 2018.

For a decade, Van Tine has served as a dedicated volunteer, providing his time and expertise to several Council committees, including the Experience Advisory, Professional Conduct, Policy Advisory, Member Board Executives, and Regional Leadership committees, as well as the Audit Committee, which he chaired in 2023. He helped develop the most recent version of the national licensing exam, volunteering on the Architect Registration Examination® (ARE®) 5.0 Item Development Subcommittee. Van Tine has also served on the board of directors for NCARB's software development subsidiary, Lineup ®, and has represented the organization on several National Architectural Accrediting Board (NAAB) visiting teams.
In addition to his service at NCARB, Van Tine is the technical design principal, chief financial officer, and founding partner at inFORM studio—a multidisciplinary design firm with offices in Detroit and Chicago that practices throughout the US and internationally. He also volunteers with several local nonprofits, including the Life Remodeled and Gleaners Food Bank, Habitat for Humanity, and Compassion Evangelical Hospital—and guiding and mentoring teens and young professionals through local youth programs. He is a member of the American Institute of Architects and has participated in the AIA Mentorship Program for over eight years.  
Van Tine holds a Bachelor of Architecture and a Bachelor of Science in Architecture from Lawrence Technological University. He is LEED-certified, a member of the U.S. Green Building Council, NCARB certified, and licensed to practice in 38 states and jurisdictions, including Michigan. 
---
About NCARB  
The National Council of Architectural Registration Boards' membership is made up of the architectural licensing boards of the 50 states, the District of Columbia, Guam, the Northern Mariana Islands, Puerto Rico, and the U.S. Virgin Islands. NCARB, in collaboration with these boards, facilitates the licensure and credentialing of architects to protect the health, safety, and welfare of the public.  
To achieve these goals, NCARB works with its Member Boards and volunteers to develop and facilitate standards for licensure, including the national examination and experience program. NCARB also recommends regulatory guidelines for licensing boards and helps architects expand their professional reach through the NCARB Certificate. Connect with NCARB on Twitter, Instagram, Facebook, and YouTube.