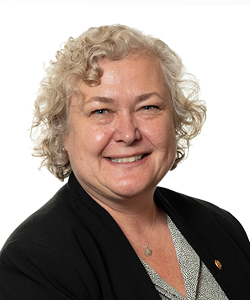 Austin, TX—Margaret (Meg) S. Parsons, FAIA, NCARB, LEED AP BD+C, ALEP, of Minneapolis, Minnesota, was elected as a regional director at the National Council of Architectural Registration Board's 2022 Annual Business Meeting. Parsons was nominated to serve on the NCARB Board of Directors by Region 4 (Mid-Central Conference), which represents the licensing boards of Illinois, Indiana, Iowa, Kentucky, Michigan, Minnesota, Missouri, Ohio, and Wisconsin.

Parsons is also a member of the Minnesota Board of Architecture, Engineering, Land Surveying, Landscape Architecture, Geoscience and Interior Design, which she first joined in 2016. Parsons served as the board's vice chair in 2018-19, and as the board's chair in 2019-21. In 2019, she was elected by her peers to serve as the vice chair of Region 4, before becoming the region's chair in 2020.

A dedicated volunteer, Parsons has been a valuable member of many NCARB initiatives, including the Internship Advisory, Policy Advisory, and Regional Leadership committees. She has also served on the Architectural Experience Program® (AXP®) Portfolio Sunset Review Audit Team, Diversity Collaborative, Interior Architecture Work Group, and Interiors Task Force. In addition, Parsons has served as a juror for NCARB's Think Tank and represented NCARB as part of a National Architectural Accrediting Board (NAAB) review team, which evaluated the curriculum of a college architecture program.

Parsons has also volunteered for the American Institute of Architects (AIA) Minnesota chapter. She is a principal at Cuningham Group Architecture, a 260-person firm with six offices. Since 1989, she has specialized in educational projects, with a focus on innovative learning environments, and has been active in a wide range of projects from high schools to elementary schools, from pre-referendum planning through construction. Her expertise is in assisting schools and districts in their facility planning and community engagement.


Parsons holds a Master of Architecture degree from the University of Minnesota. She was elevated to the AIA College of Fellows in 2020 in recognition of her contributions to the profession. Parsons is an Accredited Learning Environment Professional (ALEP) through the Association for Learning Environments. She holds an NCARB Certificate and is licensed in Minnesota, Colorado, Louisiana, Maryland, Nevada, Texas, Wisconsin, and Wyoming.
---
About NCARB
The National Council of Architectural Registration Boards' membership is made up of the architectural licensing boards of the 50 states, the District of Columbia, Guam, the Northern Mariana Islands, Puerto Rico, and the U.S. Virgin Islands. NCARB, in collaboration with these boards, facilitates the licensure and credentialing of architects to protect the health, safety, and welfare of the public.
To achieve these goals, NCARB works with its Member Boards and volunteers to develop and facilitate standards for licensure, including the national examination and experience program. NCARB also recommends regulatory guidelines for licensing boards and helps architects expand their professional reach through the NCARB Certificate. Connect with NCARB on LinkedIn,  Twitter,  Facebook, and  YouTube.