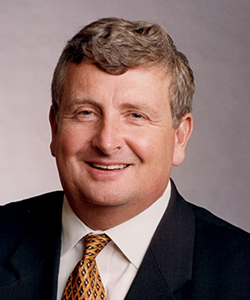 Washington DC—Robert E. Luke, AIA, of Meridian, MS, was recently elected president of the National Council of Architectural Registration Boards (NCARB) at its 87th Annual Meeting and Conference in Cincinnati, OH. During the past four years, Luke served as the Council's first vice president, second vice president, and treasurer.
As NCARB president, Luke will continue to guide the evolution and implementation of the Council's recently updated Strategic Plan and its 11 primary objectives, including those dedicated to the Architect Registration Examination, the Intern Development Program, and the portability of architectural credentials. Luke also plans to focus on sustainable design initiatives and has noted that the Council can "lead by example" in order to promote this timely design philosophy.
Luke is vice-president, treasurer, and managing partner for Luke, Peterson & Kaye Architects, P.A., a 12-person architectural firm based in Meridian with offices in Meridian, Columbus, MS, and Topeka, KS. For more than 15 years, Luke & Kaye Architects has provided design services to a wide variety of clients including Cingular, the City of Meridian, the City of Philadelphia, the Mississippi National Guard, Mississippi State University, the State of Mississippi, and the United States Postal Service.
Luke served as the director for Region 3, the Council's Southern Conference, which comprises Alabama, Arkansas, Florida, Georgia, Louisiana, Mississippi, North Carolina, Puerto Rico, South Carolina, Tennessee, Texas, and the U.S. Virgin Islands.
A contributor to NCARB endeavors since the early 1990s, Luke has been a member of the Committee on Professional Conduct, the Committee on Education, the Continuing Education Task Force, and the Architect Registration Examination (ARE) Subcommittee. He also served as a volunteer grader for the ARE, the nine-division test taken by all candidates in the U.S. and in Canada seeking architectural licensing.
Luke was appointed to two five-year terms on the Mississippi State Board of Architecture. He served as board president in 1997 and in 2001. Luke earned a bachelor of architecture from Mississippi State University in 1980 and holds the NCARB Certificate for national reciprocity.
He is president and charter member of the Mississippi Architectural Foundation as well as a member of the advisory council for Mississippi State University's School of Architecture. Luke is affiliated with the American Institute of Architects on the state and national levels. He also has served on three National Architectural Accrediting Board (NAAB) teams that assess curricula for college- and university-level architectural programs throughout the U.S.
Beyond his contributions to the profession, Luke has served as a community leader for a number of organizations, including the Jimmie Rodgers Memorial Foundation, the Mississippi Easter Seal Society, and the Mississippi Leukemia Society. He has been a member of the Mississippi Economic Council since 1989 and currently is a mentor for the Eagle Scouts.