NCARB Leadership Elevated to AIA College of Fellows
2016-2017 NCARB President Kristine Annexstad Harding, FAIA, NCARB; Treasurer Robert M. Calvani, FAIA, NCARB; and Region 4 Director Stephen L. Sharp, FAIA, NCARB, were elevated to the College of Fellows of the American Institute of Architects (AIA).
This distinguished fellowship recognizes architects for their individual achievements, as well as their contributions to society and the profession. Harding, Calvani, and Sharp were honored for their efforts to "coordinate the building industry and the profession of architecture." The 2018 Fellows will be honored at an investiture ceremony during the annual AIA Conference on Architecture in New York City.
Kristine Annexstad Harding, FAIA, NCARB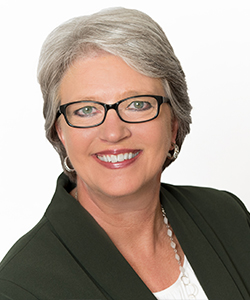 Harding joined the Alabama Board of Registration of Architects in 2004 and began volunteering for NCARB soon after. She has dedicated her time and expertise to several NCARB committees, serving as chair of the Procedures and Documents and Audit committees, as well as Board liaison of the Professional Conduct and Education committees. Harding was first elected to the Southern Conference (Region 3) in 2007 and served as secretary, vice chair, chair, and director. She was elected to the NCARB Board as secretary in 2013 and was installed as president at the 2016 Annual Business Meeting in Seattle. Harding is currently the chair of NCARB's Futures Task Force, which is examining trends likely to impact the profession.
An Alabama resident, Harding serves as vice president and group manager of KPS Group's Huntsville Studio. She also sits on the Cummings Research Park Design Control Committee, and has served on the Huntsville-Madison County Marina & Port Authority, the Huntsville Sports Commission, and Leadership Alabama Board of Directors.
Harding served as president of the AIA Alabama Council in 2005; in 2011, she was awarded the Alabama Council Accolade Award in recognition for her service to the profession. In 2018 she was inducted into the Alabama Construction Hall of Fame for her dedication to the industry and her community. Harding is a graduate of Rice University, which she attended on an athletic scholarship in volleyball. She holds an NCARB Certificate and is licensed in Alabama and Tennessee. Learn more about Kristine Harding.
Robert M. Calvani, FAIA, NCARB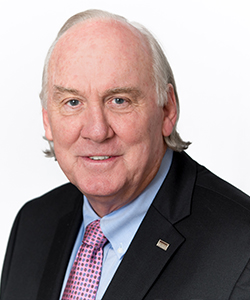 Appointed to the New Mexico Board of Examiners for Architects in 2003, Calvani has dedicated over 15 years to serving the profession of architecture. Calvani was elected to the NCARB Board of Directors in 2014 as the director of the Western Conference (Region 6). He went on to serve as NCARB's secretary before being elected treasurer in 2017.
The New Mexico architect has been a valuable member of many NCARB committees, including several related to the development of the Architect Registration Examination® (ARE®). He was also a member of the NCARB Experience Advisory and Continuing Education committees, as well as the 2012 Practice Analysis Task Force Steering Committee, and served as the Board liaison to NCARB's Model Law Task Force.
Calvani is founder and president of NCA Architects, LLC. He received a General Design Citation Award from the AIA Albuquerque chapter in 2011. Calvani earned architectural degrees from both the University of New Mexico and the University of California, Los Angeles. He has held an NCARB Certificate since 1981 and is licensed in New Mexico, Texas, Arizona, Colorado, and Nevada.
Stephen L. Sharp, FAIA, NCARB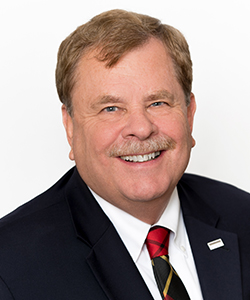 Sharp has been a member of the Ohio Architects Board since 2005, including terms as president in 2009 and 2014. He began serving on NCARB's Mid-Central Conference (Region 4) in 2009, and joined NCARB's Board of Directors as the region's director in 2015.
He has served on various NCARB committees including the Broadly Experienced Architect, Education, Procedures and Documents, and Regional Leadership committees, as well as the ARE 5.0 Mapping Task Force. He is currently the BOD Liaison for the Futures Task Force. Sharp also served as an NCARB visiting team representative for the National Architectural Accrediting Board (NAAB) and made two university accreditation visits. In 2013 he initiated and hosted Region 4's first Architectural Educators and Regulators Symposium to discuss paths to licensure.
Sharp is a partner and principal of McCall Sharp Architecture, where he has practiced since 1988. He has held leadership positions serving as director of the AIA Dayton Chapter and past president of the Springfield Museum of Art. Sharp is a graduate of Miami University, Oxford, OH, with a professional degree in architecture. He holds the NCARB Certificate and is licensed to practice architecture in Ohio and Indiana.
NCARB Volunteers
Several NCARB volunteers were also elected to the College of Fellows: Washington, DC, Member Board Member Ronnie McGhee, FAIA, LEED AP; Illinois Member Board Member Dina A. Griffin, FAIA, NOMA, IIDA; West Virginia Member Board Member Edward Tucker, FAIA, NCARB; and ARE 5.0 Item Development Subcommittee member Bryan Turner, FAIA.